Indian start-ups go from strength to strength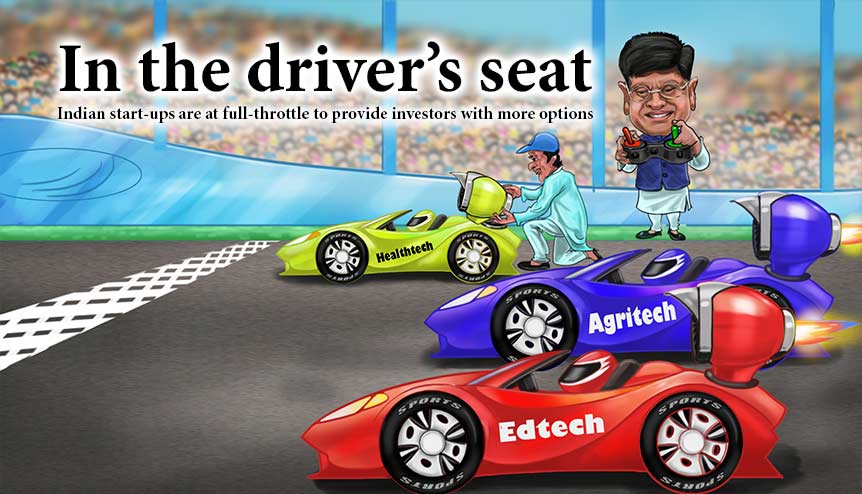 Existing and emerging collaborations with the UK, Denmark, Sweden and other countries and the Modi government's proactive efforts to encourage start-ups and tap new sources of funds have meant that Chinese VCs' absence from the Indian market is not being felt at all.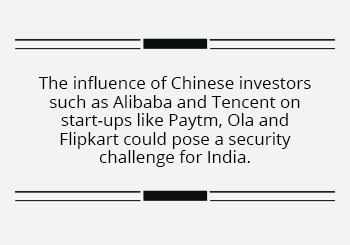 India has the world's third-largest start-up eco-system. To publicly acknowledge their technological innovations and inventions, the Narendra Modi government recently instituted and gave away the first National Start-Up Awards to winners from 12 sectors such as agriculture, education, energy and finance, among others.
Besides showcasing the crème de la crème of Indian start-ups, the awards also recognise those outstanding start-ups and innovators who are helping create an eco-system that facilitates innovation, generates wealth and employment, makes life easier for targeted sections of society and, thus, has a beneficial social impact as well.
Read more:
Government e-Market Place targets $100-bn sales in 5 years
Festive season sales could launch Indian tech cos globally
Apple, Samsung take the E-com route to boost consumption
Kirana stores are vital for dominating India's e-tail sector
The world wants a piece of the Indian innovation pie
This is expected to encourage more people to jump into the start-up bandwagon and this is expected to offer domestic and foreign investors a larger pool of investment options.
A challenge and an opportunity
Therein lies both a big challenge and a massive opportunity. In retaliation The Modi government had, on April 17, placed severe restrictions on foreign direct investment (FDI) inflows from countries that share land borders with India. This was seen as a thinly veiled move to limit the influence of Chinese investors in Indian start-ups and prevent Chinese companies from acquiring Covid-hit Indian companies, particularly in knowledge sectors such as pharmaceuticals and start-ups.
Chinese investments were seen as a security threat
Although China accounts for just 0.52 per cent of all FDI inflows into India, according to Ministry of Commerce figures, it exerts disproportionate influence in sectors such as mobile phones, pharmaceuticals and technology start-ups. This is causing concern in some quarters as this gives China critical leverage over Indian data, its medical supply chain and its innovation matrix, besides leaving it vulnerable to cyber-snooping.
In fact, deep-pocketed Chinese investors such as Alibaba, Tencent and others hold significant stakes in and have substantial influence over Indian unicorns (start-ups with market capitalisation of $1 billion and above) such as payments company Paytm, online retailer Flipkart, cab aggregator Ola and others.
Since all these companies have access to sensitive data on Indian citizens, the high levels of Chinese influence over their operations raise serious security issues – more so given the murky and often sinister ties between Chinese tech companies and its Deep State.
Pool of investment dollars shrink
The restrictions placed on Chinese investments are expected to shrink the pool of investment dollars available to the Indian start-up sector. This challenge also presents an opportunity to Western, Middle Eastern and non-Chinese Asian investors to step in, fill the breech and get a piece of the Indian technology start-up pie.
A big Thanks to Hon'ble @PMOIndia for approving a ₹25,000 crore Alternative Investment Fund (AIF) in the Cabinet today for over 1,600 stalled housing projects in the country. This comes as a huge relief to a very large number of homebuyers & developers with unfinished projects. pic.twitter.com/EuUMZtKUfB

— Durga Shanker Mishra (@Secretary_MoHUA) November 6, 2019
Modi government plans $2-billion AIF
To help make up the expected shortfall in funding and to get more non-Chinese foreign investors interested in Indian start-ups, the Modi government has initiated negotiations with global pension funds to float an Alternative Investment Fund (AIF) with an initial corpus of $2 billion.
More to read:
Ambani-Bezos rivalry heats up; market awaits Amazon's next move
Connectivity makes the Indian farmer App-solutely successful
Rural-Women Entrepreneurship: Shaping New India
Why India's IT sector is on the cusp of a global metamorphosis
AIFs put together capital from institutional investors and high net worth individuals and invest the resulting pool of funds in risky asset classes. The idea of setting the AIF is to ensure a new source of large funds for the Indian start-up community – to make up for the enforced absence Chinese investors and their investment dollars from the Indian market. It will also give foreign investors another option to invest – this time indirectly – in India's booming start-up sector.
Corporate social responsibility funds to the rescue
Even before the unprovoked Chinese military aggression at the disputed Line of Actual Control (LAC), the de facto border between the countries, led to a freezing of ties and restrictions on trade and commerce, the Modi government had, last September, mandated that companies could donate their corporate social responsibility (CSR) funds to government-sponsored incubators.
Making this announcement last year, Finance Minister Nirmala Sitharaman said research funding in science, technology, engineering and medicine will be counted as part of mandatory CSR expenditure provided this money was directed towards publicly funded universities, Indian Institutes of Technology and national laboratories.
In India, companies with a net worth of $70 million,  turnover of $140 million or a net profit of $670,000 have to spend at least 2 per cent of their average net profit for the previous three years on CSR activities.
This has opened up another source of funds for Indian start-ups and should make up at least some of the gap left by the restrictions placed on Chinese money.
Start-up collaboration with the UK
Indian start-ups have old and time-tested ties with the UK, but other European nations such as Sweden and Denmark have begun to emerge as stable and reliable partners for Indian start-ups.
The UK remains, by far, the most popular source of funds in Europe for Indian start-up entrepreneurs and venture capital investors. Between 2014 and 2020, i.e., over a period of six years, Indian start-ups have raised about $71 billion from the UK, or an average of about $12 billion a year.
India begins start-up collaboration with Denmark
Recently, Invest India, the Indian government's investment promotion and facilitation agency, and the Indian embassy in Denmark launched the Indo-Danish Innovation Series 2020 to foster closer relations between start-ups and investors in the two countries, encourage cross border knowledge exchange and prepare entrepreneurs for expansion to the new market.
This will provide Indian start-ups a platform to enter the Danish market and expand their businesses there – under the guidance and mentorship of industry experts.
Most people in India are unaware that Denmark is the European Union's most energy-efficient country and has decades of experience and world-leading expertise in sectors such as renewable energy, sustainable development, clean technology, waste management and recycling – all of great interest to India and its start-up community.
This makes an Indo-Danish partnership an ideal fit for both countries.
Still more to read:
Start-ups offer remote working solutions at affordable rates
Profitable future in store for Indian online grocery market in post-Covid-era
India's app ecosystem is on the cusp of change
Rural India drives the boom in Indian e-commerce sector
India's e-commerce policy caught between a rock and a hard place
The Swedish connection
India has also forged close links with Sweden in the start-up sector or innovation in various fields. The India-Sweden Healthcare Innovation Centre recently launched its first healthcare innovation challenge and website to provide start-ups in the two countries a platform to collaborate on innovations that can address the problems of healthcare delivery in India.
E-commerce the main driver of Indian start-ups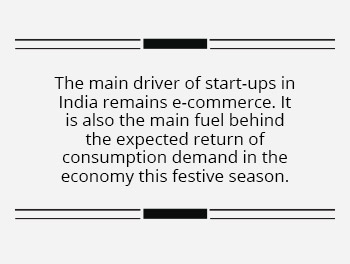 The main driver of start-ups in India remains e-commerce. It is also the main fuel behind the expected return of consumption demand in the economy this festive season.
Internet consulting firm RedSeer estimates that this year, festive season sales in India will rise almost 100 per cent to $7 billion. The number of online shoppers is also expected rise similarly to 50 million.
It is these consumption dollars that are providing the primary ballast to the Indian start-up sector.
A report by RedSeer says: "Consumers now more than ever prefer to shop in a manner that is convenient, safe and hygienic and the e-commerce space meets all these requirements."
Analysts says some of the incremental online sales will come at the expense of offline retailers but add that despite this cannibalisation, overall shipments this festive season could be 20-25 per cent higher than last year.
And most of these online sellers are start-ups. So, not only are start-ups encouraging new innovations in technology and business models, but they have also emerged as a new and important engine of economic growth and employment generation.
The restrictions on Chinese investors, which some analysts said, would severely impact the Indian start-up sector and the innovation economy, are proving to be no more than a mere blip on the radar.