Indian healthcare: An emerging investment magnet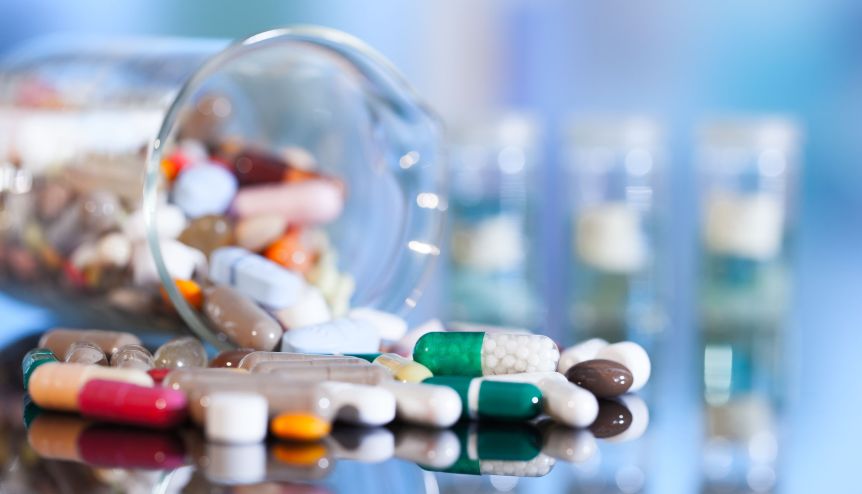 The Indian healthcare sector is riding the growth curve and emerging as a lucrative site for foreign investments, writes a healthcare analyst.
The Indian healthcare sector is one of the fastest growing sectors with high contribution not only in terms of revenue, but also employment. The Indian healthcare market is expected to rank amongst the top-three healthcare markets in terms of incremental growth by 2020.[1] The sector stood at approximately $113.9 billion in 2016 and is likely to grow at a compound annual growth rate (CAGR) of 11.6 per cent in the next five years to reach $195.6 billion.[2] This growth is driven by the rising income levels, ageing population, increasing healthcare awareness, growing health insurance penetration, increasing government's focus on providing universal healthcare and the growing burden of the non-communicable diseases (NCDs). Along with these drivers, India's unique value proposition in the form of low costs, availability of advanced technologies and skilled workforce are further driving the medical value travel in the country.
These factors combined with recent government conducive policies are responsible for alluring domestic as well as foreign investments from the private equity (PE), venture firms and healthcare players. In the last five years, the sector has attracted approximately $63.9 billion from VC and PE firms.[3] Further, foreign direct investment (FDI) in the sector witnessed an overall investments of $4.75 billion during 2012–16.[4]
Current investment landscape of the sector — Focus on healthcare services and hospital chains
India is gradually becoming a favourable investment destination owing to the high economic growth, low cost labour and the availability of opportunities in several untapped sectors. Additionally, the recent government initiatives to promote the ease of doing business, such as the relaxation of FDI norms, strengthening of research and development (R&D) in the sector and strengthening of intellectual property rights (IPR) regime, along with policies promoting the start-up culture, have fuelled investments.
Healthcare, Indian Brand Equity Foundation, January 2016, accessed on 17 April 2017
EMIS Professional – BMI Industry View (Pharmaceuticals & Healthcare Report – India – Q2 2017), accessed on 11 April 2017
Private Equity Review report – 2016, KPMG, February 2017
Department of Industrial Policy and Promotion, accessed on 12 April 2017
The overall FDI in India has increased to reach approximately $46.40 billion in 2016, an increase of 17.9 per cent y-o-y, which can be attributed to the relaxation of FDI norms, as for most of the sectors under the automatic route, 100 per cent FDI is permitted.4 In 2016, under the healthcare sector, a majority of FDI came for the 'Drug and Pharmaceuticals' category ($1.08           billion), while in the 'Hospital and Diagnostic' segment, the investments were found to be flat in 2016 compared with that of the previous year.
The dominance of pharma in FDI can be attributed to the interest of foreign investors in the established pharma companies, which are expected to perform in the growing Indian pharma market estimated at $39.5 billion in 2015–16 (including exports) and set to grow at a CAGR of 12 per cent over the next three years.
The total PE investments in India has also reached the mark of $15 billion in 2016, with approximately 1,430 deals.6 The overall investments were significantly contributed by the IT; banking, financial services and insurance (BFSI); consumer discretionary; and, the healthcare and life sciences sector, in the specified order.
The healthcare and life sciences sector in India has been particularly witnessing substantial investments from PE firms, venture capital firms and angel investors. In 2016, the sector experienced an investment of about $1.1 billion, with nearly 88 deals.7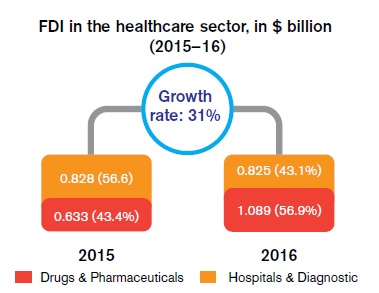 The investments in 2016 in healthcare and life sciences sector, were mainly driven by investors' interests in the healthcare (about 51 per cent of the total investments) followed by the pharmaceuticals segment (approximately 28 per cent of the total investments) and biotechnology (approximately 9 per cent of the total investments).7 Within the healthcare segment, some of the preferred areas of investments include single and multi-specialty hospitals chains and healthcare IT (mobile health application solution, cloud-based solution and health monitoring solution). There were a lot of investments observed for dental services and eye care services, suggesting a growing interest of investors in single specialty domains. Under the pharmaceuticals segment, the investments were focussed on companies dealing in oncology drug development, nutritional ingredient manufacturing and clinical research. The sector also witnessed a few investments in the emerging area of innovative biotechnology products, such as nanoparticles-based drugs and stem cells-based therapies, diagnostic platforms, and wearables.6.
With an aim to promote the investments in the sector, the government has taken certain steps to attract investors, such as:
Increase FDI limit to 74 per cent in the existing pharmaceuticals companies: In June 2016, the government raised the share of FDI to 74 per cent from 49 per cent in brownfield pharma ventures, which can boost PE investments. Earlier, the government had allowed 100 per cent FDI under the automatic route in Greenfield pharma companies.
Bringing 100 per cent FDI for medical devices companies: In 2015, the government further allowed 100 per cent FDI through automatic route for medical devices manufacturers. This is expected to not only boost local manufacturing, but also attract foreign companies to open their subsidiaries in the country.
Registering as Foreign Venture Capital Investor (FVCI) under the Securities and Exchange Board of India (SEBI): An FVCI registered with the SEBI is exempted from compliance with the pricing guidelines under the Consolidated FDI Policy for the acquisition of securities at the time of entering a market as well as transferring/selling the securities during an exit.8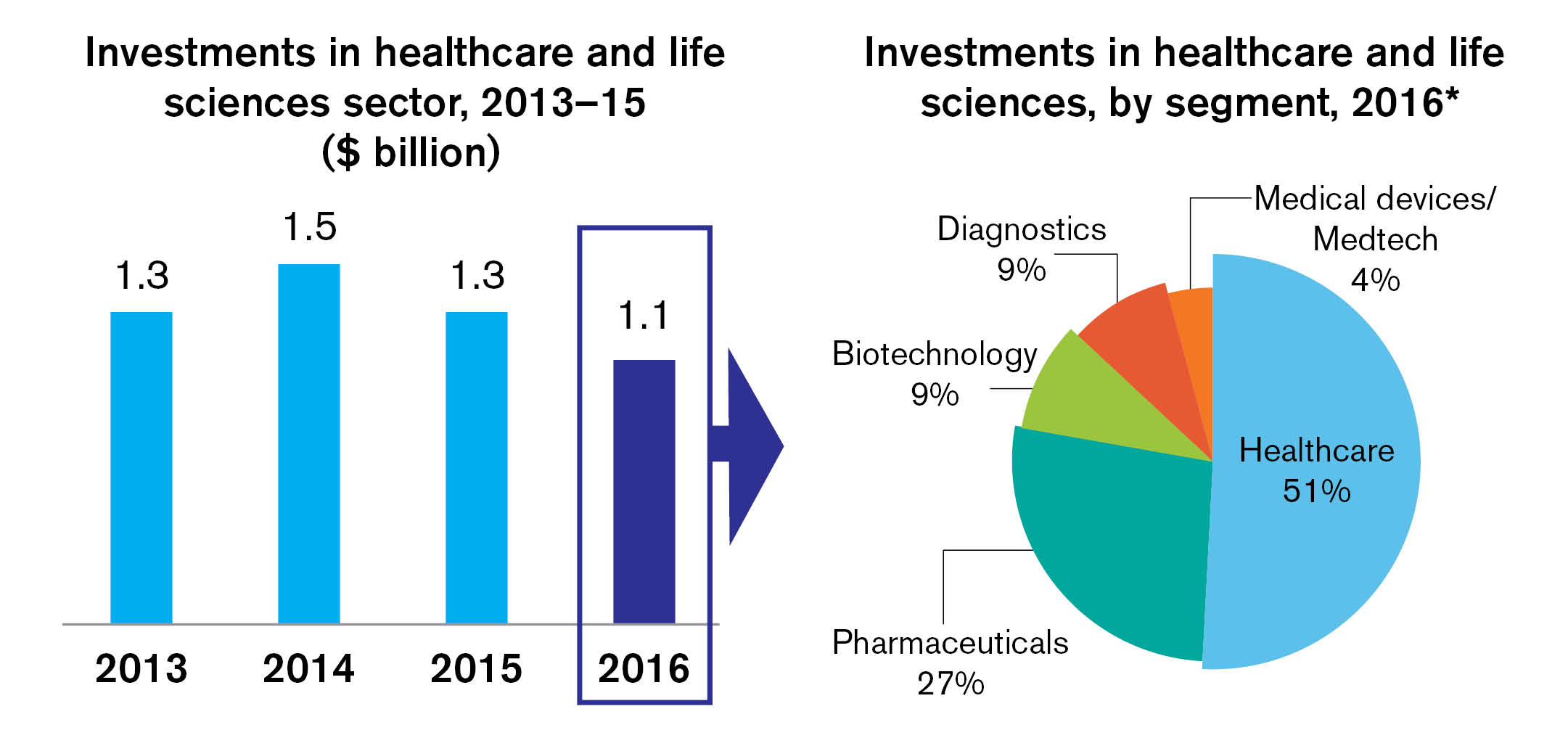 Note*: Healthcare segment includes multi-specialty, single specialty hospital chains, clinics and healthcare IT firms; Pharmaceuticals includes drugs manufacturers and distributors
Source: KPMG India analysis, Private Equity Review report – 2016, KPMG, February 2017
The Indian ecosystem for healthcare investment needs to be strengthened to develop as a globally renowned healthcare investment hub.
Even though the Indian healthcare system is witnessing significant growth in terms of investments, there is a need to further strengthen the ecosystem by mitigating certain challenges such as absence of unified regulatory framework, low tax incentives, thin spread of healthcare insurance, yet to be implemented medical device regulations and lack of cluster-based developments for active pharmaceutical ingredients (APIs). Some of the Asian countries such as China, Singapore and Malaysia have taken steps to attract healthcare investments. A few lessons that can be taken from these countries:
Unified regulatory framework to remove multiplicity and promoting cluster-based developments: China restructured its food and drug regulatory body to form a single agency with ministerial level powers under the State Council. The new agency replaced a large cluster of overlapping regulators to streamline the regulatory regime and reduce the drug approval time. It has also adopted clusters-based approach to incentivise API manufacturing in the country.
Support in healthcare insurance and streamlining medical device regulations: Singapore's constructive policies and model of co-payment, in which people share the expense of their care along with government subsidies, have helped in reducing the out-of-pocket expenditure. The country has also developed separate regulations for medical devices to streamline the process of standardisation and regulation of medical devices.
High tax incentives: Malaysia is seen as one of the key South East Asian countries providing high tax incentives to promote investments. Several provisions such as customised incentives for large ticket investments, ten year tax holiday, access to ASEAN markets through free-trade agreements, duty exemptions and no restrictions on equity, are attracting a lot of foreign investors in healthcare segment.
Along with the relaxations in regulations for investments provided by the government, there are several other factors, such as establishment of healthcare institutes for better human resource development, infrastructure development (building more hospitals, pharma and biotech research parks) and willingness of patients to pay for healthcare services in tier-I cities, would make the marketplace viable for foreign investments.
In a nutshell, the ecosystem for investment in the Indian healthcare market largely depends upon four major factors, namely public–private collaboration, infrastructure requirements, human resources development and tax incentives.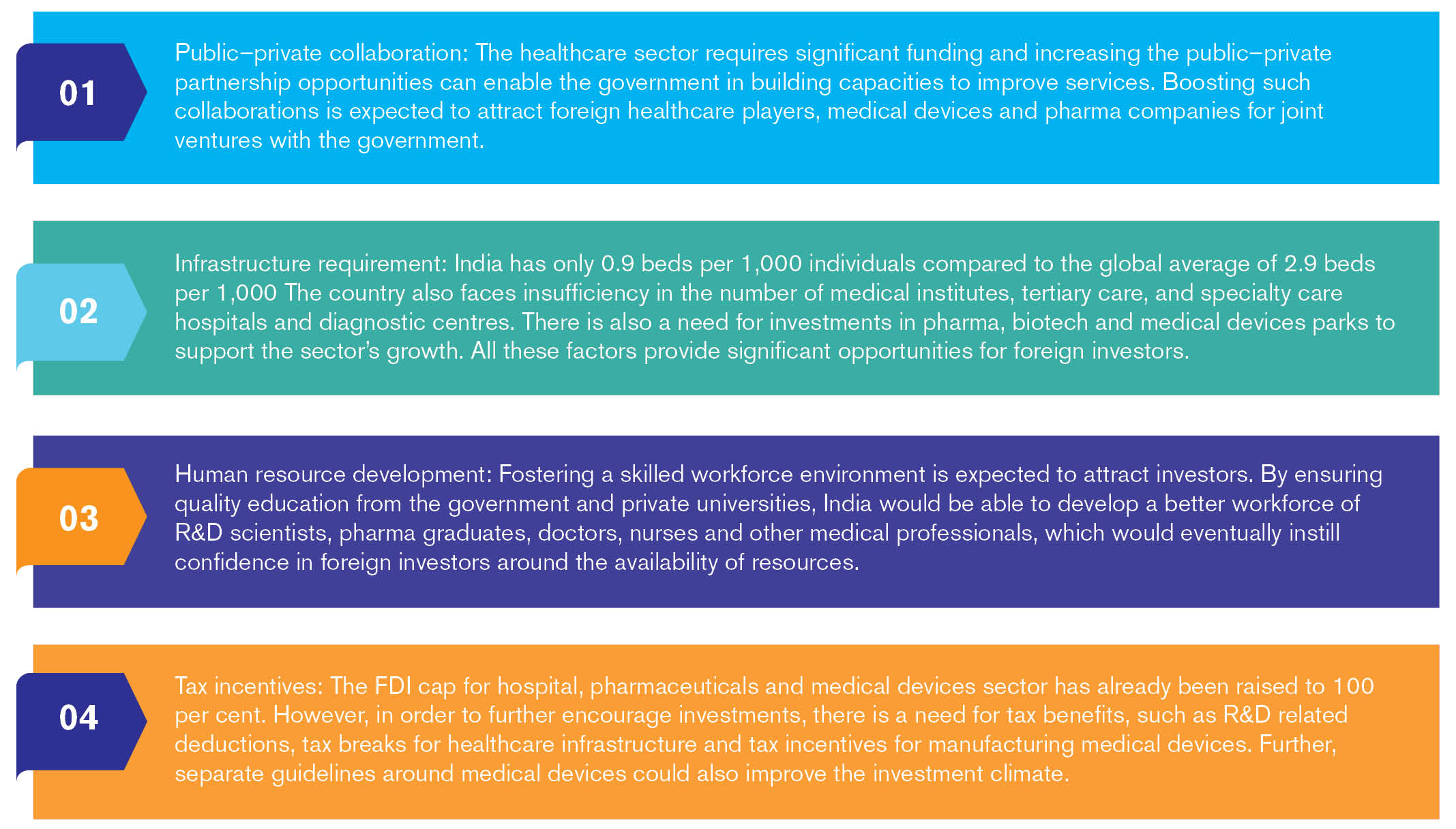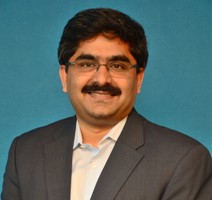 Nilaya Varma is Partner and Head of Healthcare at KPMG in India.