Indian film industry comes of age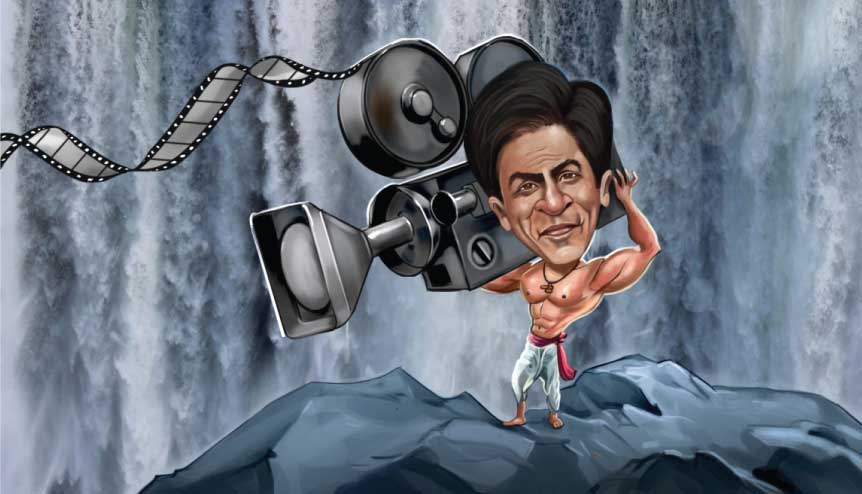 From being known as producers of masala entertainment, Bollywood and the rest of the rich and diverse filmdom of India have today scaled new heights and attracted investors and technical collaborators from around the world.
In Shah Rukh Khan's 2007 patriotic sport drama "Chak De! India," Kabir Khan – the Indian national hockey team coach played by the Bollywood ace – preps up a fledgling women's team ahead of their world championship final match against Australia with a memorable speech.
The moral of that speech: the team just needed to play their natural game as a unit without bothering about the consequences. "Yeh sattar minute tumse Khuda bhi nahin chheen sakta (Even God can't snatch away the next 70 minutes from you)," Khan thunders in the film, exhorting the team to rise and shine during the next hour.

Just like that brave team, after waiting for Tareekh pe tareekh… tareekh pe tareekh (Date after date… date after date), to quote Sunny Deol's unforgettable quip from "Damini," the Indian cinema industry's time seems to have finally arrived to rise and shine under global spotlight. Much like Bahubali's Shivudu, the Indian cinema industry today not only carries the weight of the country's dreams, aspirations and economic prosperity, but is also perhaps the best-known example of Make in India. With its rich diversity of genres, languages and traditions, Indian cinema has become the best cultural ambassador of brand India.

From being known as producers of masala entertainment comprising mainly of a hero, heroine and the proverbial tree around which they would dance, Bollywood and the rest of the rich and diverse filmdom of India have scaled new heights and attracted investors and technical collaborators from around the world.
A resilient industry
Producing more than 2,000 films on average every year in 20 languages, India's film industry continues to be by far the world's largest producer of films. From a total revenue realization of $2.1 billion in 2016, the industry has grown at an enviable 11% CAGR in the past four years. Even if the havoc caused by Covid-19 derails the expected revenue target of $3.7 billion by the end of 2020, the most cynical of industry experts agree that thanks to resilient nature of the Indian film industry and its massive captive market, it will be a temporary deviation rather than a permanent damage.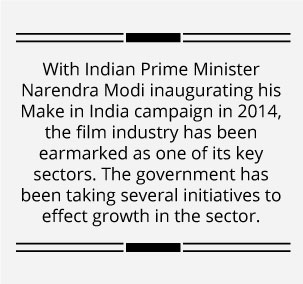 To understand why, it's critical to grasp the intertwined relationship between the Indian film industry and the Indian economy. According to Marc Fetscherin, a visiting research scholar at Harvard University, the Indian film industry accounts for approximately 20% of all revenues among the Indian media and entertainment industries – as part of the services sector, which accounts for more than 50% of India's GDP.
"Despite the high profile of 'Bollywood' which is based in Mumbai, film production also has positive spillover benefits to other local economies, particularly Chennai where film production has long been established, with films made in four key southern Indian languages. There are also notable film production activities in Hyderabad, Karnataka, Kolkata and Kerala that benefit the local economies," Fetscherin wrote in the Global Journal of Marketing in a case study on Indian cinema.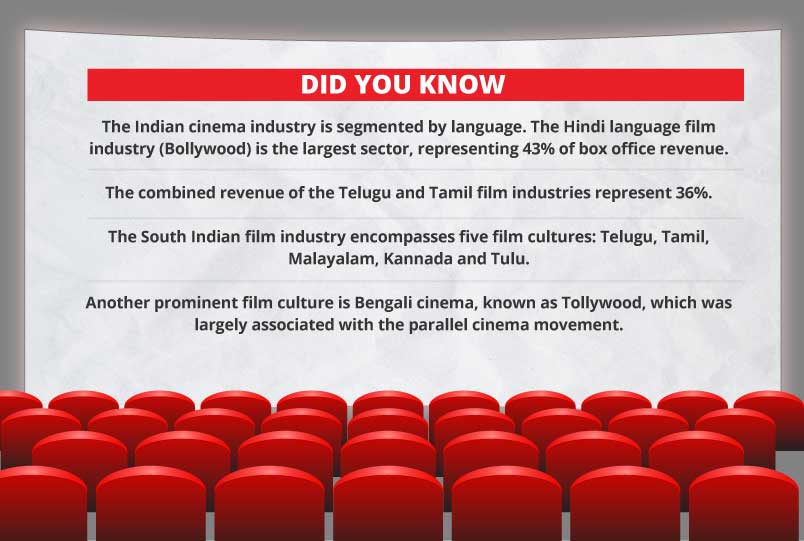 Tourism benefits
Among the key local economic benefits are direct benefits and multiplier effects associated with film production – and thereby employment in specific local economies. Bollywood, in particular, also has tourism benefits with various exotic locations featured in the films boosting tourist visitor numbers – acting as an indirect channel through which the Indian film industry contributes to GDP growth.
Today, cinema has become one of the most preferred and powerful mediums of communication and entertainment across India – and despite the linguistic diversity, which other democracy can boast of the captive eyeballs of 1.3 billion people? Indian movies today are not only about mere entertainment but also about powerful social commentary and play a formative role in developing a culture or addressing a contemporary issue.
Factors for commercial growth
Two key factors are responsible for this sweet convergence of commercial growth and mature storytelling in Indian cinema.
First, the digital revolution and rapid growth in digital infrastructure across India has created a tectonic shift in content consumption – and we will soon discover how.
Second, there has been a conscious movement in Bollywood and other regional film powerhouses to embrace smaller and independent producers in a predominantly production-house dominated industry – which has led to the emergence of parallel or independent cinema along with commercial blockbusters. Films such as Wednesday, Vicky Donor and Lunch Box, successfully demonstrated in the initial days that gripping content could work without an ensemble cast.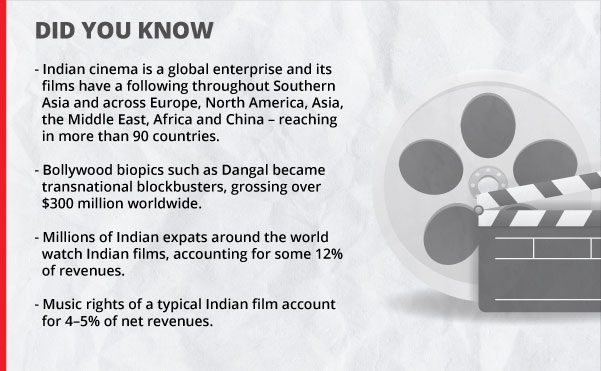 Given the size of the market and its vast potential for innovation as well as solid commercial returns, the Indian cinema industry has always been a point of interest for global players. Earlier, this interest did not always converge into films being produced in India, thanks to the complicated approvals required by foreign producers to shoot films in India. But with Indian Prime Minister Narendra Modi inaugurating his Make in India campaign in 2014, the film industry has been earmarked as one of its key sectors. The government has taking several initiatives to effect growth in the sector as well as promote foreign film shootings locally – making strategic efforts to streamline the sector and help optimize its lucrative potential.
Thus, film facilitation offices have been set up by the government to ensure quick clearance for foreign film-makers, promote India as a destination for filming and film tourism among foreign production houses. Co-production agreements were signed with countries such as Italy, Germany, Brazil, UK, France, Spain and Canada.
Developing technical skills
Another endeavour of the Make in India campaign has been to develop technical skills for film production, post-production and VFX. Given the low labour cost, this has swiftly emerged as a key factor in attracting foreign filmmakers to India.
As the Indian film industry recovers from the devastating blows of the current pandemic and moves into the next phase of growth following, it is imperative to keep pace with the global technological advances and innovation. "Historically, the Indian film sector has lagged behind in its counterparts in the deployment of emerging technologies such as virtual reality, augmented reality, drone shootings… The development and deployment of key technologies in Indian films will be critical to remain at the forefront of global trends," said Hemant Joshi and Ashish Jani in an industry analysis for Deloitte.
Why Indian cinema is worth the investment
Here are some key trends and future opportunities to watch for in the Indian film industry:
1. Foreign films in Indian languages: International films is a rapidly growing segment in the Indian film industry, having increased its box office share to nearly 10% of the total market. One key reason for this due to the dubbing of international films in regional languages – the key ones being Hindi, Tamil and Telugu.
2. Rise of multiplexes and changing dynamics of watching movies: Multiplexes have witnessed significant growth across major Indian cities and continued penetration in smaller towns. Investments in multiplexes is mainly driven by improved per-ticket realization, rising urbanization, and growing disposable incomes, according to Deloitte.
3. Entry of international studios through acquisitions: Several global film studios such as Warner Bros., Disney, Fox, and Dreamworks have not only set up distribution houses in India, but have also entered into partnerships with local film production houses through acquisitions and co-production agreements. Walt Disney, for example, bought a 50% stake in UTV and has a controlling stake in UTV Software Communications, and Viacom18 – a JV between Viacom and Network 18 now owned by Reliance Industries – was the first studio model-based production house. Similarly, Fox Star joined hands with Dharma Productions and has produced more than 30 Bollywood films, as well as a several Tamil and Malayalam language films.
4. Rise of regional cinema: While mainstream Bollywood still continues to dominate the Indian film industry production and box office collection, regional cinema has seen a major surge in investments from major film studios, tapping the potential of underpenetrated markets. Which is why big-ticket producers such as Eros, Disney, Reliance (through Viacom 18) and Fox Star Studios have made a beeline for regional cinema, also benefitting from the cheaper cost of producing regional movies.
5. Digital adoption across the value chain: The digitization of movies has enabled a wider and cost-effective distribution of films across India and curb piracy – one of the lingering challenges of the industry. For instance, digital printing costs 80% less than conventional printing – which allow producers to scale up to five times the number of screens than originally possible in the same budget. Due to this, more commercial films have reached smaller cities and towns in the first week of a movie's release – resulting in a drastic increase in initial revenues.
6. Increasing per capita income and growing middle class: India's per capita income has shown a steady increase in the last few years – and its middle class segment has grown by an astounding 160% since 2000, versus 70% increase in Asia Pacific during the same time. This level of median household income has driven up discretionary spending on leisure and entertainment – providing investors a glimpse into the massive potential in India with rapidly growing demand and increasing footfalls.
7. Growing number of mobile users: India's billion-plus unique mobile user base is the envy of any marketeer – and more than 300 million Indians have people access to internet. The ease of watching content on mobiles has leapfrogged with the rollout of 4G networks, the proliferation of internet and smart phone usage – opening up a new platform for film distribution and viewing.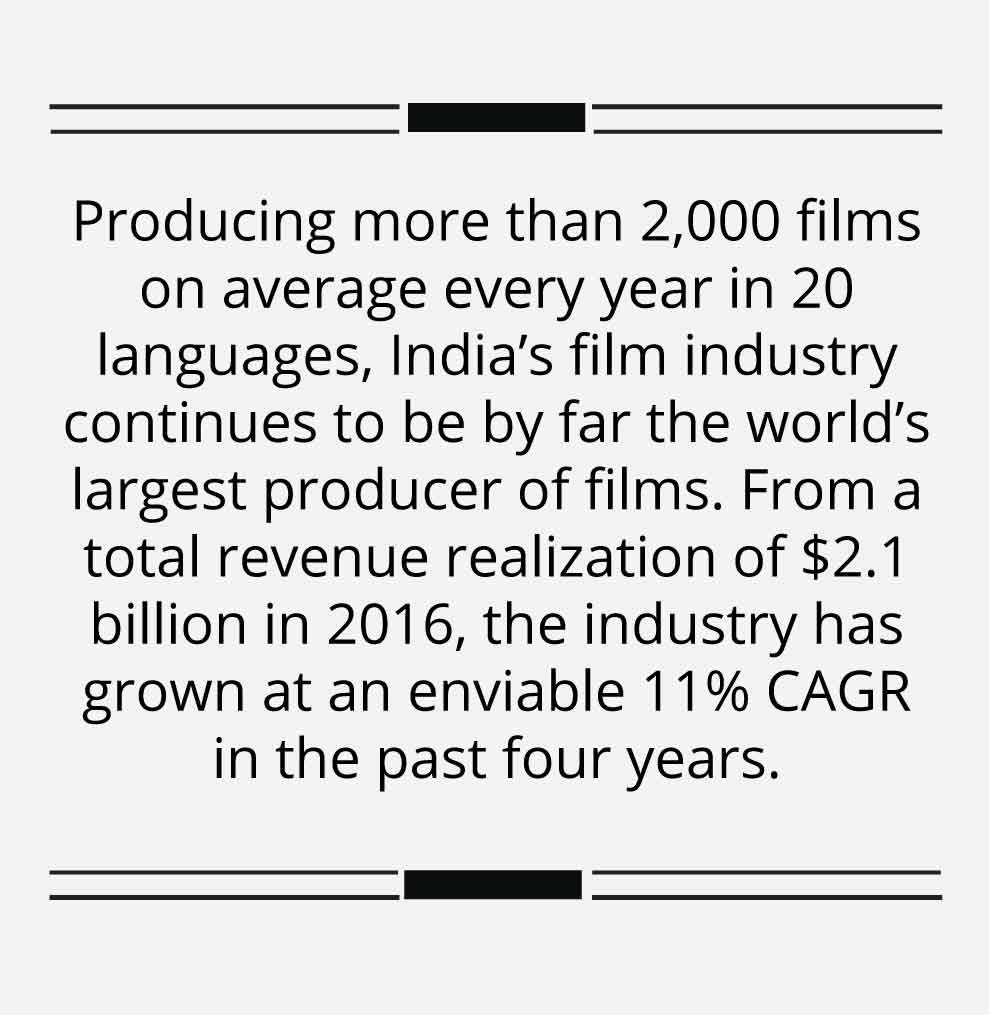 8. Diversifying into international markets: Diversifying to international markets has been proven to provide a huge boost in demand and revenue for many mature cinema indsutries. For example, Hollywood currently derives almost two-thirds of its revenue from overseas market versus around 18% overseas revenue collected by the Indian film industry. While Reliance Industries was among the pioneers to invest in partnerships with major Hollywood studios such as DreamWorks, others like Eros tied-up with three Chinese film and entertainment companies in May 2015 to co-produce, distribute and promote Sino-Indian films in both countries.
9. Collaborating for new platforms: US video streaming giant Netflix last week said it was in talks with Viacom18, part of the Indian conglomerate Reliance Industries' media unit Network18, about a multi-year partnership to source content. Several industry experts have said this is one of Netflix's "biggest moves to create local content in India," and indicates a future trend for similar content in streaming platforms. Under the partnership, Network18 affiliates would create shows for Netflix to help the US company expand offerings in India, where it competes against the video streaming services of Amazon and Walt Disney Co.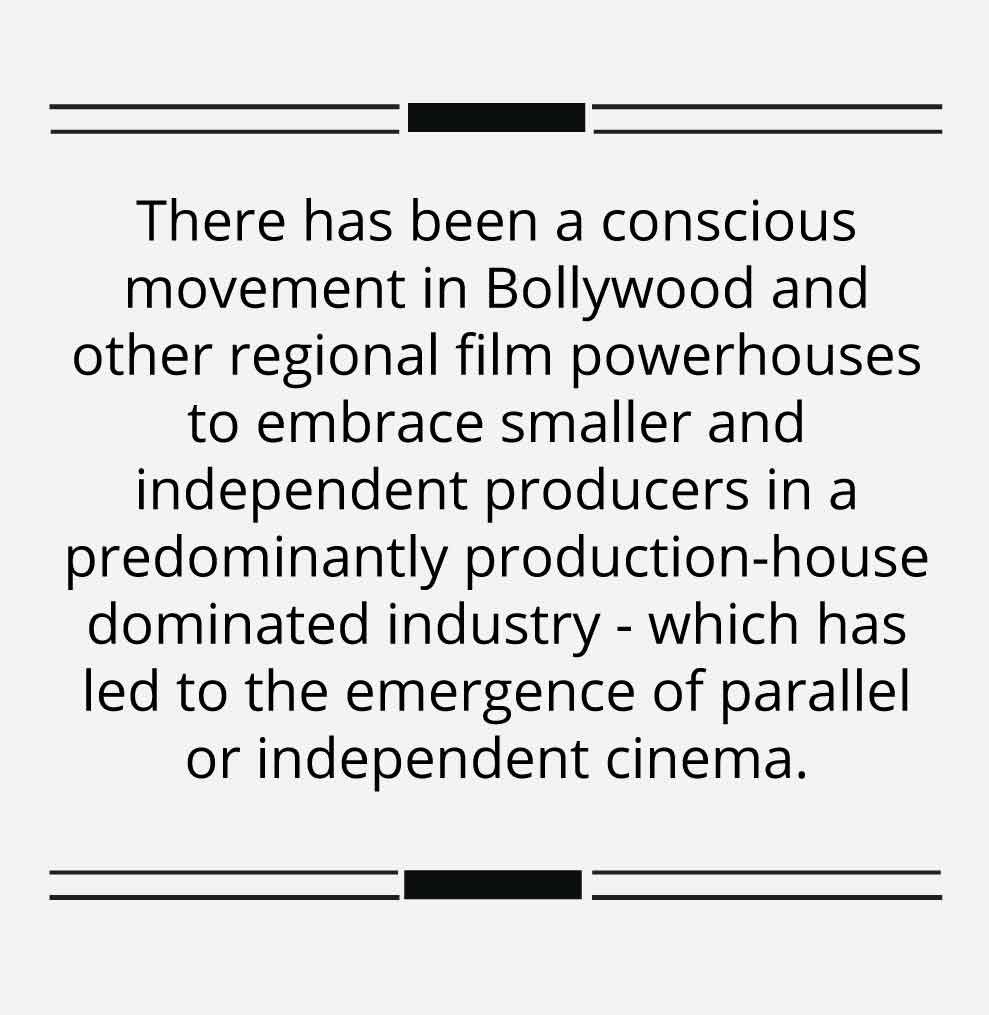 10. Tapping into film tourism: A key untapped area in the Indian film industry is promoting film tourism and encouraging global players to shoot and produce films in India's many enchanting destinations. India also offers various benefits to film-makers, such as cost-efficiency, skilled yet inexpensive manpower, and local talent. As an example, in 2014, the production of The Amazing Spider-Man 2 in New York cost Sony Entertainment $150 million – which further percolated into generation of $44 million in wages to New York residents, $4.5 million in taxes to the state, $1.9 million for catering, $4 million for site fees and $5.7 million for hotels.
11. Fiercely battling piracy: While the film industry has grown manifold in India, it still remains riddled with the plague of digital piracy. In order to combat the same, the Indian government moved the Cinematograph (Amendment) Bill, 2019 – taking into account the losses faced by the film industry due to rampant increase in piracy and the release of pirated versions of the films. The proposed Section 6AA prohibits a person from using an audio-visual recording device in a place to knowingly make or transmit a copy of a film or a part thereof, and is expected to act as a deterrent to all from unauthorised copying of any part of a film, especially in theatres.