Indian entrepreneurs are among the best in the world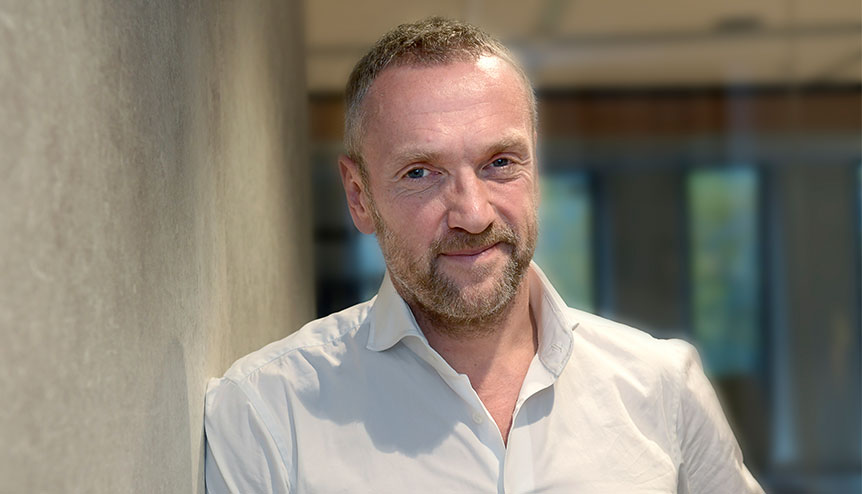 Interview
In this exclusive interview with 'India Global Business' Bob van Dijk, CEO, Prosus and Naspers discusses investment opportunities in India, the importance of social finance and how start-ups and SMEs be brought in as stakeholders in addressing social challenges.
What are your thoughts on India as an investment destination? Which sectors offer opportunities?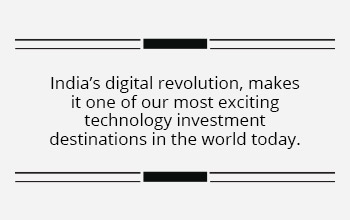 We have a long and deep relationship with India, having invested in the market and worked with some of its most dynamic emerging businesses since 2005. We've committed more than USD 5 billion to Indian technology businesses to date and continue to believe that Indian entrepreneurs are among the best in the world, with exceptional abilities to build products, and understand scale and value. That is critical in a country as vast as India.
Our India investments span classifieds, payments and fintech, ecommerce, food delivery and education; these are sectors that continue to excite us where we expect to see impressive growth and innovation.
We have always taken a partnership approach in India, which means our commitment is long-term, our capital is patient, and our expertise complements the entrepreneurs we back. India's digital revolution, in our judgement, makes it one of our most exciting technology investment destinations in the world today.
Have you read?
How the pandemic is fuelling India's edtech platforms
Reimagining learning: Growth of EdTech Start-ups in India
Indian edtech firms expanding globally
Modi envisages 1,000 Dalit start-ups in three years
A vision to provide high-quality, personalised education across the world
Start-ups keep businesses rolling in India during a pandemic
India start-ups are a big hit – Six Unicorns in 2020
Indian start-ups go from strength to strength
India's edtech sector is seeing a boom. How do you see this sector growing?

Helping to grow consumer internet platforms is in our DNA and our Prosus Ventures arm works to identify emerging sectors and businesses that provide the strongest opportunities for disruption and then replication, quickly and across geographies. From classroom tools for teachers through to fully digital executive education, edtech has excited us for some time now.
Our international approach to edtech investing means that we are well positioned to now act on the opportunity in India, where the pandemic has accelerated the bias towards online learning across the chain from vocational to professional learning. Prosus entered the edtech market in 2016, with investments in Brainly, Codecademy and Udemy, and has continued to expand its investments in the sector.
Our portfolio also now includes BYJU's, Eruditus, Skillsoft and SoloLearn. In India, we anticipate increasing use of more affordable smartphones and deeper bandwidth penetration to remote communities, which will enable delivery of online tools to supplement existing K-12 education in physical schools.
Read more:
There is a real need to redefine the whole narrative around social finance
How corporate India is fulfilling its social responsibility in times of Covid-19
Development Impact Bonds: an innovative future for financing social impact
The future of funding social change
Social financing will revolutionise philanthropy in South Asia
What are your thoughts on bolstering social finance in India? How can companies become involved and which sectors should they be looking to invest in?
Entrepreneurs like to solve customer problems and are always looking for ways to provide great customer experiences and seamless products to address specific needs in business or society. We as investors are always on the lookout for a great sector or an opportunity to invest in.
In our case this has come together beautifully in the project Prosus Social Impact Challenge for Accessibility (SICA). Through Prosus SICA we are seeking to support great companies whose innovations can make a difference to society, thereby creating large-scale benefit for all.
How can start-ups and SMEs be brought in as stakeholders in addressing social challenges particularly around social finance?
Many of today's start-ups and entrepreneurs feel quite passionate about supporting social challenges. As a result, sectors such as healthcare, mobility and education have seen great innovations. Equally, investors are increasingly looking at how they can go beyond creating financial value and also create real social value. Impact investing is one way which has proved to be beneficial for society on the whole. At Prosus, we have always placed an emphasis on working with companies and start-ups that are committed to creating positive societal impact alongside long-term profitability.

How does the 'Social Impact Challenge for Accessibility' launched by Prosus tie into the above issue and what was the inspiration in launching the scheme?
It is estimated that 25 per cent of the world's population will need some form of assistive technology by 2030. If you apply that need to India alone, it presents a huge challenge, and an opportunity to find tech-based solutions that will positively impact both lives and livelihoods.
In August, we announced a nationwide challenge to discover the most innovative start-ups in assistive technology in India. The Prosus Social Impact Challenge for Accessibility (SICA) will fund and nurture start-ups that have developed the most innovative interventions in technology that assist people with vision, locomotor, developmental and psychosocial disabilities, as well as people with neurological conditions. A grant of ₹ 16,500,000 will be awarded through this annual challenge over the next three years.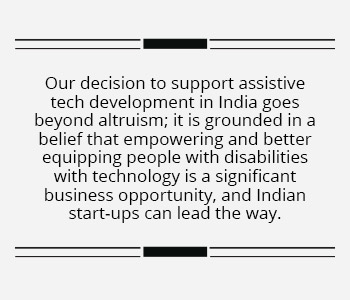 We're fortunate to have some fantastic partners supporting us, including Invest India, Startup India and Social Alpha (backed by the Tata Group), all of whom share our vision to inspire meaningful change in accessibility for people with disabilities. Beyond funding, Prosus and its partners will provide the three annual winners with technical support, mentorship and business advice, with the aim to help these start-ups succeed.
Our decision to support assistive tech development in India goes beyond altruism; it is grounded in a belief that empowering and better equipping people with disabilities with technology is a significant business opportunity, and Indian start-ups can lead the way.
How do you see the role of funds and investors evolving after the pandemic? Do you think there will be a shift towards greater sustainability and social parity?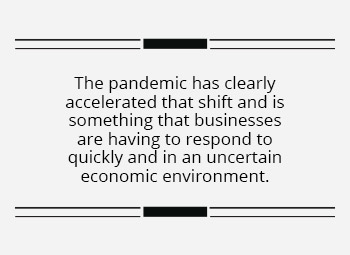 We were already seeing a significant shift in the expectations and obligations from companies and their investors on an approach to a more inclusive form of growth that benefits all stakeholders, not just shareholders. The pandemic has clearly accelerated that shift and is something that businesses are having to respond to quickly and in an uncertain economic environment. As a public company, but also as investors, we recognise that we share a responsibility in demonstrating our contribution to a more sustainable way of living.
At Prosus, we have done a lot of work in recent years to develop and refine a sustainability strategy that is not only aligned with our business activity, but also rooted in the United Nations' Sustainable Development Goals (SDGs). As a responsible business committed to making a lasting positive difference, we identify and focus on achievable goals, and the role of technology and entrepreneurship are clearly at the heart of many of our sustainability efforts. SICA is just one example of putting our commitments into action.
Podcast: Play in new window | Download