Indian economy doomsday predictions are highly overstated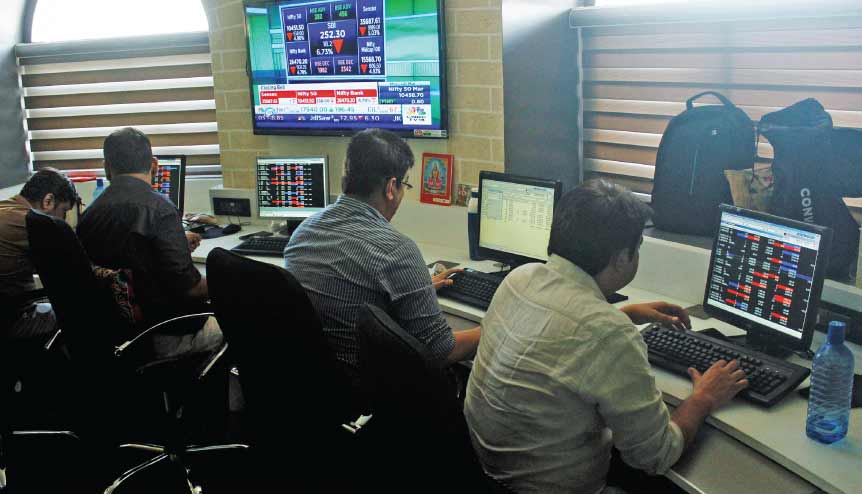 The headline figures for the Indian economy give a somewhat pessimistic outlook. But with several indicators and sectors showing signs of a rebound as the country opens up once again and with rural India, which accounts for almost half of India's $3-trillion economy, set to boom this year, the negative impact of the Covid-19-induced slowdown will be largely tempered.
The economic data may look grim but the mood on the Street seems buoyant. There are indications that the gloomy headlines may not be showing the full picture because there are some bright spots in the economy that are getting drowned out by the cacophony about doom.
Have you read?
India's economy weathers Covid-19 storm better than others
India's economy and fiscal position is set for a sharp rebound
India will still be the fastest growing major economy in the world
India's economy under lockdown, but there are reasons to be hopeful
Farmers may rescue Indian economy this year
Headline numbers look bad
India's gross domestic product (GDP) shrank 23.9 per cent in the April- June quarter (Q1 of 2020-21) because of the Covid-19 pandemic and the world's most stringent lockdown that led most industries to completely shut down for most of the quarter.
Three major economic indicators – consumer spending, investments and exports – showed a contraction and this, many economists are predicting, has set the stage for the first full-year contraction in four decades. The US, the world's largest economy, shrank 32.9 per cent, the United Kingdom's GDP contracted 20.4 per cent, while China was the only large economy to record any growth – of 3.2 per cent during the quarter under review.
A back of the envelope calculation shows the Indian economy lost output worth about $175-180 billion in the first quarter of the current financial year.
Total Area Coverage under Pulses, Oilseds, Cotton and Sugarcane #AatmaNirbharBharat #AatmaNirbharKrishi pic.twitter.com/HpXto5LXT5

— Agriculture INDIA (@AgriGoI) August 28, 2020
Agriculture shines a light
While gross fixed capital formation, a proxy for private investment in the economy (-47%), private final consumption (-26%), manufacturing (-39.3%), the services sector (-26.8%) and public administration and defence (-10.3%) were stress tested amidst the ravages of the pandemic the agriculture sector proved to be the shining light by recording a growth of 3.2 percent.
Government expects a sharp recovery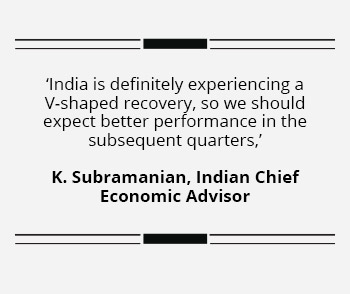 "In some (ways), this decline is expected, given the global lockdown that happened… India is definitely experiencing a V-shaped recovery, so we should expect better performance in the subsequent quarters," the government's Chief Economic Advisor K. Subramanian said, adding that the contraction is because of the "exogenous shock that has been felt globally".
This sentiment was echoed by Rajiv Kumar, Vice Chairman of NITI Aayog, the government's official think tank. "First-quarter GDP growth is on expected lines. However, month-on-month we see a steady improvement in certain parameters… Since the pandemic has not yet touched the peak, states are being extra cautious and this will continue to impact both demand and supply in the second quarter as well," he said.
Things are likely to pick up from the current month onwards as a result of the proactive steps taken by the Indian government to manage the crisis in the wake of Covid-19 outbreak, A.K. Sharma, Secretary, Ministry of Micro, Small and Medium Enterprises was quoted as telling the media.
Contrarian call by investors
Investors, both domestic and foreign, are seeing something beyond the hard and melancholic numbers that economists and most others seem to be missing. How else can one explain the behaviour of the Indian stock markets?
Consider the numbers: On January 17, 2020, the S&P BSE Sensex touched an all-time intra-day high of 42,063.00. Three days prior to that, on January 14, it had recorded its all-time high closing of 41,952.63. Then it crashed, to 25,981.24 on March 23, two days before Indian Prime Minister Narendra Modi announced a total lockdown across the country.
The macro-economic front has been facing its painful moments. Exports have dipped, an estimated five million white-collar executives and millions of blue-collar workers have lost their jobs and the government has breached its full-year fiscal deficit target within the first five months of the financial year.

Read more:
India is poised to become an engine of growth for the world economy
India set to become the world's third largest economy
Indian economy is just getting warmed up
Digital economy boom is empowering SMEs in India
Reimagining learning: Growth of EdTech Start-ups in India
There is scope for additional growth in India – Petraeus
FPIs are net buyers of Indian stocks
Yet, the stock markets have bounced back. At the time of writing, the S&P BSE Sensex is trading at 39,000 levels, which is about 50 per cent higher than its March low.
One reason is foreign portfolio investment (FPI) inflows. These investors had pulled out billions of dollars in March, April and May. But subsequently, from June onwards they have been net buyers of Indian stocks.
Farm sector to the rescue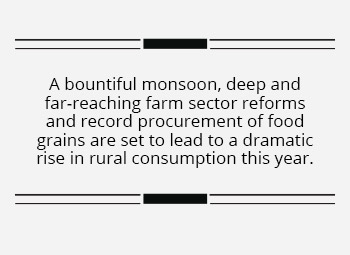 Analysts often overlook the fact that though agriculture comprises only about 16 per cent of the Indian economy, rural India, which is largely dependent on farming and allied activities account for 46 per cent of the country's economy.
A happy combination this year of a bountiful monsoon, deep and far-reaching farm sector reforms announced by the Modi government and record procurement of food grains is leading to a dramatic rise in rural consumption. Then, the Covid-19 pandemic has largely spared rural India, which means it is almost fully open for business.
The total pay-out to farmers for procurement of grains so far this year is $12 billion. Then, the Modi government's universal basic income for marginal farmers has infused another $2.5-3.0 billion into the rural economy.
Rural prosperity is critical for Indian industry as it accounts for almost 100 per cent of the demand for fertilisers and tractors, more than 50 per cent of the demand for two-wheelers, including both bicycles and motorbikes, and leather goods, about half the consumptions of fast moving consumer goods, more than 40 per cent of the demand for steel and cement and a significant proportion of the sale of automobiles, garments and apparel, televisions, mobile phones and a host of other products and services.
So, a good monsoon, which leads to an increase in rural prosperity and purchasing power, affects not only the farming community but also the entire economy value chain that sustains India's fast- growing urban population.
Still more to read:
India is a multi-decade growth story
Private passenger trains could be the next big growth opportunity in India
Green shoots of growth in India could prove doomsayers wrong on economic contraction
Bold reforms now could set India on a high growth trajectory
India will become a growth engine again, post-Covid
Rural Bharat leads India in digital growth
Analysts are missing the other bright spots
Along with the gloomy macro-economic headlines, there are also pieces of good news coming from diverse sectors that, when added up, significantly softens the blow of the economic contraction.
For example, the IHS Markit Purchasing Manager's Index, a proxy for industrial activity, is at a post-lockdown high of 52 in August, up from 46 in July, A score of more than 50 indicates expansion. Then, the Nomura Business Resumption Index also touched a post-lockdown high of 75.7 for the week-ended August 30 compared to 73.4 in the previous week before.
These figures are supported by other proxies for economic activity such as freight movement, power consumption and fuel demand have shown improvements.
Passenger car sales, freight traffic, fuel consumption up
Passenger car sales have bounced back in August. Maruti Suzuki, India's largest passenger vehicle maker and a proxy for the sector, sold almost 125,000 cars in August, an increase of 7.1 per cent over the figure for the corresponding month last year and 15.3 per cent higher than its sales in the preceding month.
Transforming Freight in New India: Railways ensures swift, cost-effective & environmentally efficient transportation of goods.

To transport goods:

☎️ RailMadad Helpline 139 (Option 6)
🌐 https://t.co/R65gCTprYZ
📧 railmadad@gov.in

📖 https://t.co/YUVhIbEwqS pic.twitter.com/GiaOdOKERB

— Piyush Goyal (@PiyushGoyal) September 1, 2020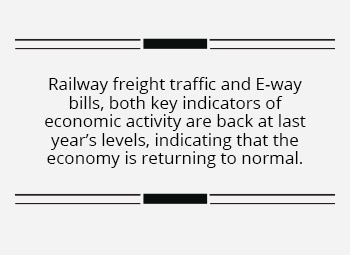 Railway freight traffic, which is an indicator of economic activity in the country, rose 3.6 per cent in August compared with the same month last year. E-way bills, which like railway freight, is a proxy for business activity in the country, was at 99.8 per cent of the level achieved last August, indicating that the economy was fast returning to normal.
However, there's still considerable room for improvement. According to Nomura, the labour participation rate in India fell to 39.5 per cent from 40.5 per cent the previous week even as the unemployment rate climbed to 8.1 per cent from 7.5 per cent.
Doomsday scenarios is overstated
Many analysts are warning that the Indian economy may contract as much as 9.0-12.5 per cent for the whole year. Such a gloomy outcome, however, may not materialise because the Q1 contraction was a black swan event brought about by a lockdown of 65 per cent of the economy.
As industries start resuming operations and workers return to their old jobs – the latest NREGS data shows a fall in demand for rural jobs, an indication of migrant workers returning to their workplaces – the pace of economic recovery will gather pace.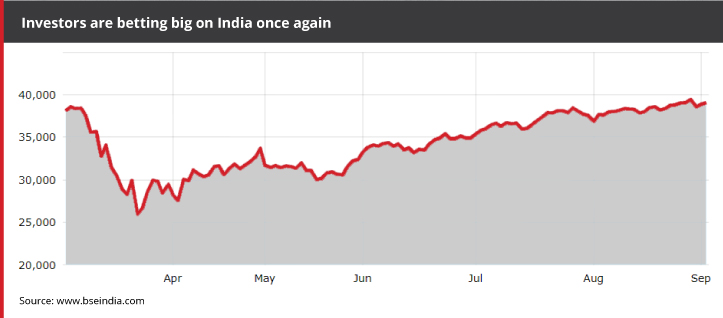 And even if India grows at an average of 5 per cent in the remaining three quarters of this fiscal, the overall contraction for the year will fall to less than 9 per cent.
Then, as the base effect kicks in next year, the rise in national output, from the low base of this year, may well be phenomenal. That is why most analysts and global agencies are expecting the Indian economy to rebound strongly if not this year, then definitely in the next.