Indian companies are net job creators in the US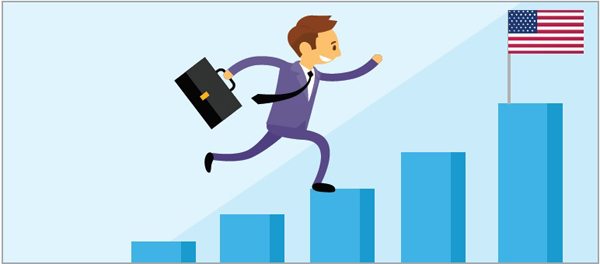 Indian companies, far from being job destroyers in the US, are actually net employment generators, writes India Inc. Consulting Editor.

Republican Party presidential nominee Donald Trump's flip flops over H1B visas, which allow Indian IT pros to work in the US, show that large sections of the US are increasingly viewing protectionism as a panacea for its domestic economic problems, including joblessness, even as saner voices point to the positive contributions made by skilled migrants like Indian geeks.
Rational arguments often get lost in the din of shrill electoral rhetoric. So, it is easy to miss the point that Indian companies, far from being job destroyers in the US, are actually net employment generators and that Indian IT professionals, the most visible target of the Trumpeters, in fact, improve the competitiveness and, hence, profitability of US companies.
According to a study titled "Indian Roots, American Soil" by the Confederation of Indian Industry (CII) and Grant Thornton (GT) last year, about 100 Indian companies have invested $15 billion in US industry and created 91,000 direct jobs in that country.
The highlights of the report are:
About 100 Indian companies have invested $15.3 billion and created 91,000 direct jobs across the US
The top five states in terms of job creation by Indian companies are New Jersey (9.278 jobs), California (8.937 jobs), Texas (6,230 jobs), Illinois (4,779 jobs) and New York (4,134 jobs)
The top five states in terms of FDI by Indian companies are Texas ($3.84 billion), Pennsylvania ($3.56 billion), Minnesota ($1.8 billion), New York ($1.01 billion) and New Jersey ($1 billion)
The average investment per state is $443 million
Six out of seven Indian companies present there plan to invest more in the US
90% of the companies plan to hire more employees locally in the next five years.
"Indian Roots American Soil is CII's flagship event on Capitol Hill and is part of our ongoing effort to highlight the positive stories of Indian companies' contributions to the US economy and society. Our aim, through this event, is to highlight the range and depth of Indian investments in the United States. India is now the fourth-fastest growing source of investments into America – this is a very critical aspect of the burgeoning bilateral US-India business story and one that has an immediate and visible positive impact on the local communities where these companies operate. It's a story that needs to be told and re-told," CII Director General Chandrajit Banerjee said in a statement.
"A cornerstone of relations between India and U.S. is the thriving commercial exchange between the countries. As India surges forward to become the fourth fastest growing source of FDI into the U.S., it is critical that we recognize the positive impact of Indian business investments in the country. In Virginia, Indian companies have been key players in creating jobs and engaging communities. I hope to see this trend continue in the future, with increased Indian business operations in the country," Senator Warner, Virginia, Co-Chair, Senate India Caucus, was quoted in a statement.


Another report released by Indian IT industry lobby Nasscom, also released last year, pointed out that the much maligned Indian IT sector supported more than 400,000 jobs in the US and contributed more than $20 billion in federal taxes over the last five years.
"The Indian IT industry has definitely made a big contribution to the US economy," Indian Commerce Minister Nirmala Sitharaman has said. "There has always been a popular apprehension that Indian IT industry benefits from the United States and takes away job from the US."
Yet another study by the Brookings Institution has also belied the myth that cheaper Indian IT professionals are snatching jobs from qualified Americans in the US. The study points out that most Indian workers on H1B visas generally earn more than comparable US workers with similar educational qualifications.
Indian IT companies create and protect jobs in the US in the following ways:
They provide US businesses with advanced IT services and support, which helps US companies maintain their global competitiveness, enter new markets, gain market share and remain profitable
Indian IT companies have invested billions of dollars in setting up facilities in the US and created thousands of direct jobs there
Indian IT companies directly employ about 100,000 US citizens and support jobs for three times as many Americans
Over the last four years, job creation by Indian IT companies in the US grew 10 per cent annually compared to a 1.7 per cent overall job growth in that country.
Why then is there the outcry in the US against foreign businesses in general and the Indian IT sector in particular?
Empirical evidence suggests that people turn insular and politicians turn protectionist in times of economic hardship and slowdowns. The US and, indeed, the entire western world has yet to recover from the sub-prime crisis of 2008.
This has allowed politicians and other purveyors of doom the space to peddle populist and protectionist slogans based on demonising "foreigners who steal US jobs". Such rhetoric, which would usually be ignored by most Americans in prosperous times, is finding takers because jobs are difficult to come by.
With US elections due at the end of this year, politicians and their camp followers have only ratcheted up their fear mongering several notches in a desperate bid to woo nervous voters.
But analysts are hopeful that once the elections are over, the frayed tempers will cool down and it will be back to business as usual.
They are taking solace from Trump's doublespeak on the subject of H1B visas. Towards the end of last year, he had been vociferous in his demands to limit and even roll back the number of skilled professionals who should be allowed into the US on this class of visas saying that not doing so would "decimate women and minorities."
He had also demanded that the minimum wage paid by US employers to workers with H1B visas be raised substantially in order to limit their numbers. According to Trump's website, this will stop US companies from "flying in cheap workers from overseas".
But he seemed to change tack in a television debate in March this year when he said: "We need highly skilled people in this country. If we can't do it (produce them locally), we will get them in."
When the moderator pointed out that this was starkly different to what he had been advocating earlier, Trump said: "I've never seen a successful person who wasn't flexible."
This has led some analysts to expect that once the heat generated by the elections cools down, politicians will tone down their rhetoric.
India is not taking any chances. Speaking exclusively to India Incorporated, Sitharaman said: "We have discussed the visa-related matter with the US at various levels. We have talked to US Trade Representative and US commerce secretary both during our strategic dialogue and later. We have also made it public that we may approach the WTO on increase in visa fees as this could be viewed as a non-tariff barrier. This is against the spirit of free trade practices on the movement of personnel. So, we make take the US to WTO."
But that, many trade analysts are hoping, will not be necessary, especially in the light of data that shows Indian companies – and the Indian IT sector, in particular – are net job creators in the US.
Arnab Mitra is Consulting editor, India Inc. He writes on business and politics.