India weighs up its choice for new WTO chief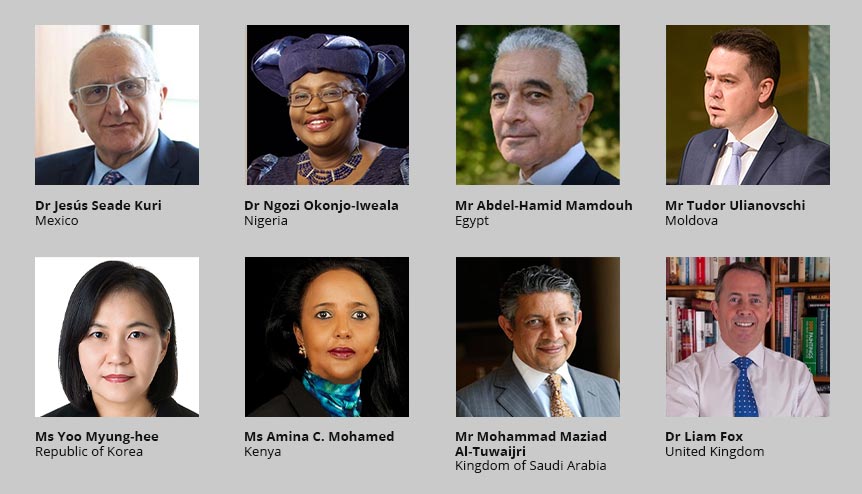 As the World Trade Organisation (WTO) prepares to elect its new Director-General, India will be making its choice based on some clear ideals of global trade facilitation and developmental issues.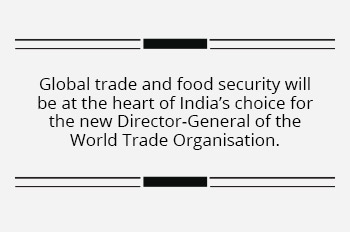 Global trade and food security will be at the heart of India's choice for the new Director-General of the World Trade Organisation (WTO), a post which will be vacant once current incumbent Roberto Azevêdo formally steps down on August 31.
Eight candidates – from the UK, Nigeria, Kenya, Mexico, Egypt, Moldova, the Republic of Korea and Saudi Arabia – have thrown their hat in the ring for the race to lead the one of the world's premier multilateral institutions, in charge of regulating international trade between nations.
The new chief will take over at a particularly turbulent time in global affairs, given the havoc caused by the Covid-19 pandemic, Donald Trump led America's open belligerence and China's increasing tendency to try and upend international rules of engagement.
Read more:
India vows to protect and promote WTO
Sustainability will be integral component of post-COVID international trade order
More Indian companies expand investment in Vietnam
Does the world need the UN or WHO anymore?
BRICS shows India's deft hand at global diplomacy
India-US trade deal offers hope and limitless possibilities
Reformist policies
Against this backdrop of turmoil, the successful candidate is expected to be the one whose reformist credentials resonate most with a majority. However, while the need for reform is a given, so is the need to strike a balance with the established framework of best practice.
To be selected, the successful candidate will need the endorsement of all 164 WTO members as part of a consensus-based process. The system is vulnerable to vetoes, with Washington and Beijing expected to go head to head in line with their historic trade battles.
India, as one of the world's fastest growing large economies which has 24 cases lodged at the WTO as a complainant and 32 as a respondent, has made it clear that its backing will go to candidates in favour of a global trade facilitation pact for services, ensuring food security in poorer nations, and committing to talks on developmental issues.
The early frontrunners in the race are believed to be former World Bank economist Ngozi Okonjo-Iweala from Nigeria and Amina Mohamed, a former Kenyan minister and an old WTO hand – with India also said to be keen to appoint an African.
"The WTO is the indispensable backbone of international trade cooperation. Imagine a world without it. All economies would suffer, even the largest," said Mohamed, in her pitch for the post.
"My vision is of a WTO with purpose, where members coalesce around the capacity of trade to help foster economic growth and sustainable development," said Okonjo-Iweala, in her statement to the WTO General Council.
Read more:
A refreshed outlook with clear trade priorities – a necessity
Tensions highlight the importance of global trade
India-UK cyber security cooperation: The way forward
The approach to foreign trade policy needs to change
Sustainability will be integral component of post-COVID international trade order
Realising the potential of the India-UK-Israel trade triangle
Trade needs to be inclusive, argues candidate for WTO director general role

Ngozi Okonjo-Iweala, the former Nigerian finance minister, discusses her candidacy for the director general position at the WTO
Role of gender
Along with Korean candidate Yoo Myung-hee, they also happen to be the three female candidates in the fray, hoping to make history as the first woman to be elected to the top trade job. And, there is no doubt that gender will be a factor that will come into play, as reflected in British candidate Liam Fox's policy stance.
Dr Fox has pledged that women will make up at least half of his senior leadership team if he is appointed. The former UK International Trade Secretary is on the record saying that changes must be made to attract more women into senior trade roles.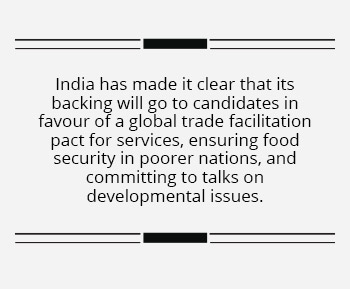 He said: "To attract more women into the architecture of trade, we need to make changes at all levels. We need more input for women, by women if the WTO is to play its part in taking another one billion people out of extreme poverty. That is why, if I am successful in my candidacy, women will account for at least half of my senior leadership team.
"As we look around us at the rising levels of unilateral actions and protectionism, we know that the remarkable achievement of the last three decades is under threat and that those bearing the brunt will be women."
Read more:
Massive room for growth in Indo-Israeli trade
Staying ahead of the trade curve
Trade, defence deals to be focus of Trump's visit
The next Brexit chapter: Trust and trade
The Indian market is key to achieving Saskatchewan's trade targets
SEBI may allow companies owned by NRIs to trade on Indian bourses
Regional divides
The others in the running include Mexican economist Dr Jesus Seade Kuri, former Egyptian WTO trade hand Abdel-Hamid Mamdouh, Moldovan former minister Tudor Ulianovschi and Saudi Arabian minister Mohammad Maziad Al-Tuwaijri. However, in the end a number of regional divisions will come into play to narrow down the list to just a couple.
Trade spats between prominent players such as Japan and South Korea, and between the UK and the European Union (EU) – an economic bloc it would have completely left by at the end of this year – will go a long way in whittling down the list at the end of the ongoing phase in the selection process – known as the "make themselves known to members" – which ends on September 7.
The third and final phase will then kick off, during which the Chair of the General Council, together with the chairs of the Dispute Settlement Body and the Trade Policy Review Body, will start to consult with all WTO members to assess their preferences and seek to determine which candidate is best placed to attract consensus support.
The most promising candidate is then likely to emerge by October-November.