India warms up to Chile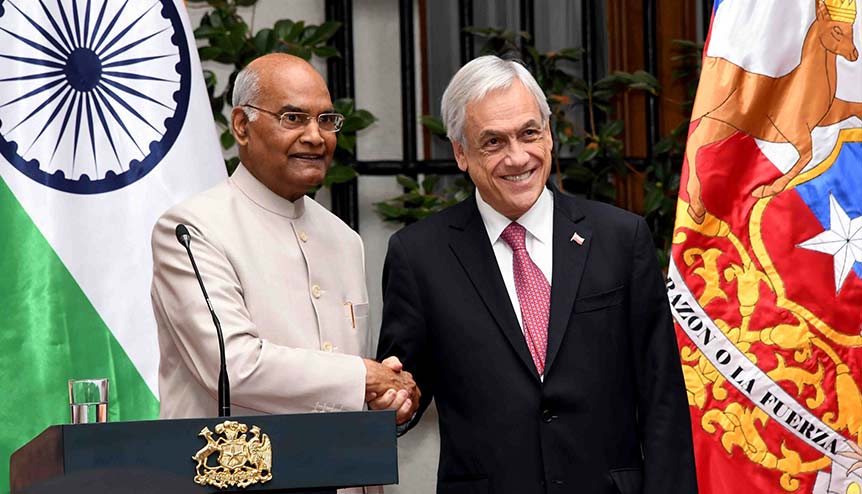 India and Chile hold their first joint commission meeting and the Latin American country is also opening up its consulate in Mumbai. It could be the beginning of a potentially very lucrative partnership.
It may appear a tad late, but India and Chile held their first joint commission meeting virtually on October 16 chaired by external affairs minister Dr S Jaishankar from India's side and from Chile, their minister of foreign affairs, Andres Allamand Zavalla. As the first institutionalised dialogue of this level, it was touted as a significant development for bilateral trade between the two countries. One of the direct tangible outcome of this was Chile's decision to open up an office of the consulate general in Mumbai on the back of it designating India as a priority country in its overall foreign policy.
In the past few years, India has been increasing its engagement with South America despite the geographic remoteness between the two regions. With an economy that is growing fast and landscape rich in numerous minerals, the need for greater ties is obvious. In terms of sheer size of economy, Chile is fifth among South American countries behind Brazil, Mexico, Argentina and Colombia but its GDP per capita is higher than any of these countries. It is classified as a high income economy with high living standards by the World Bank and is among the most economically and socially stable countries in the region.
Have you read?
India keen to invest in Bolivia lithium industry
India's transport infrastructure: Running on renewables
Now is the time to be investing in the EV ecosystem
India-Latin America relations are being powered by economic diplomacy
India's impact in Latin America beyond exports
Auto India driving towards global dominance
The one big reason that enhances Chile's strategic importance in global economy and which will only increase manifold in times to come is lithium. The alkali metal has already become the mainstay for energy storage across the world and finds itself in household appliances–big or small. The biggest example is smartphones. Already India is the second-largest smartphone consumer in the world–nearly 150 million of them were sold in 2019. There are no signs of demand ebbing anytime soon. By 2025, the smartphone user base in India is slated to top 1 billion.
A treasure trove of lithium
Another big area of potential growth is the transport sector. The future of the global automobile industry is electric which is again, like smartphones, powered by lithium ion batteries. Only much bigger in size. India is already the fourth largest automobile market in the world–over 23 million cars, two and three wheelers, trucks, buses and tractors were sold in 2019. By the end of this decade, it is tipped to become the second-largest behind China.
The domestic electric vehicle industry is nascent and miniscule right now but the growth is expected to be explosive. The government wants at least a third of all two wheelers sold in the country in 2030 to be electric. That alone would mean sale of millions of electric vehicles which in turn would mean India will become one of the largest markets for lithium ion batteries.
It is here that Chile steps in. With 7.5 million tonnes of proven reserves, it has the largest reservoir of the metal. Bulk of it is in the northern region of the Atacama desert, one of the driest places on earth. Getting a play in Chile's mining industry is key for India to ensure its raw material linkage in the future. With very little reserves of its own, it would be necessary for India to import lithium. It is in its interest to not be subject to the vagaries of the market as is today the case in crude oil. India's imports nearly 84 percent of its crude oil requirement which accounts for over 20 percent of the near $ 500 billion overall annual import bill.
India isn't alone though in vying for Chile's attention. The world's two largest economies – US and China are already deeply entrenched there and are expanding their presence even further. China has been particularly aggressive signing a free trade agreement early in 2005 and granting widespread market access to many of Chile's local produce to its large population.
Yet, figures show that despite the large reserves, Chile has not exploited its mineral resources efficiently enough. Once the largest lithium producer in the world accounting for 36 percent of production, it is now down to 20 percent and has seen Australia edge ahead in 2017 while neighboring Argentina is also gaining fast. Chile does not allow direct private sector participation in its mining industry–overseas companies need to form joint ventures with government run firms, and a sloth bureaucracy makes business difficult. It has also faced opposition from the green lobby that have red flagged ecological concerns of widespread lithium mining. India's fledgling mining industry with heavyweights like Adani, Tata and Vedanta, its track record on sustainability and the priority status it has just received from the government, offers good tidings for it to catch up with the others.
It may be late to the party, but for India there is still a lot to play for in Chile.