India-Vietnam ties keep getting upgraded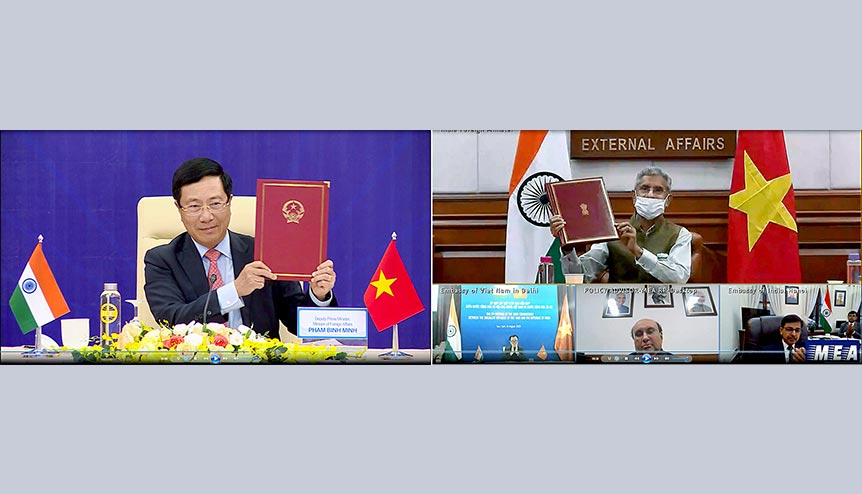 The 17th Meeting of the India-Vietnam Joint Commission on Trade, Economic, Scientific and Technological Cooperation saw several new spheres of collaboration being explored and earmarked for development.
Ramping up their already strong bilateral ties to higher levels of constant collaboration India and Vietnam have shortlisted cooperation in the emerging areas of civil nuclear energy, space, marine sciences and new technologies.  
In a way this new vertical in their alliance will also impact on the Indo-Pacific partnership which could emerge as a crucial component in the overall stability of the south east Asian region.  
The takeaways between the two allies were made during the 17th Meeting of the India-Vietnam Joint Commission on Trade, Economic, Scientific and Technological Cooperation. The proceedings were given due importance with the presence of Indian minister of external affairs Dr. S. Jaishankar and Pham Binh Minh, deputy prime minister and foreign minister of Vietnam.  
Concluded the 17th India-Vietnam Joint Commission Meeting. Thank Deputy PM and FM @FMPhamBinhMinh for co-chairing. Our Comprehensive Strategic Partnership keeps growing. Ensures peace, security and prosperity in the Indo-Pacific. pic.twitter.com/Cm2EJGiz58

— Dr. S. Jaishankar (@DrSJaishankar) August 25, 2020
Have you read?
More Indian companies expand investment in Vietnam
Vietnam is critical to balance of power in Asia
India weighs up its choice for new WTO chief
India poised to direct the activities of the Quad
India and Vietnam: Pushing back the dragon
Keeping a check on China 
Bilateral cooperation between the two countries has become the watchword and it is along the perimeters of India's Indo-Pacific Oceans Initiative (IPOI) and the ASEAN's Outlook on Indo-Pacific which focuses on shared security, prosperity and growth for all in the region. These issues become significant in the light of the recent aggressions by China in the Indo-Pacific region including the South China Sea region. 
Both ministers reviewed the developments in the region and these were recorded in the India-Vietnam Comprehensive Strategic Partnership. The future arc of their engagements was also deliberated upon and it was agreed that more emphasis would be put on economic and defence engagements as well as collaboration in emerging areas such as civil nuclear energy, space, marine sciences and new technologies. 
Solid manufacturing credentials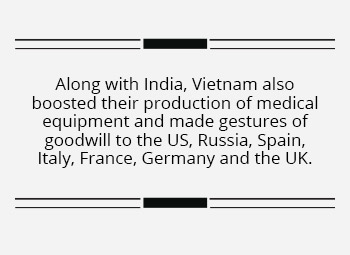 Recognising Vietnam's global status as a manufacturing hub Jaishankar invited them to take advantage of India's new economic capacities and demands. Even while countries are in the race to reduce their dependence on China in a post COVID world, India and Vietnam have emerged as strong contenders. Vietnam, in particular, have done their due diligence by wooing foreign companies and gifting manufacturers with access to the ASEAN free trade area and preferential trade pacts with countries through Asia, EU and the US. Along with India, Vietnam also boosted their production of medical equipment and made gestures of goodwill to the US, Russia, Spain, Italy, France, Germany and the UK.
More to read:
Ocean wave energy: A significant renewable energy and manufacturing opportunity for India
Absolute power is making Xi Jinping an arrogant and irresponsible global bully
Prime Minister Narendra Modi's new 'One Sun One World One Grid' vision
Modi, Morrison close ranks against Chinese antics
India could rescue SAARC nations staring at a debt-trap
Unshakeable age old ties 
The Indian embassy in Vietnam has it on recorded fact that India was the Chairman of the International Commission for Supervision and Control (ICSC), which was formed pursuant to the Geneva Accord of 1954 to facilitate the peace process in Vietnam. 
Consular level relations were maintained with the North and South Vietnams and this was later upgraded to full diplomatic interactions with a unified Vietnam on January 7, 1972. The ties between the two countries have not remained dormant, graduating to the level of 'Strategic Partnership' during Vietnam's prime minister Nguyen Tan Dung visit to India in July 2007 and thereafter to a "Comprehensive Strategic Partnership" during the 2016 visit by Indian prime minister Narendra Modi.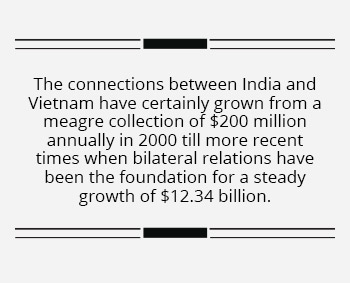 Today both countries serve concurrently as non-permanent members of the United States Security Council till 2021. 
Relationship grows along with trade 
The connections between India and Vietnam have certainly grown from a meagre collection of $200 million annually in 2000 till more recent times when bilateral relations have been the foundation for a steady growth of $12.34 billion (2019-2020). Vietnam is India's 18th largest trade partner globally and within ASEAN, the fourth largest after Singapore, Indonesia and Malaysia. Conversely for Vietnam is the seventh largest trading partner, seventh largest source of import and ninth largest export market in the world.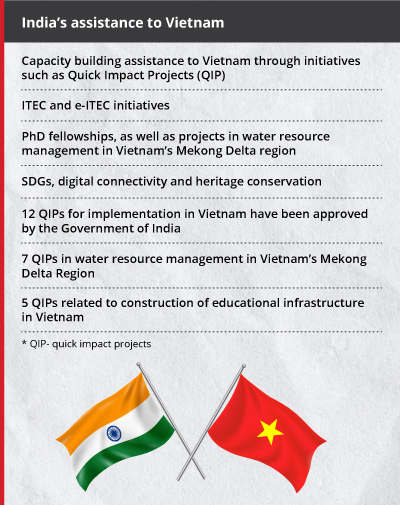 The five key items imported from India to Vietnam are mobile phones and components, machinery, computers and electronic hardware, natural rubber, chemicals and coffee. Exports from India to Vietnam are meat and fishery products, corn, steel, pharmaceuticals, cotton and machinery. 
Vietnam has six investment projects in India, till 2019, with total estimated investment of US$ 28.55 million, primarily in the areas of pharmaceuticals, information technology, chemicals and building materials.
Still more to read:
India fights to retain Asia's 'Arc of Democracy' against Chinese hegemony
Indian rice exports provide food for thought to Malaysia
Indian manufacturing: The road worth taking

After Make in India, it's now Move to India
The 'Act East' principle 
Much of India's engagement with Vietnam has emanated from New Delhi's 'Act East' principle. There are strategic interests at stake for both nations particularly in the sphere of defence. This has been illustrated in the form of a Defence Protocol signed in 2000 which ensures engagement on joint military exercises, joint campaigns on anti-piracy in the South China Sea and anti-insurgency training.
In 2003 this arrangement was bumped up to include high-ranking visits including the expansion of cooperation in defence and security domains. The signing of the MoU on Defence Cooperation by the two Defence Ministers in November 2009 has brought about vigorous interaction through regular defence dialogue, training, exercises, navy and coast guard ship visits, along with the capacity building.
With Modi's visit in 2016, the two states drew up a broad outline for a Comprehensive Strategic Partnership [CSP]. This only serves to highlight the unbreakable bonds between these two countries given that defence is a critical area where these two countries must ensure complete convergence on diverse issues.