India-UK: Warm, transactional but full of potential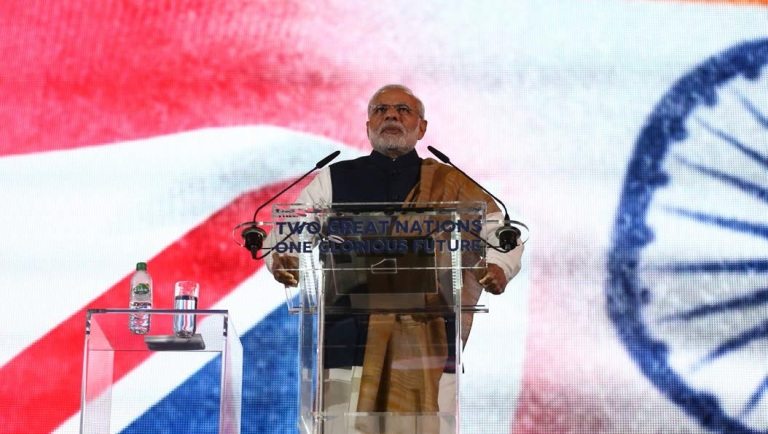 The India-UK relationship is one that is punching well below its weight in bilateral and international matters because it has been allowed to drift. A little more understanding of each other's compulsions can reinvigorate ties and make it a game-changing partnership that can reap rich economic rewards for the two nations and also turn it into a force for the greatest global good.

The potential is there for all to see. Senior serving and former government officials in both the UK and India acknowledge the bright prospects of bilateral ties between these two countries. But a few niggling issues and domestic political concerns over immigration in the UK and its fallout on Indian professionals and students have come in the way of fully consummating these ties.
As a result, the relationship between the countries has been allowed, at official levels at least, to drift and settle into a shallow transactional one, with the focus firmly on "quantity" rather than the quality of the relationship.
There is a view that the Indian leadership, cutting across political parties, looks at Europe and the EU through the eyes of Great Britain. Similarly, it can also be argued that for decades, Europe has looked at India either with confusion or via the leadership of the UK.
But Brexit has brought about a decisive break in this convenient, albeit highly limiting, world view. Things have now changed; India has changed; the UK has changed; and the power dynamic that defined the relationship between these two countries has changed.
So, it naturally follows that the rules of engagement should also change in line the ground realities.
Deceptive statistics
At first glance, some of the numbers on bilateral trade and investment look impressive. The UK is the second-largest G-20 investor into India and Indian companies rank third, after the US and China, on the list of largest foreign investors in the UK.
Partly British multinational Unilever's Indian arm is the largest foreign multinational operating in India and the Tata Group, which owns Jaguar Land Rover, Tata Steel Europe (the former Corus, which is being merged with ThyssenKrupp's steel division in a 50:50 partnership), Tata Global Beverages-owned Tetley Tea and software services major Tata Consultancy Services, along with other relatively smaller group companies make Tata one of the largest private sector employers in the UK.
Indian companies have created 110,000 jobs in the UK.
Impressive as those figures are, a closer look at the overall picture shows that they have only flattered to deceive. Bilateral trade between the two countries, which is a better indicator of economic integration and inter-dependence, was at a paltry $14 billion in 2015-16, making the UK India's 12th largest trade partner. The picture is even gloomier when seen from the other side. Even Sweden, which was the UK's 14th largest trade partner in 2016, ranked higher than India.
This needs to change… and fast. The real engines of this change will have to be the many famous personalities and some unsung heroes who work tirelessly to fulfil the dream of closer UK-India ties.
There are, however, areas in which the two countries can – and do – cooperate. Trade, defence technology transfers, fundraising in London, people-to-people ties and soft power exports are the obvious areas of convergence.
The platform is there
Following the UK's shock decision to leave the European Community that set in motion the world's most expensive divorce proceeding, Theresa May's government needs to cut mutually beneficial trade deals not only with EU but also with its other trading partners. At this point, the British government needs to demonstrate, in no uncertain terms, that it can find alternative markets and tie up trade deals that compensate for the losses that will accrue from Brexit.
This, most observers believe, is the minimum condition Mrs May has to fulfil to get a fair trade deal from Brussels. And that is why this may be a good time for UK and India to announce that they are "besties" (best friends in today's youth speak).
The UK as a global financial powerhouse and technology leader can find many synergies with India, the world's fastest growing major economy, with a billion-plus aspirational consumers.
May's vision of a Global Britain that does not retreat into isolation after Brexit has huge synergies with Indian Prime Minister Narendra Modi's vision of a globalised India, fully integrated into the international supply chain, finding its place at the global high table.
The British premier's visit to India in November 2016, in the immediate aftermath of the Brexit vote, had raised hopes of closer economic and strategic cooperation between the two countries. But the somewhat lukewarm outcome of that visit belied the initial dizzy expectations.
A lot of groundwork still needs to be carried out before such collaboration can become a reality.
Fixing the nuts and bolts
It will suffice to say that the UK-India relationship has all the ingredients of a game-changing global partnership in an uncertain and ever-changing world.
In the foreword of his highly acclaimed book, 'Winning Partnership', India Inc. Founder and CEO Manoj Ladwa had made the following points that both sides acknowledge:
* The relationship is decisively entering the "post post-Colonial" era
* The pendulum of influence in the relationship has swung; it is now much more a relationship of equals than at any time in the last two and a half centuries
* Alongside Global Britain, we are also seeing the emergence of a Global India – and both countries recognise that their futures lie in more, not less, engagement with the global community and with each other.
But potential is one thing; its realisation quite another.
Ladwa had suggested that to do justice to the immense potential of this relationship, both London and New Delhi need to take a series of concrete actions such as:
* Recognition of India's soft power
* A detailed plan of action for UK to help India leverage its soft power through collaborations with the British Council & DFID
* Allowing freer market access of people and services.
* Engagement with the Indian view on immigration/trade
* Understanding the UK government's stand on immigration
* Leveraging the Commonwealth and other multilateral institutions
* Leveraging the power and influence of the City of London in the world of international finance
Taken to their logical conclusion, these very practical and do-able ideas can form an enabling architecture for the India-UK relationship to flower and blossom to its full potential.
Immigration a major sticking point
The biggest area of divergence between India and the UK is, arguably, in the sphere of immigration.
Indians still hold British institutions of higher learning in very high esteem – sending thousands of students every year for graduate, post graduate and technical studies – but Britain's recent decision to begin pulling up the drawbridge on Indian talent has not gone down well with many in this country as is evident from the falling numbers of Indian students choosing British universities for higher studies in recent years.
This is one of the major reasons why hopes for a quick conclusion to a UK-India trade deal have receded because India, which wants access for its talented professionals into Great Britain, will not agree to liberalise the terms of trade for goods unless London agrees to its demand for free movement of professionals and easier entry norms for its students as part of any deal.
From India's perspective, its stand looks perfectly justified as services account for two-thirds of its economy and any restrictions in the "export" of these services is a blow its economic growth.
But looking at this same issue from Westminster's point of view will force one to treat the anti-immigrant sentiment that primarily drove the Brexit vote with much more caution and circumspection. From such a vantage point, pulling up the drawbridges, or at least placing reasonable restrictions on foreign – and Indian – talent would seem like the safest political choice.
India has to accept that the UK is well within its rights to decide who can enter its borders, for how long and for what purpose. This is a sovereign right exercised by all nation states, including India, and questioning this right will not lead to anywhere useful in this relationship.
Each side, then, is faced with a Hobson's Choice – where only one option is available. The problem is the choices are mutually exclusive – and, hence, the perception of a logjam.
To take the relationship forward, the UK must recognise that India's globalisation will be driven by its talent and remain largely services-based well into the foreseeable future. India is already home to the world's largest population of under 35-year-olds. And this youth bulge will last at another two decades. So, easier visa regimes for its students and professionals are sine qua non for India's continued growth.
But despite the political logic, the UK's reluctance to pay heed to India's concerns on immigration is giving rise to an unhealthy impression in New Delhi and elsewhere in the country that London only wants India's business but not its talent. India's former Commerce Minister Nirmala Sitharaman (now Defence Minster) even made this point on an open platform to British Trade Secretary Dr Liam Fox during PM May's visit to India in November 2016.
Leveraging the Living Bridge
Prime Minister Modi's evocative reference to people of Indian origin contributing to British public life and social diversity as a "Living Bridge" can be the foundation for taking the bilateral relationship beyond trade or any immediate transactional necessity. A flow of people and the relationships they engender between the two nations and their peoples generates a flow of ideas – and helps build trust, which has to be the bedrock of any sustainable long-term relationship.
This is not to say that the UK does not have legitimate concerns on immigration. As I have said earlier in this section, it quite emphatically does. And India must recognise these legitimate concerns – of Her Majesty's Government to know who is entering its borders – which the free-flowing EU immigration norms did not.
There will need to be a period of adjustment, and India will need to give the UK some space to figure out the contours of a new workable immigration policy given that Brexit was essentially a vote against unchecked immigration from the EU.
The City of London is still very attractive
London is India's preferred gateway to the world of international finance. And more than 800 Indian companies are present in the UK.
The attraction: cultural similarities, familiarity with the British justice and legal system, easy assimilation of personnel into the host society and most importantly, unfettered access to the vast European common market.
These assumptions continue to hold but the last – arguably the most important consideration in business deals – could all the turned on their head if Prime Minister May is unable to negotiate a good exit deal with Brussels.
Most of these Indian companies have chosen the UK as the base of their European operations. Their fate – and those of the thousands they employ in Britain – is in the balance. There is also the added uncertainty post-Brexit about the City remaining the world's financial centre.
It is, but natural, that the changed ground realities will determine the future direction and paradigm of the relationship between London and New Delhi.
In recent years, the UK has played a positive, if relatively reduced, role in India's economic development as New Delhi has looked at other potential partners such as the US, Japan and even China for funds and technology.
But after Brexit, India finds itself in the unfamiliar position of being in a relatively stronger position vis-à-vis Albion. With the US caught up in its own problems, the western European democracies lining up behind Brussels and China taking the lead in building an anti-Western Axis, New Delhi remains the only major global capital that where Mrs May and her successors are likely find both empathy and strategic alignment.
But both sides have to first decide to walk that extra step. Even as the Narendra Modi government in India is increasingly integrating India into the global supply chain and improving the ease of doing business for both domestic and foreign companies, the UK could also take steps to indicate its intent of forging closer trade ties with India.
For example, it could ease the norms for imports of Ayurvedic products from India. Easier access for these, and other such products, into the British markets would send out the right signal that London is ready to do business with India on equal terms.
Then again, a post-Brexit UK must consider the win-win potential of increased medical tourism, which is currently constrained by restrictive EU norms governing the same. The overstretched NHS, British patients who currently have to wait months and years to get prescribed procedures done, as well as the Indian economy will benefit from this.
The economic logic is sound: It costs less than a fourth of the price an NHS patient would pay in Britain to get an open-heart surgery done in India. The success rate of more than 98 per cent is comparable to that anywhere in the world.
Yet, an anti-competitive EU rule had, so far, deprived British patients of the benefits offered by medical tourism to Indians. Now that Brexit is about to become a reality, there is no reason why this situation cannot be remedied. This would be yet another signal to India that the UK is seeking a genuine trade partnership and not just one-way access into India's vast domestic market.
Similar opportunities also exist in the market for data protection and legal services. Given the unique confluence of events favouring closer economic ties, the time to tap these opportunities is now.
A truly global partnership
The UK is the world's fifth-largest economy and India the seventh. Together, the two countries can become an unstoppable force for the greatest global good in keeping with the rich heritage of both India, as a founding member of the Non-Aligned Movement, and UK, as the head of the Commonwealth.
Obvious areas of cooperation are climate change, restructuring of the United Nations to reflect contemporary realities rather than post-World War II geo-political considerations, and a more equitable global trading order.
The UK and India have signed an agreement on participating in projects in third countries. Britain, for example, can help India's outreach in Africa. The UK, as a former colonial power that had ruled vast tracts of Africa, has an existing footprint in that continent that it can leverage for this purpose.
This is where a partnership between DfID and/or the British Council and Indian institutions such as the Indian Centre for Cultural Relations can really add value and provide a cutting edge to India's soft power diplomacy in Africa, most notably in the healthcare sector.
Commonwealth for common good
The gradual decline in American influence in global affairs offers the UK and India a tremendous opportunity to reimagine the Commonwealth – from a sleepy club of ex-colonies held together mainly by nostalgia to a vibrant trade and strategic bloc that straddles the globe and offers its members a real alternative to the EU, ASEAN and the proposed RCEP.
The UK, as the titular head of the Commonwealth, and India, as its second-largest economy, will obviously have to play the lead roles in this initiative to teach an old dog new tricks.
Needed: Special understanding
The oft-cited "special relationship" between the mother of modern democracies and its largest practitioner-state will remain a buzzword without substance if the two governments do not display a "special understanding" of each other's compulsions and goals.
A Special Edition of 'India Global Business' edition last year was headlined Yeh Dosti, meaning "this friendship" on the lines of the theme song of the iconic 1975 Bollywood blockbuster 'Sholay', which tracks the adventures and friendship of two young men who live and die for each other while overcoming all manners of hurdles.
With a little bit of effort, India and the UK can easily aspire to that kind of bonding.