India, UK take a virtual stand on economic ties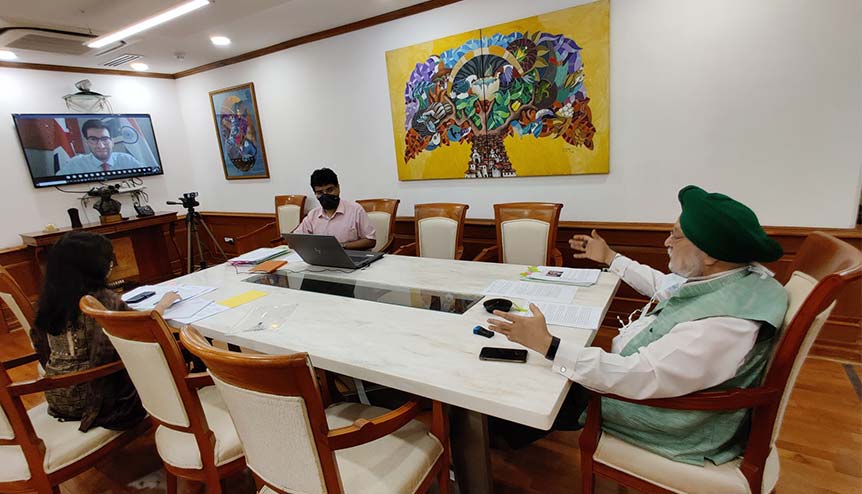 The 14th India-UK Joint Economic and Trade Committee (JETCO) will be held remotely for the first time due to the coronavirus lockdown, reflecting an urgency on both sides to speed up the much-anticipated post-Brexit reset in the bilateral relationship.
India's Minister of State for Commerce and Industry Hardeep Singh Puri held a virtual dialogue recently with his UK counterpart, Minister for International Trade Ranil Jayawardena, to set the stage for the first-ever virtual India-UK Joint Economic and Trade Committee (JETCO) on July 24.
Puri, who also holds an Independent Charge as Minister of State for Civil Aviation, participated in the preparatory meeting for the forthcoming 14th JETCO talks between India's Minister of Commerce & Industry and Railways Piyush Goyal and UK Secretary of State for International Trade Liz Truss.
Related stories: India is getting back into action – Piyush Goyal
Indian industry welcomes UK's new visa norms
Huawei exit from UK may take years, but sends out firm signal
As the UK leaves European Union, both sides are exploring the building blocks that would allow for more ambitious trade arrangements in the future. And, according to official channels, both sides have identified five key sectors: food and drink, information communications technology (ICT), life sciences and services, and chemicals to address non-tariff barriers to trade.
India Global Week 2020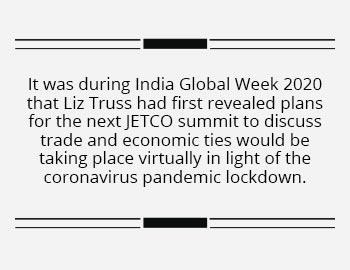 It was during India Global Week 2020 that Liz Truss had first revealed plans for the next JETCO summit to discuss trade and economic ties would be taking place virtually in light of the coronavirus pandemic lockdown.
She said: "During the Covid crisis, we have been working with India to keep supply chains open and keeping trading routes alive and as we emerge from Covid, it is vitally important we don't move to protectionism.
"On the trade side, we are not letting the grass grow under our feet and the UK and India are carrying on negotiations virtually given the current crisis."
Her revelation came just as her Department for International Trade (DIT) released its latest foreign direct investment (FDI) figures, which saw India jump up to second place from third in the tally. India invested in 120 projects and created 5,429 new jobs in the UK to become the second-largest source of FDI in the UK, after the US in 2019.
The DIT's inward investment statistics for 2019-2020 found India moving up from its previous third-largest spot, representing an overall 4 per cent FDI increase for the UK on 2018-2019 with 1,852 new inward investment projects in the 2019/2020 financial year. The number of Indian projects at 106, resulting in a job creation figure of 4,858 last year, contrasts favourably with the statistics for 2019-2020.
"These figures further demonstrate the resilience of the UK economy and the work of the government to continue to build and attract inward investment into the UK. Developing key sectors such as advanced manufacturing, life sciences and renewable energy will help us to rebound post-pandemic and build on our attractive business environment across the UK for investors around the globe," noted Truss.
Ready for a deal
Later, addressing a separate session of the India Inc. organised biggest-ever summit on India's globalisation from New Delhi, Piyush Goyal had reiterated that India remains ready to strike an early post-Brexit deal with the UK and a more in-depth approach can follow in due course at the end of the Brexit transition period on December 31.
"Free trade agreement (FTA) should be our goal, but we can do a PTA [preferential trade agreement] in an immediate future," Goyal pointed out.
"The choice is of the UK. I am open to have my officers sit down and talk to officers in the UK morning to evening and give them a 15-30 day window not to get out of that room till they finalise at least an initial early harvest before we can look at a longer-term PTA," he said, reflecting India's readiness to go beyond just rhetoric to action.
Appetite for movement
There is clearly a strong appetite for moving things along on both sides and that is palpable not only in the range of frontline UK ministers that lined up to address India Global Week earlier this month but also more definitive moves in the direction of an enhanced winning partnership.
And, as the new Indian High Commissioner to the UK, Gaitri Kumar, said during India Global Week, it is time for a very clear roadmap for the future.
She said: "A very clear roadmap is needed to be made, having just arrived here this is my priority – identifying the convergences and reassessing the priorities.
"In the India-UK context, we have excellent institutional mechanisms like the JETCO which involves government to government and business to business engagement."
It clearly does seem like the 14th India-UK JETCO, to be hosted by New Delhi this time as part of the annual rotation, holds out even more promise than the ones in the recent past.