India-UK JETCO opens up scope to reap some Early Harvests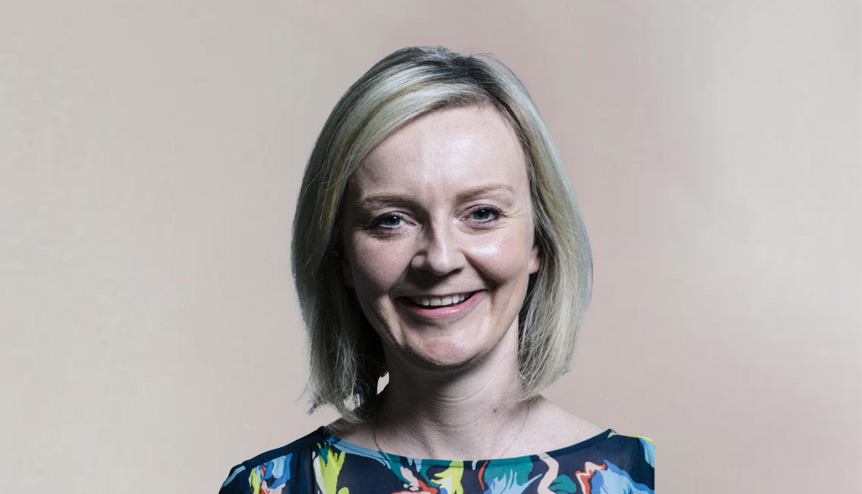 The 14th India-UK Joint Economic and Trade Committee (JETCO) comes with all the promise of post-Brexit "Early Harvest Agreements" in the lead up to a full-fledged free trade agreement (FTA); but it is important that the momentum unleashed by ministers on both sides is revved up to top speed now, writes India Inc. Founder & CEO Manoj Ladwa.
When UK Secretary of State for International Development Liz Truss used her keynote address at India Global Week 2020 to declare that the coronavirus pandemic lockdown will not delay the India-UK Joint Economic and Trade Committee (JETCO) this year, the message was loud and clear. There is no time to put off the groundwork that is required for the much-anticipated free trade agreement (FTA) as the UK's Brexit transition period concludes at the end of this year.
India's Commerce & Industry and Railways Minister, Piyush Goyal, was candid about this urgency when he declared that the metaphorical FTA ball is now in the UK court.
"Free trade agreement should be our goal, but we can do a PTA [preferential trade agreement] in an immediate future," Goyal said, addressing a session of India Global Week soon after Truss' revelation that JETCO will be going virtual this year.
"The choice is of the UK. I am open to have my officers sit down and talk to officers in the UK morning to evening and give them a 15-30 day window not to get out of that room till they finalise at least an initial early harvest before we can look at a longer-term PTA," the Indian minister said.
Rhetoric to action
Goyal's reference to a time-bound window for talks reflects a crucial aspect of any future trade pact because time really is of the essence. The economic crisis triggered by the global coronavirus pandemic has only heightened the need for the UK and India to fully capitalise on their winning partnership as a force for good.
"During the Covid crisis, we have been working with India to keep supply chains open and keeping trading routes alive and as we emerge from Covid, it is vitally important we don't move to protectionism," said Truss, highlighting one of the key areas that both sides are aligned on.
And, as she joined Goyal for the virtual JETCO talks on Friday, keeping trading routes alive was clearly on top of the agenda.
Ahead of Friday's meeting, both sides had identified trade priorities through a Joint Trade Review and shortlisted life sciences, information communications technology (ICT), food and drink, chemicals and services as the five priority areas to address non-tariff barriers to trade during the annual dialogue.
India-UK Working Groups on Life Science and Health, ICT and Food and Drink – three of the five priority sectors identified in the Joint Trade Review last year – made their recommendations to the ministers.
Follow-up steps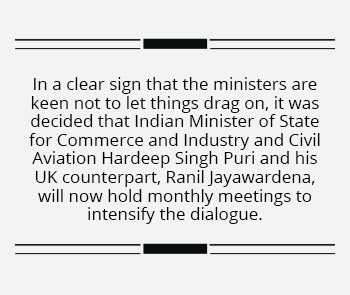 In a clear sign that the ministers are keen not to let things drag on, it was decided that Indian Minister of State for Commerce and Industry and Civil Aviation Hardeep Singh Puri and his UK counterpart, Ranil Jayawardena, will now hold monthly meetings to intensify the dialogue. Goyal and Truss themselves are set to renew their talks in New Delhi in the Autumn, when the so-called "Early Harvest Agreements" as a precursor to a full-blown FTA will be finalised.
As Lord Karan Bilimoria, in his capacity as President of the UK Council for International Student Affairs (UKCISA) and Co-Chairman of the International Students All Party Parliamentary Group (APPG), wrote to Minister Truss in the lead up to JETCO, there are several small and easy steps that can be taken right away as building blocks for an ambitious FTA. For example, the UK government must immediately include India in the preferred list of 25 countries for its student visa route, currently offered to China despite the strong divergence of views with a country that is increasingly refusing to play by international rules.
Sectors of alignment
Within the priority sectors already shortlisted for focus, India and the UK must take more decisive steps across areas such as financial services – given that India's FinTech software market is expected to double from the current $1.2 billion to $2.4 billion in 2020, according to NASSCOM.
The UK has so-called "FinTech Bridges" with countries such as Singapore, South Korea, China, Hong Kong and Australia to help FinTech companies access opportunities and support in the respective markets. Establishing a similar bridge with India would go a long way towards furthering the UK-India partnership in the financial services sector.
Green finance and data security and privacy are other areas where both sides would benefit immensely from closer collaboration.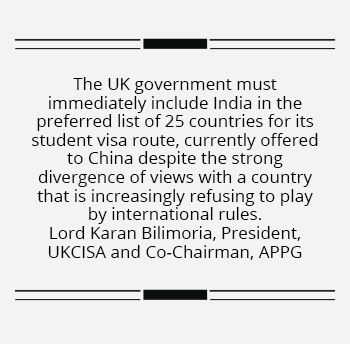 The field of medical tourism opens up a whole new vista once the UK has formally left the European Union (EU), with the prospect of healthcare collaborations no longer bound by EU norms. And, Ayurveda has got to be one of the most under-appreciated areas of convergence. In 2011, an EU policy imposed a ban on all herbal medicines which had been used for less than 15 years within the EU, and less than 30 years outside the region. However, post-Brexit UK would be free to leverage the benefits of Ayurveda and other alternate medicines, a field India brings a wealth of knowledge to.
Indian Prime Minister Narendra Modi and Prince Charles' joint launch of an Ayurveda Centre of Excellence back in 2015, aimed at creating a global network for evidence-based research on yoga and Ayurveda, may finally come to fruition now.
Ambition over history
A shared history is something both sides often turn to in an attempt to highlight the sheer scope of two-way collaborations. But alongside a shared history it is about time to focus on a shared ambition to fully realise the huge potential of this winning partnership.
As UK Foreign Secretary Dominic Raab pointed out during his address to India Global Week, Britain and India will be "energetic champions" of free trade, to boost small businesses, to cut the cost of living for consumers and to create the jobs of the future.
The focus now needs to be very much on that energy and urgency.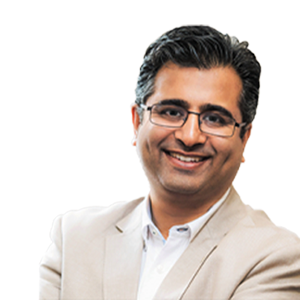 Manoj Ladwa is the Founder and CEO of India Inc. publishers of India Global Business.