India-UAE eye energy cooperation boost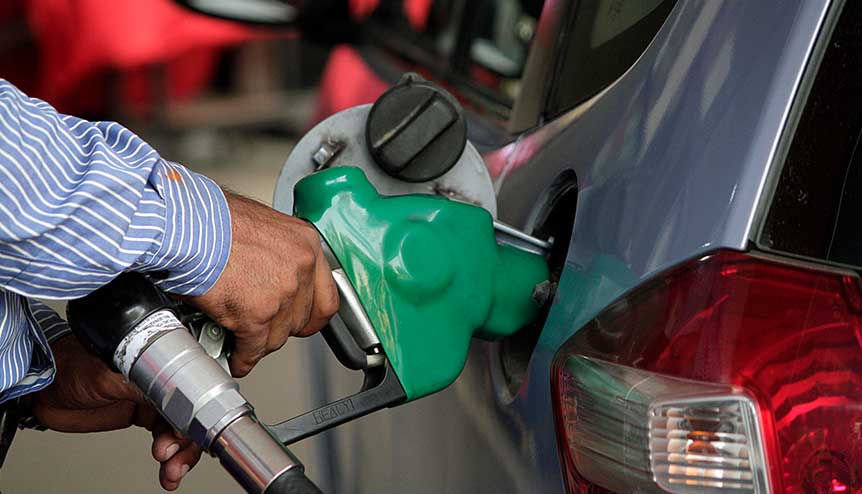 New Delhi needs more than $300 billion in its oil & gas sector by 2030 to meet rising demand – and is paving the way for companies such as Adnoc to further boost their existing investments through a variety of avenues.
With the rapid rise of India as the world's third-largest energy consumer, analysts have forecast a need for more than $300 billion in investment by 2030 in the country's oil & gas sector to meet rising demand – offering lucrative opportunities for global energy investors in the world's biggest democracy.
That was the focus of the series of interactions and sessions between Indian Prime Minister Narendra Modi and around 45 CEOs of major oil and gas companies from around the world at the fourth annual Indian Energy Forum earlier this week.
One of the countries that remains at the forefront of the energy partnership with India is the United Arab Emirates, and has in the recent years emerged as one of New Delhi's most reliable strategic energy trading partners through companies such as the Abu Dhabi National Oil Company (ADNOC).
Read more:
India and Saudi Arabia share a tried and tested friendship
Energy security and India's growing ties with Myanmar
Uganda: The pearl of Africa offers investors several rich opportunities
How India's oil sector pulled all stops to counter Covid-19 impact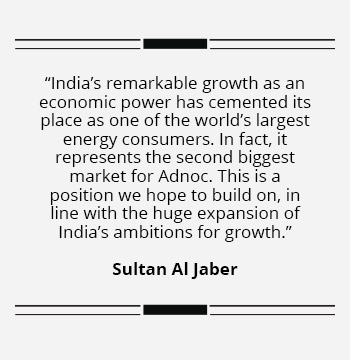 India and Russia – best friends forever
India-Adnoc join hands
"India's remarkable growth as an economic power has cemented its place as one of the world's largest energy consumers. In fact, it represents the second biggest market for Adnoc. This is a position we hope to build on, in line with the huge expansion of India's ambitions for growth. Adnoc is ready to meet India's growing demand across the full portfolio of our products," said Dr Sultan Ahmed Al Jaber, UAE Minister of Industry and Advanced Technology and Group CEO of Adnoc, reinforcing the deep-rooted economic relations between the UAE and India during a virtual session with Prime Minister Modi.

According to Dr Al Jaber, India will always remain one of the UAE's closest friends and one of its most important trading partners, noting that the strong ties between the two governments have been elevated to the level of a strategic comprehensive partnership in recent years, with a major positive impact on the energy sector.
Indeed, from a miniscule annual valuation of $180 million in the 1970s, India-UAE trade today is worth more than $60 billion – making the UAE India's third largest trading partner for 2019-20 after China and US. At nearly $30 billion for the fiscal year 2019-20, the UAE is also the second largest export destination for India – only after the USA.
With India importing about 80% of its oil needs and in the process of building strategic storage at three locations in southern India to store up to 5 million tonnes of oil to protect against supply disruption, its energy partnership with the UAE has yielded rich dividends for both nations.
The Indian cabinet last week allowed Adnoc, for instance, to export oil from its Mangalore strategic petroleum reserve (SPR), marking a major policy shift that could boost foreign participation as India seeks to expand its storage capacity.
More to read:
Infra upgrade in Andaman Islands to push Modi's Act East policy
India could reap benefits from investing in strategic oil reserves
India Natural Gas Exchange – one small step or a giant leap?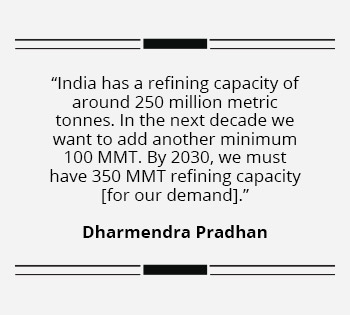 LNG and the new Indian energy mix
Canadian investors at the forefront of India's private equity and infrastructure investment landscape
Adnoc can now export oil stored in the Mangalore SPR in foreign flagged ships – which were so far used only for coastal movement of oil from the cavern. India's pragmatic policy shift mirrors a model adopted by countries such as Japan and South Korea – which allow oil producers to re-export crude storage. "The move will facilitate trade for ADNOC," Indian minister of environment Prakash Javadekar told a news briefing.
Oil producers re-export their crude storage
The Indian Strategic Petroleum Reserve Ltd has leased half of the 1.5 million tonnes capacity in Mangalore storage to Adnoc, while ISPRL has retained the remainder. India also plans to build strategic storage at Chandikhol in Odisha and Padur in Karnataka for around 6.5 million tonnes of crude.
Separately, a 1.2 million barrels-per-day greenfield integrated refinery and petrochemicals complex in India that is being developed jointly by Adnoc and Saudi Aramco along with domestic Indian refiners Indian Oil Corporation, Bharat Petroleum, and Hindustan Petroleum will go ahead despite the temporary demand setbacks due to the coronavirus pandemic – and Adnoc plans to acquire stakes in the project soon.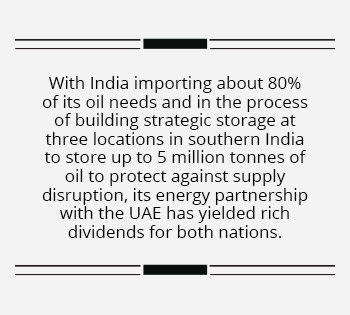 The project, planned in Ratnagiri in the western state of Maharashtra, is currently in its land acquisition phase with estimates pegging the cost of the complex at $70 billion. Both Adnoc and Aramco will have a 50 per cent stake in the Ratnagiri project, which is expected to have a chemicals refining capacity of 18 million tonnes annually. "We're not going to rethink the size of the refinery or the partners of the refinery," Indian petroleum minister Dharmendra Pradhan told an Energy Intelligence panel. "We are confident that at a rescheduled time, we are very much keen to develop the Ratnagiri refinery."
Milestone in energy cooperation
The project marks a new milestone in India's energy cooperation with the UAE, as state-backed players look to supply crude to refineries in one of the few places with growing demand for the commodity around the world. "India has a refining capacity of around 250 million metric tonnes. In the next decade we want to add another minimum 100 MMT. By 2030, we must have 350 MMT refining capacity [for our demand]," Pradhan said. According to consultancy Wood Mackenzie, Indian refining capacity is expected to face a shortage of up to 4 million bpd, and state-backed refiners are looking to bridge the gap by looking for billions of dollars of foreign investment.
Still more to read:
India and the UK: Partnering for Infrastructure Development
India-Venezuela relations: A case study in oil diplomacy
India to become second-largest oil demand centre in 2019
India mulls building natural gas reserves
As Iran goes dry, India hunts for oil in Kuwait and Qatar
But it's not only UAE companies which have benefitted from the energy partnership – Indian companies have also steadily increased their footprint in the UAE's energy sector.
Exploration rights
In March 2019, a consortium of two Indian oil companies were awarded the exploration rights for an onshore block in Abu Dhabi, which followed the award in February 2018 of a 10 per cent participating interest in Abu Dhabi's offshore Lower Zakum Concession to an Indian consortium of three companies. The Adnoc contracts worth $324 million aim to optimise onshore field operations with the procurement and construction (PC) of flowlines and wellhead installations across several onshore oil fields in Abu Dhabi. The contracts were awarded to Galfar Engineering and Contracting (WLL-Emirates) and Robt Stone (Middle East LLC).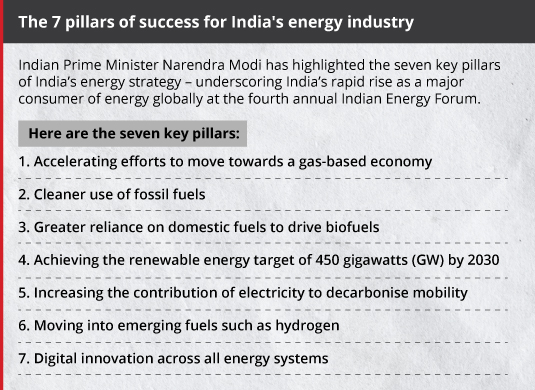 With the massive potential of the opportunities that could benefit both India and the UAE in the energy sector at full play, it's only a matter of time before – as Dr Sultan Al Jaber put it – "by seizing these opportunities, we can enhance the speed of post-Covid economic recovery".
Despite global agencies projecting a contraction in global energy demand over the next few years, India is seen as a leading energy consumer in spite of challenges such as price instability and pared investments. With the energy partnership set to consolidate across multiple areas, both India and the UAE are thus working overtime to remove any barriers that may hinder that stupendous progress in the years to come.
Podcast: Play in new window | Download