India steps up its economic aid to Maldives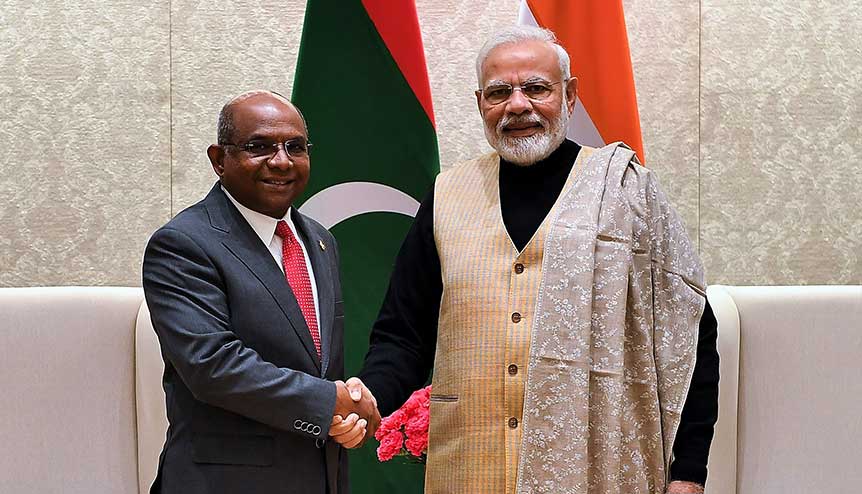 The Narendra Modi government recently launched a cargo ferry service to help open up the Indian market to Maldives' exports and also provided $500 million in grants and soft loans to finance the largest infrastructure project in the island nation.
On his visit to the Maldives last year, Indian Prime Minister Narendra Modi had promised a ferry service between the two countries to facilitate bilateral trade and commerce.
That promise came to fruition on September 21 when the cargo service between the India's Tuticorin and Cochin ports and Kulhudhuhfushi and Male ports in the Maldives was formally launched.
Project to ensure Maldives' food security
Addressing a virtual ceremony to mark the launch of this service, Mansukh Mandaviya, India's Minister of State for Shipping, said: "We have fulfilled an important commitment of PM Modi to the Maldives. The service will increase people-to-people contact between the two countries and assist in ensuring food security and stable and predictable trade for the people of Maldives."
Read more:
India-Maldives: Back to the future
Maldives offers itself as a solution to a 'brewing India-China cold war'
Making waves in the Indian Ocean
India and Central Europe could be poised to rediscover their old business partnership
India is strengthening its bonds of friendship with the African continent
This service, which will receive a subsidy of $3 million from the Indian government, will open up the huge Indian market for Maldivian exporters and also allow them to export their cargoes to Europe and elsewhere via Cochin and Tuticorin ports.
$250-million soft loan to provide budgetary support
The ferry service was launched just a day after New Delhi granted a $250-million soft loan to the Maldives as budgetary support to help it deal with the economic problems it is facing in the wake of the Covid-19 outbreak.
Indian officials were quoted in the media as saying the launch of the cargo service underlines the synergies between the Modi government's "neighbourhood first" and its "India first" policy priorities.
But this is not the only example of India reaching out to the Maldives.
Appreciate your warm sentiments, President @ibusolih! As close friends and neighbours, India and Maldives will continue to support each other in our fight against the health and economic impact of COVID-19. https://t.co/esNRBWJxZg

— Narendra Modi (@narendramodi) September 21, 2020
Modi government provides grant, LoC to fund connectivity project
Recently, New Delhi extended the island nation a $400-million line of credit (LoC) along with a $100-million grant to finance the implementation of the Greater Malé Connectivity Project (GMCB), a 6.7 km-long bridge and causeway link that will connect Malé, the Maldivian capital, with neighbouring islands Villingili, Gulhifahu and Thilafushi. The proposal includes plans for a port at Gulhifahu and an industrial zone in Thilafushi.
India has proven time and time again that the Maldives-India partnership will be a high priority! While the whole world has had to close their borders, and their homes, India has proven that #Covid19 will not force them to close their hearts to the Maldivian people. pic.twitter.com/j1AixJ2uxP

— Abdulla Shahid (@abdulla_shahid) September 20, 2020
Indian Foreign Minister S. Jaishankar recently conveyed this to his Maldivian counterpart Abdulla Shahid. The GMCB is the largest civilian infrastructure project ever undertaken in the Maldives, according to the Indian Ministry of External Affairs, and dwarfs the Chinese-funded 2.1 km-long Sinamalé Bridge, which links Malé with Hulhulé and Hulhumalé islands as part of Beijing's ambitious and neo-colonial Belt and Road Initiative (BRI) and once again underlines the benign nature of India's outreach to smaller neighbours.
More to read:
Sri Lanka prioritises a fresh reset in ties with India
India and Nepal: Picking up the pieces
India's links with the Arab world strengthens with the IPL
How sport helps India win friends and influence nations
Chinese expansionism and debt trap
Historically, the Maldives, an archipelago of 1,192 coral islands in the Indian Ocean, was considered a part of India's sphere of influence. But in recent years, a belligerent and expansionist China has been trying to imprint its footprint in this country, which sits astride the important East-West sea lanes.
With this intent, it had extended loans of $1.4 billion to the previous Maldivian government headed by the now jailed Abdulla Yameen, amid widespread allegations of corruption and misappropriation and a pronounced anti-India tilt in the island nation's foreign policy orientation.
This was in line with China's now tried and tested strategy of first advancing huge loans that are beyond the capacity of small countries to repay and then extract geo-strategic gains in lieu of debt repayments.
Ties back to normal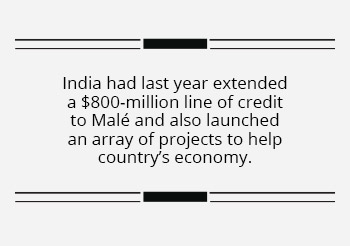 But with Yameen's unexpected defeat in the last elections and his replacement with the pro-India Ibrahim Solih, ties between the two countries are back on an even keel.
To help the Maldives overcome its dependence on China, India had last year extended a $800-million line of credit to Malé and also launched an array of projects to help country's economy. It is helping Maldives with water and sewerage projects in 34 islands and is helping with the redevelopment of the airport at Hanimadhoo and also building a cricket stadium and a hospital in Hulhumalé.
Political opposition remains
Despite the new government in Malé reciprocating the Modi government's friendly gestures and undoing the damage done to bilateral India-Maldives ties by the previous Yameen government, there are still powerful forces in Maldives that are ranged against this win-win partnership.
Still more to read:
India's neighbourhood is warming towards its empowering influence
India could rescue SAARC nations staring at a debt-trap
A year of peace, prosperity, possibilities and opportunities
The Andaman-Nicobar Islands offer an ocean of opportunities
India emerges as a partner of choice amid COVID-19
The jailed former president's Progressive Party of Maldives-People's National Congress (PPM-PNC) combine has alleged Indian military presence on the island nation and is mobilising protests against it.
Indian sources said this is obviously being done at the behest of some foreign powers inimical to India. The Maldivian government, too, has denied the presence of any foreign military presence on Maldivian soil and clarified that a few Indian military officers are stationed there to operate the helicopters gifted to Maldives National Defence Force (MNDF) by the Indian military.
Time for caution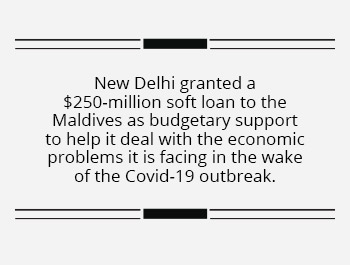 A retired Indian diplomat strongly advised the Modi government not to let down its guard in the Maldives as forces inimical to India are still active in the island nation and foreign powers have still not reconciled to being outflanked by New Delhi.
So, although India's ties with the Maldives appear strong, with India lending a strong helping hand to its economy, future political shifts in Malé could lead to an unravelling of all the hard work done by the two sides to cement the relationship.
The Modi government will, therefore, have to tread with caution in this region.