India-South Korea cash in on unlimited opportunities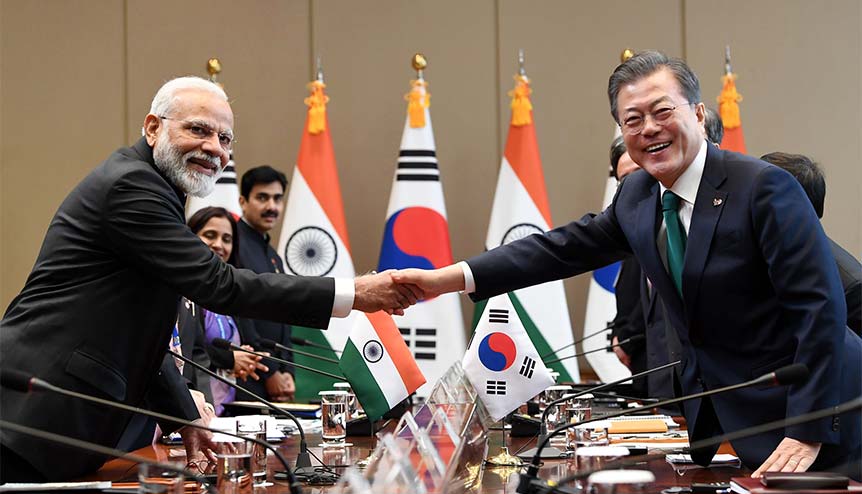 In the altered landscape of the post pandemic world, India and South Korea foresee a stronger bilateral relationship with each other.
It is not a mere coincidence that India and South Korea share the tiger as their national animal–the Siberian for the Koreans, and the Royal Bengal for the Indians. The two countries share a history of more than 2000 years and India played a key role in Korean affairs soon after its independence in 1945 which coincided with India's own freedom in 1947. The UN resolution to the Korean War of 1950-53 was sponsored by India and resulted in the ceasefire.
They have had their share of ups and downs in bilateral ties, but there is a sense that the post pandemic world offers an opportunity to further strengthen ties like none other.
Read more:
India, South Korea sign 6 pacts
South Korea keen on academic ties with India
South Korea and India: A win-win partnership
Primary listings abroad could help Indian start-ups get better valuations
The phone call between Indian Prime Minister Narendra Modi and Korean President Moon Jae-In on October 21 only reiterates that. The two leaders reviewed important global developments including the progress of the fight against the COVID-19 pandemic, the ongoing diversification of international value chains, the need to preserve a transparent, development-oriented and rules-based global trading order, and the important role of the World Trade Organisation.
South Korean presence in Indian markets
As India looks to actively dissociate itself from China in economic matters–its dependence is predominant on Chinese components so the process will be long drawn out–South Korea alongwith Japan are two countries most likely to benefit. Already, Korean firms are deeply entrenched in the Indian market. Companies like Hyundai, Samsung and LG are household names in a win win situation where Indian consumers get cutting edge global products at affordable prices while Korea gets access to one of the biggest markets worldwide.
There is enough evidence of this splattered across a range of sectors. When Samsung decided to inaugurate world's largest mobile manufacturing facility in Noida in mid 2018, it was as much a business call as a statement of intent–the event was graced by none other than Modi and Jae-In themselves. Samsung today has a production capacity of 120 million units per annum and is single handedly fighting the might of all Chinese origin phonemakers in India's smartphone industry.
More to read:
India's ties with Israel will acquire a new definition
SpiceJet bucks industry trends to take off with new UK routes
India-Latin America relations are being powered by economic diplomacy
The Medical Devices Bill will be a game changer for Indian manufacturing
Luring manufacturing from the dragon's den
"Today is an important day in making India a manufacturing hub. The investment of Rs 5,000 crore [$735mn] by Samsung will strengthen India-South Korea relations," Prime Minister Modi had then said. "Make in India initiative is getting support from all across the world. India has become number 2 in mobile phone manufacturing."
Samsung isn't the exception
Samsung isn't an exception. In 1998 when Hyundai ventured into India, its 300,000 units factory in Sriperumbudur on the outskirts of Chennai, was its first overseas plant outside Korea. Another plant has since been added at the same site as Hyundai emerged as the second largest car maker in the domestic market. Today, it makes over 700,000 cars in India and also exports to over 100 countries worldwide.
In addition, there are 603 large and small Korean firms, which have offices in India. From the Indian side, investments in Korea amount to nearly $3 billion.
Still more to read:
India's path to self-sustenance could find many takers
Apple, Samsung take the E-com route to boost consumption
India poised to direct the activities of the Quad
Auto India driving towards global dominance
India is the new go-to entity in the Indo-Pacific
Indian companies have been active players in the mergers and acquisition space in Korea. Novelis, a Hindalco subsidiary, acquired a Korean aluminium company by investing about $600 million. Mahindra & Mahindra acquired a majority stake in SsangYong Motors, the country's 4th largest auto manufacturer, in March 2011, with an investment of about $360 million. Tata Motors acquired Daewoo Commercial Vehicle Company for $102 million in March 2004. Other Indian companies present in South Korea include IT majors, Indian Overseas Bank, State Bank of India etc.
"When we decided to invest in India in 1998, it was a big risk. We were unknown entities and for us India was an unknown territory as well," says Y.K. Koo, managing director, Hyundai Motor India. "It was a gutsy move and an act of faith. Today we are celebrating two decades in this market and it has served us really well."
Hyundai's success has rubbed off on its sister firm Kia Motors as well, which decided to enter the country with an investment of $ 1.1 billion towards a 300,000 unit per annum factory in Andhra Pradesh in 2017.
There have been disappointments too. The failure of steel major Posco's $ 12 billion project–despite it being the biggest FDI project in the country, was a major letdown.
FTA has mixed impact
Similarly, Korea was one of the few countries that India has signed a Comprehensive Economic Partnership Agreement, an abridged form of a Free Trade Agreement, in 2010. Its impact has been mixed and economic ties have grown only in fits and starts throughout last decade.
In 2011 bilateral trade crossed $ 17 billion registering a 40 percent growth over a two-year period, but declined the following year to $16.68 billion and could tally only $18.13 billion by fiscal 2015. Thereafter it declined again to $16.56 billion in 2015-16 and only inched upwards to $16.82 billion in 2016-17. It has grown again since then and in 2019-20, it stood at over $ 20 billion but the overwhelming sense is it has still not achieved its true potential.
As the world resets itself post 2020, the need for greater cooperation and for the two tigers to roar and hunt in tandem is being felt once again. It is a chance none can afford to miss this time.