India-South Africa relations: In need of a booster dose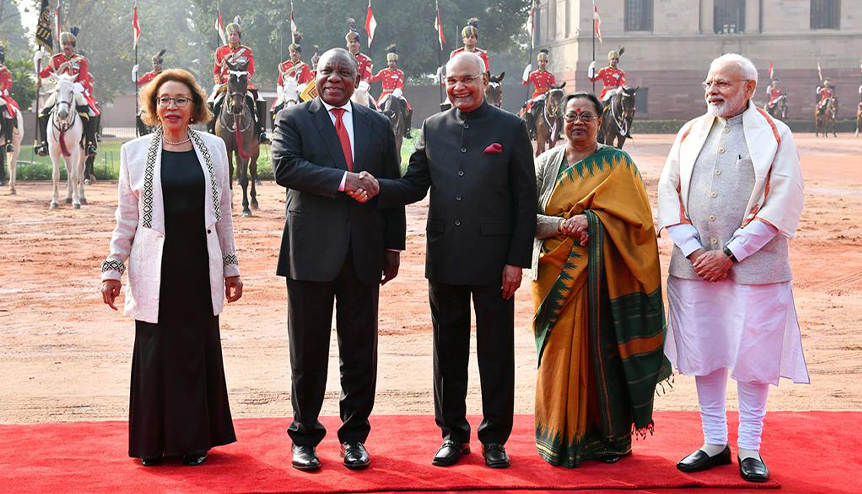 South African President Cyril Ramaphosa's two-day visit to India in late January where he was also the chief guest at India's Republic Day parade comes at a time when trade ties between the two countries need an extra push.
Traditionally India and South Africa have always enjoyed close ties in a relationship that dates back to several centuries and one that is based on common ideas and interests. The similarities shared by two icons of the countries — Mahatma Gandhi in India and Nelson Mandela in South Africa – is an example of the common world view of both the nations. This fundamental natural alignment held firm even when South Africa's apartheid government resulted in a freeze in ties for four decades till 1993. In the aftermath of the end of the regime of racial segregation, relations have strengthened at a fast pace.
India is today South Africa's fifth-largest export destination, and fourth-largest import origin and is the second-largest trading partner in Asia. Bilateral trade between the two nations currently stands at $10.65 billion in 2017-18, both countries set a target of doubling bilateral trade and investment to $20 billion by 2021. Bilateral trade had reached a peak of $15 billion in 2012 and has slid thereafter due to global economic slowdown and domestic political factors in the African nation.
Indian investment in South Africa is already substantial. As per a joint study by Confederation of Indian Industry (CII) and PriceWaterhouseCoopers (PwC) around 140 Indian companies have invested close to $ 4 billion in South Africa, thereby creating direct employment for over 18,000 people.
The leading Indian companies are Wipro, Coal India, Cipla, UB Group, HCL Technologies, Tata Motors, Zomato, Mahindra and Mahindra, Vedanta, and Motherson Sumi. There is also growing South African investments in India led by SAB Miller (breweries), ACSA (upgradation of Mumbai airport), SANLAM and Old Mutual (insurance), ALTECH (set top boxes), Adcock Ingram (pharmaceuticals), Rand Merchant Bank (banking).
Cultural ties between the two nations is also strong. South Africa is home to 1,218,000 people of Indian origin, the highest number of Indian diaspora in the African continent, constituting 3 per cent of South Africa's total population. The major part of the Indian origin community came to South Africa from 1860 onwards as farm labour to serve as field hands and mill operatives in the sugar and other agricultural plantations of Natal (which was then a British colony). Most of these initial migrants were from Tamil Nadu and Andhra Pradesh with some from eastern UP and Bihar.
A second wave of Indians came after 1880. These were the "passenger Indians" – so-called because they paid their fares as passengers on board a steamship bound for South Africa. This was the community of traders who mainly hailed from Gujarat. The large presence of the Indian population has meant substantial tourism. Annually approximately 1.2 lakh Indian tourists visit South Africa while another 60,000 South African tourists visit India.
For all the proximity and natural affinity for each other, trade ties between the two nations is a story of unfulfilled potential especially if one has to compare with China. As a resource rich country, South Africa has much to offer to India's energy needs but China has taken the lead here. In 2017 bilateral trade between the two countries was at nearly $ 40 billion, four times that of India-South Africa. China's direct investment in South Africa exceeds $ 25 billion while South African companies have invested nearly $ 700 million.
India has much catching up to do and it reflected in the talks between Ramaphosa and Indian Prime Minister Narendra Modi. The intent is evident. In the past several years, India has stepped up its engagement with Africa, with 29 visits at the level of the President, Vice-President and Prime Minister to African countries.
"We are in agreement that considerable scope exists for our two countries to grow and extend and deepen our bilateral relations at a number of levels but more particularly at the economic level," Ramaphosa said.
The two countries sealed a three-year strategic programme to boost cooperation in areas like defence and security, blue economy, tourism, IT and agriculture.
"We will be happy to share our experience in policy reforms and setting up ground-level agencies. We encourage even more investment by Indian companies in South Africa and are confident that more South African companies will also enter the Indian market," Modi said.
"We would welcome you to look at all available opportunities, particularly in the food and agro processing, deep mining, defence, fin-tech, insurance and infrastructure sectors. Likewise, we can also partner with South Africa in start-ups, healthcare and pharma, bio-tech, IT and IT enabled sectors," he said.
"Another important collaboration between our two countries could be in the gems and jewelry sector. Both countries could explore avenues for direct procurement of diamonds," Modi added.
Beyond the lip service, a lot rests on Modi's inherent ability to strike a personal rapport with Ramaphosa. Since taking over as the President in February last year, this was Ramaphosa's first visit to India but the two head of states have already met four times in the last 12 months. Last year in July, Ramaphosa had urged Modi to lift the 13-year-old ban on state-run arms-maker Denel. This wish was also granted during his visit to India.
"Trade between India and South Africa is on the up-swing, and has crossed the 10 billion dollar mark in 2017-18. However, there is great potential still. I call upon all Indian and South African government agencies, investment promotion organizations as well as business leaders of both countries to work pro-actively to realise the true potential," Modi said at the India-South Africa Business Forum in Delhi.
There has been a significant increase in bilateral meetings between India and the African continent as a whole in the last four years of Modi administration. India's President, Vice-President, and Prime Minister have made more than 25 visits to African capitals during the past four years. Reciprocal political-level visits contributed significantly to mutual understanding and cooperation. India has also decided to open 18 new diplomatic missions in Africa in the next few years, which will take the total number to 47, and aptly reflects its new Afro-centric approach.
The impact of these diplomatic efforts may not immediately bear fruit in terms of increased trade and investment. But Anil Agarwal's Vedanta Resource's announcement of Rs 8,500 crore ($1.2bn) investment in South Africa to expand its mining operations in the country a day after Ramaphosa's visit indicates a buoyancy in relations that was never seen before.