India shows its SaaS-y side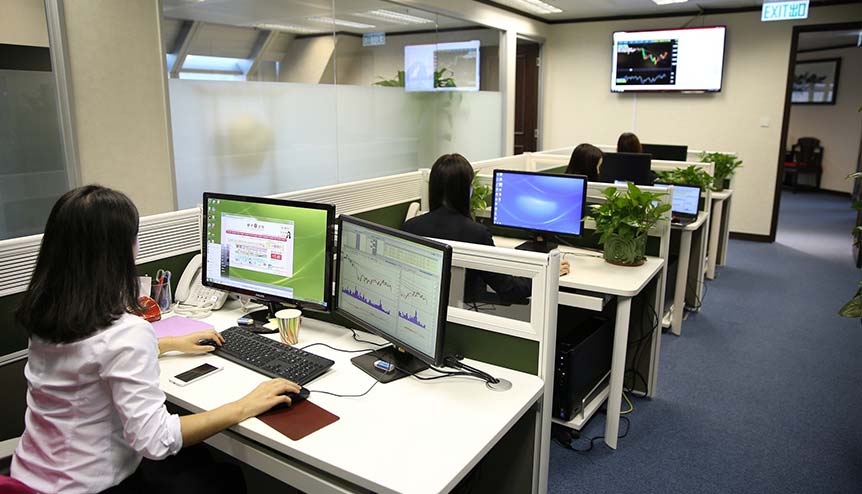 The global market for software as a service (SaaS) is estimated to be around $400 billion in 2025. This gives Indian companies a huge opportunity to tap into the rising demand and cash in.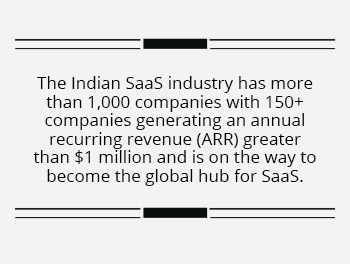 The Covid-19 pandemic heralded an unprecedented wave of digitalisation within India. Nowhere is this more evident than in India's software as a service (SaaS) industry, which has grown 1.5X faster than the global SaaS market due the digital acceleration and demand. Today, the Indian SaaS industry has more than 1,000 companies with 150+ companies generating an annual recurring revenue (ARR) greater than $1 million and is on the way to become the global hub for SaaS.
India's SaaS revenue has reached $3.5 billion as of March 2020, growing at 30 per cent CAGR, with 75 per cent of it coming from global sales, according to a new collaborative report titled, Riding the Storm: Towards the Giant India SaaS Opportunity.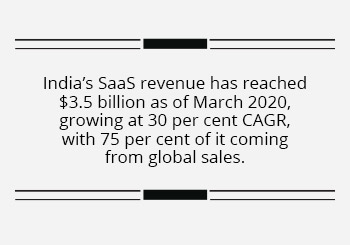 Another recent report by Bain and company states that the number of funded SaaS companies have more than doubled and the number of SaaS companies drawing Series C or later-stage capital have quadrupled over the past five years, representing significant traction.
The report also states that SaaS in India has recently witnessed significant funding traction, surpassing a billion dollars of annual investment in 2019. Even amidst Covid-19, SaaS has been a prominent investment theme with growing share of venture capital (VC)/growth equity investments, with SaaS investments constituting 15 per cent of VC/growth equity investments in first half of 2019 and rising to 20 per cent of VC/growth equity investments in the same period in 2020.
Scaling up
The Indian market has traditionally been challenging to monetise owing to lower awareness and higher price sensitivity compared to global markets. However, thanks to a large skilled talent pool and competitive pricing as compared to European and American markets, Indian companies have managed to scale up rapidly.
Indian start-ups have played a important role in spearheading this growth. Currently, India has 6 SaaS unicorns—Zoho, Freshworks, Druva, Icertis, HighRadius and Postman—and is expected to see the emergence of many more by 2025.
The India SaaS Report 2020, identifies three ways in which Indian SaaS companies are trying to scale:
1) investment in market creation via freemium offerings
2) innovative monetisation models
3) clear articulation of benefits to the customer with tangible return on investment (ROI) metrics.
The road ahead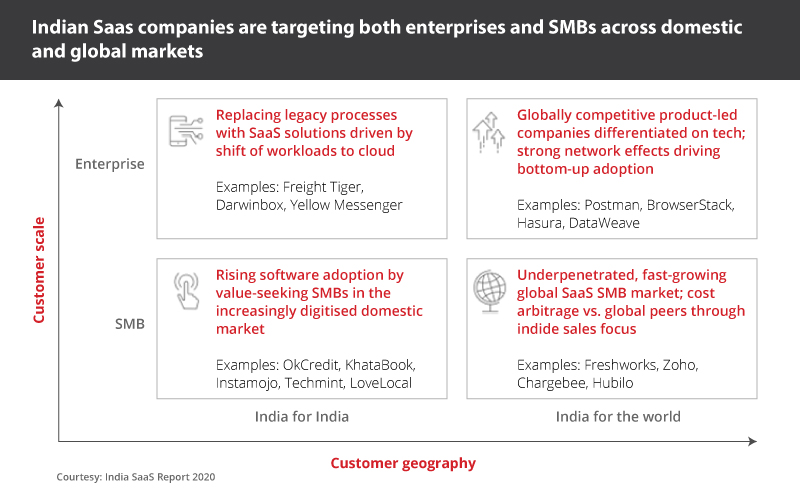 India can become a global hub for SaaS by 2025 by strengthening the ecosystem that includes a strong push from the government, access to a strong funding pipeline and focus on building SaaS skillsets and an effective Industry mentorship program.
"India today needs greater cross industry collaborations, supportive government policy, and investment in deep technologies, to further the growth of the SaaS industry exponentially," Debjani Ghosh President, Nasscom told Live Mint.
The global addressable market for SaaS will be around $400 billion in 2025. This gives Indian companies a huge opportunity to tap into the rising demand and ride it. Indian SaaS companies now have a more robust ecosystem of enablers to support them and given how these companies have handled the pandemic, the future for this sector looks very bright, indeed.