India sends a subtle message to China through the 2+2 dialogue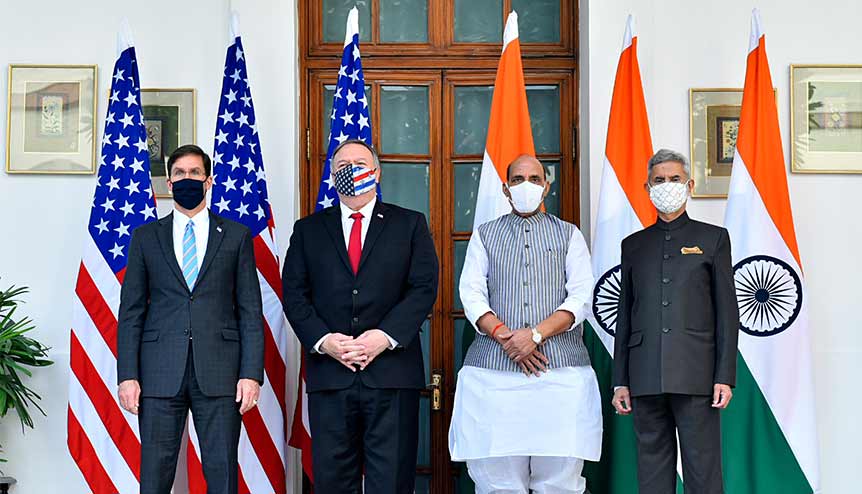 The third meeting of the Indian and US Defence and Foreign Ministers in New Delhi recently concluded the last foundational agreement to bring the defence forces of the two countries closer and sent a strong message to Beijing on its expansionist ambitions.
Future historians could identify the Ladakh clashes between Indian and Chinese forces as a turning point in Indian foreign policy, which has long been marked by what some analysts have called "geostrategic hesitations and hypocrisies."
Have you read?
Landmark defence pact brings India and US closer than ever
India-US-UK alliance in AI can boost global tech
The India-US Strategic Energy Partnership stays strong
India and US move towards securing the Indo-Pacific
Why US and India need each other to combat terror around the world
US plus Russia, a new paradigm in India's foreign policy matrix
US and India forge a partnership to navigate new challenges
The recently concluded 2+2 dialogue between India, represented by Defence Minister Rajnath Singh and Foreign Minister S. Jaishankar and their US counterparts Mike Pompeo and Mark Esper in New Delhi signalled a subtle shift in India's attitude on its jealously guarded "strategic autonomy".
And though the Indian side did not once mention China by name, it left no one in any doubt that Beijing was the 800-pound gorilla that it was wary about.
BECA the highlight of the dialogue
The highlight of the meeting was the signing of the Basic Exchange and Cooperation Agreement for Geo-Spatial Cooperation (BECA), which will give India access to extremely accurate real-time geo-spatial data that will enable the Indian military, especially its missile forces, target enemy forces and installations with pin-point accuracy (See box on All you need to know about BECA).
This is the fourth and last of the so-called foundational agreements that the US signs with its close defence and strategic partners. It took more than a decade to finalise and sign. The other three agreements are General Security of Military Information Agreement (GSOMIA) in 2002, the Logistics Exchange Memorandum of Agreement (LEMOA) in 2016 and Communications Compatibility and Security Agreement (COMCASA) in 2018. Together, these will facilitate inter-operability, sharing of bases and infrastructure and classified information that is made available only to the closest military and strategic partners.
But foreign policy analysts in New Delhi are pointing to another important nuance they said could signal a subtle shift in India's foreign policy paradigm.
All you need to know about BECA

The Basic Exchange and Cooperation Agreement for Geo-Spatial Cooperation or BECA is the fourth and last of the foundational agreements that India and the US have signed to increase inter-operability of their military forces.

The US signs such agreements only with its closest military and strategic allies. So, many experts in New Delhi said, India and the US are now locked in a close military embrace even though there is no formal agreement to that effect yet.

BECA will facilitate the sharing of classified and unclassified geo-spatial data, satellite images, maps, nautical and aeronautical charts, commercial and other imagery, geodetic, geophysical, geomagnetic and gravity data that provide precise coordinates to enable missiles to home in on targets thousands of kilometres away. It is particularly significant given the tense and festering border standoff between India and China in Ladakh following unprovoked aggression by India's northern neighbour.
An ET report said: "Supplemented by highly accurate US satellites, this geospatial information can help in navigation and, more importantly, in targeting military assets."
"The cooperation also includes sharing of high-end satellite images, telephone intercepts, and data exchange on Chinese troops and weapons deployment along the 3,488-km India-China Line of Actual Control," a report in the Indian Express added.
Such data will be particularly helpful in case India decides to launch another Balakot-style raid on terror hideouts in a neighbouring country or well-guarded military installations elsewhere.
Although the agreement provides for mutual sharing of such information, the pact will be more helpful to India as US satellites and its other technology assets cover practically every inch of the earth – giving Indian missiles "eyes" and guidance in areas they may not currently have access to.
Pompeo openly calls out China's expansionism
US Secretary of State Mike Pompeo's opening statement left no one in any doubt about the thrust of the dialogue. "Today is real opportunity for two great democracies like ours to grow closer… There is much more work to do for sure… We have a lot to discuss today, from cooperating on defeating the pandemic that originated in Wuhan, to confronting the Chinese Communist Party's threats to security and freedom, to promoting peace and stability throughout the region."
India's silence speaks louder than words
In the past, India has been uncomfortable naming any third country, barring Pakistan, in the context of security threats. By not calling out Pompeo's statement, New Delhi could be indicating that following the unprovoked Chinese aggression in Ladakh and in the light of its petulant intransigence on the negotiating table, it is now ready to bracket China with Pakistan in the list of its adversaries.
Though Foreign Minister Jaishankar pointedly avoided naming China, a readout by the US State Department quoted Defence Minister Singh as saying: "… in the area of defence we are challenged by reckless aggression on our northern borders."
This comes close on the heels of a meeting earlier this month between Jaishankar and Pompeo in which the two leaders agreed to cooperate on a "free and open Indo-Pacific" – a shorthand for China's expansionism in Asia.
The nuance is unmissable: India is signalling to Beijing that there is still room for resolving the border stand-off and Chinese occupation of Indian territory peacefully and bilaterally… but that it should not take New Delhi for granted as it has other options on the table.
Podcast: Play in new window | Download