India-Russia: The ties that bind

India's close relations with Russia covers politics, defence, civil nuclear energy, anti-terrorism cooperation and space. The strategic partnership has endured the test of time. Here is a snapshot.
India-Russia Annual Summit: October 2016
"An old friend is better than two new ones."
Indian Prime Minister Narendra Modi
"Industries of both countries are improving cooperation; military and technical cooperation is also improving."
Vladimir Putin, Russian President
16 agreements across several fields
India to spend over $5 billion to acquire S-400 Triumf air defence missile system
India to buy three Project 11356 frigates from Russia
Make in India: India-Russia to jointly manufacture 200 Kamov 226T multi-use helicopters
Russian oil major Rosneft bought Essar Oil in an all-cash $13 billion deal
Russian Direct Infrastructure Fund and India's National Infrastructure Investment Fund will each invest $500 million to create a joint $1-billion infrastructure fund for India
Russian companies to invest in smart cities in Andhra Pradesh and Haryana
Main Indian Export Items to Russia:
Pharmaceuticals
Miscellaneous manufactures
Iron & steel
Apparels
Tea &coffee
Tobacco products
Spices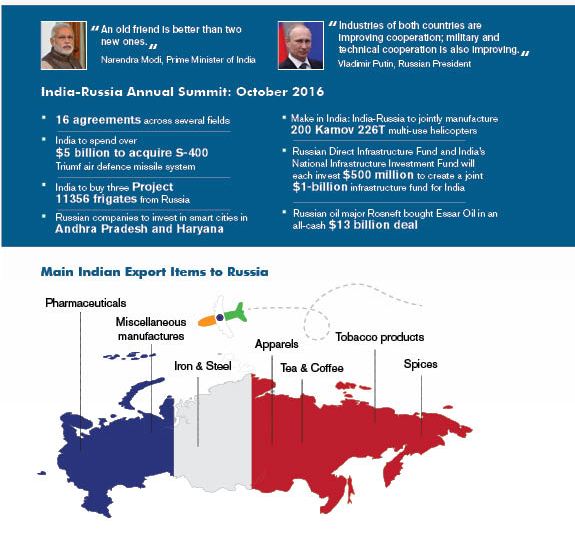 Main Indian Import Items from Russia:
Fertilizers
Electrical equipment
Defence and nuclear reactors
Mechanical appliances, automobiles
Iron & steel articles
Bilateral Trade (Values in US$ mn)
| | | |
| --- | --- | --- |
| Year | Exports To Russia | Imports From Russia |
| 2008-2009 | 1,096.34 | 4,328.28 |
| 2009-2010 | 980.69 | 3,566.79 |
| 2010-2011 | 1,689.43 | 3,600.02 |
| 2011-2012 | 1,778.27 | 4,764.31 |
| 2012-2013 | 2,295.68 | 4,231.56 |
| 2013-2014 | 2,121.26 | 3,894.40 |
| 2014-2015 | 2,097.01 | 4,249.22 |
| 2015-2016 | 1,587.81 | 4,584.98 |
| 2016-2017 (Apr-Jul) | 645.81 | 1,638.80 |
Source: Department of Commerce, Ministry of Commerce & Industry, Government of India
Russia's Sectors of Focus in India:
Construction and engineering services
Pharmaceuticals
IT
Manufacturing
Aviation
Initiatives to attract Russian investments:
The two countries signed a protocol on 24 December 2015 to simplify visa procedures for businessmen.
The India-Russia Inter-Governmental Commission on Trade, Economic, Scientific, Technological and Cultural Cooperation (IRIGC-TEC) is the apex G2G forum to review economic cooperation.
India-Russia Forum on Trade and Investment and India-Russia CEOs Council are the two primary mechanisms to promote direct bilateral B2B contacts between India and Russia.
Mechanisms such as India-Russia Business Council (partnership between FICCI of India and CCI of Russia), India-Russia Trade, Investment and Technology Promotion Council (partnership between CII of India and RUIE of Russia), India–Russia Business Dialogue (partnership between CII of India and Russia's Business Council for Cooperation with India) and India-Russia Chamber of Commerce (with focus on SMEs) supplement the efforts to build direct B2B ties.
India and Eurasian Economic Union (EaEU) signed a joint statement to undertake joint feasibility study for the FTA between India and EaEU.