India rejigs its energy mix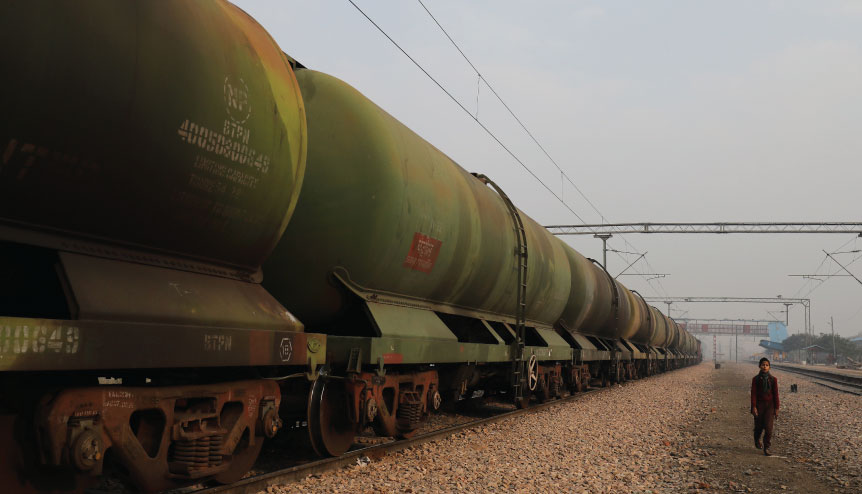 Motivated by environmental and health concerns around burning biomass for domestic energy consumption, New Delhi is expanding its natural gas infrastructure.
India is getting ready to update and expand its gas infrastructure in a big way. Speaking at ASSOCHAM Foundation Day Week 2020, Petroleum Minister Dharmendra Pradhan said, "We are ushering a gas-based economy by increasing the share of natural gas in India's primary energy mix from 6.2 per cent to 15 per cent by year 2030. On the investments front, we have envisaged a spend of USD 60 billion in creating gas infrastructure till 2024, including for pipelines, LNG (Liquefied Natural Gas) terminals and CGD (City Gas Distribution) networks."
Have you read?
India Natural Gas Exchange – one small step or a giant leap?
LNG and the new Indian energy mix
How India's oil sector pulled all stops to counter Covid-19 impact
Reshuffling its energy mix
Currently, gas accounts for 6 per cent in the country's total energy mix, below the global average. While LNG accounted for half of India's 60.8bn m³ of gas consumption for fiscal year ending 31 March 2019 and imports rose to 33.7bn m³ for the 2020 fiscal year. In recent years, growth in India's LNG imports has been driven by declining domestic natural gas production and growing consumption.
New Delhi has set a target to raise this to 15pc by 2030, with demand expected to be driven by the fertiliser, power, household cooking and steel sectors. The Oil Ministry also plans to set up bio-CNG (compressed natural gas) plants and allied infrastructure at a cost of US$ 1.10 billion to promote the use of clean fuel.
Why the push?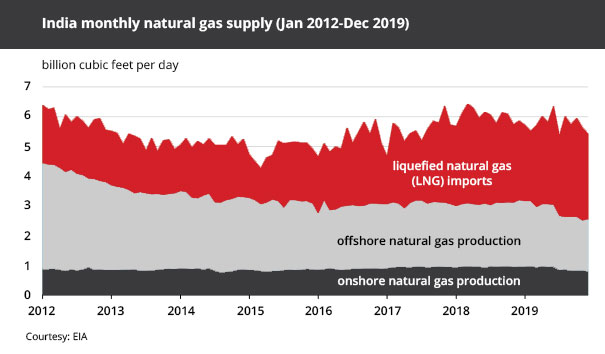 Due to stagnant domestic gas output, India's consumption push is being driven by growing volumes of imported LNG procured via long-term contracts from suppliers such as Qatar and from the international spot market. New Delhi is also being driven by environmental and health concerns around burning biomass for domestic energy consumption.
According to EIA, the future growth in India's LNG imports is contingent on connecting LNG regasification terminals on coasts to demand centres further inland via pipeline. Currently the Northwest part of India has a highly developed natural gas infrastructure, and both Hazira and Dahej are the most highly utilised terminals in India (at 97 per cent and 110 per cent, respectively). However, the southern and eastern regions of the country lack pipelines to move natural gas from coastal LNG import terminals to major demand centres further inland.
Pradhan was also quoted as saying, "We are adopting clean mobility solutions with greater use of LNG (liquefied natural gas) as a transportation fuel, including long haul trucking. We plan to have 1,000 LNG fuel stations across the country. Last month, foundation stone was laid for the nation's first 50 LNG fuel stations."
Solving the problem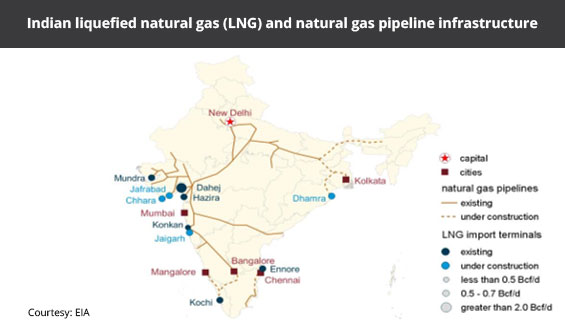 In mid-June, Pradhan and the Petroleum and Natural Gas Regulatory Board (PNGRB) announced that a new pipeline tariff policy would soon be unveiled to rationalise gas prices across the country. India also launched its first gas trading exchange, which will enable entities such as Shell and Dutch and Singaporean commodities trading houses Vitol and Trafigura to sell LNG directly to domestic customers at spot and forward market rates.
Earlier in the year when the plan for expanding gas was announced in the budget Nitin Prasad, Chairman, Shell Companies in India told ET, "The policy reforms announced in the Union Budget by the Finance Minister sustain the Prime Minister's vision for India's journey towards a climate resilient and clean energy society under pinned on electro-mobility, a gas based economy and renewable power delivered through accelerating innovation from start-ups."