India reaping the rewards of an age-old partnership with Africa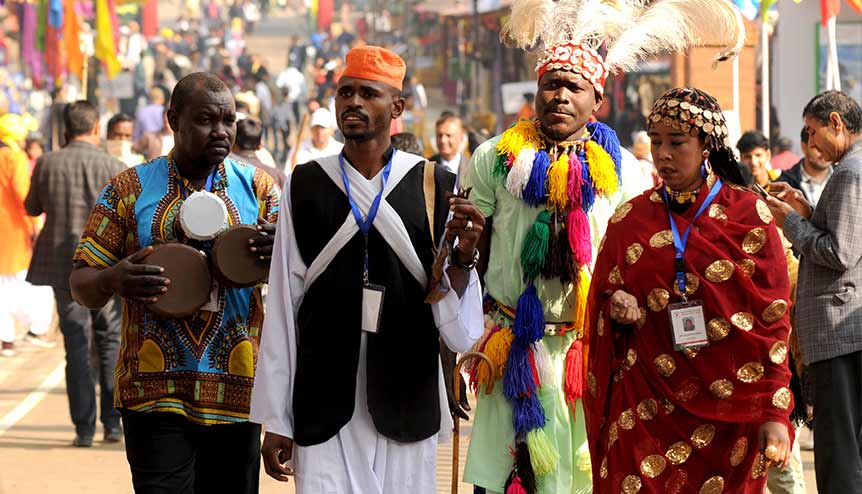 The two countries share ties which are softer and more durable in texture – it is participative, collaborative and cooperative.
History binds the sub-continent of India to the continent of Africa very closely over multiple pathways – political, economic, people-to-people exchanges and culturally as well. These bonds date back as far as 300BC as evidence in the India Valley Civilisation suggests.
African communities find themselves being bound together by finding power through communities and this phenomenon is no different in India. These stories are evident in the many interior regions of Africa and India. People who migrated to Africa from India settled in there sharing cultures and traditions.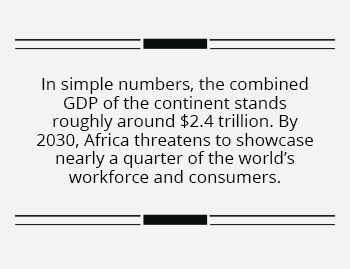 India and Africa have fought themselves free from the shackles of colonialism and even racial inequality. The respect for every fellow human being was held upright over all other qualities which is why, even as a economy that had not even announced its arrival on the world stage, India did not hesitate to slap a trade embargo on South Africa that had been gripped by the sick, social infection of apartheid. The enormity of this decision is reflected amply specially when one considers that South Africa was contributing around 10 percent to India's trade at that time.
Perhaps the greatest link between India and the African continent has been the presence of Mahatma Gandhi who once had made South Africa his home. Gandhi was subjected to the evils and humiliation of apartheid before he came to India and launched his non-violent movement to ensure the departure of the British. Decades later, South Africa showcased Nelson Mandela who patented the non-violence movement to ensure the official end of apartheid in the country. Mandela would go on to become his country's first black president and a global icon and champion of racism.
There have been numerous and varied examples of how India and the African continent have been inextricably linked through the waves of change that have swept through both countries. The energy of this union has not been lost on observers.
Dynamism and upward trajectory
The economies of the two countries now represent a certain dynamism and upward trajectory. It is a fact that quite a few of the world's most rapidly growing economies are in Africa and some of them have risen like the phoenix through the most demanding of tests. In simple numbers, the combined GDP of the continent stands roughly around $2.4 trillion. By 2030, Africa threatens to showcase nearly a quarter of the world's workforce and consumers. A total of 54 countries are packed into this continent, housing around a billion people, a huge young population bursting at the seams with ambition and an overabundance of natural resources.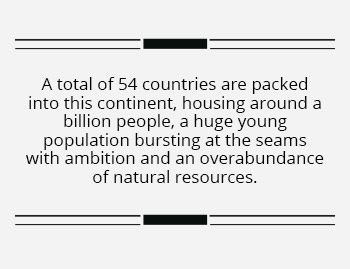 India has recognized and appreciated this change in the region which contrary to being referred to as the 'Dark Continent' is nothing short of vibrant. Some of this energy has been seen in growing government-to-government activities and a renewed urge of interest from the private sectors of both countries.
It therefore comes as no surprise that India, without anybody knowing, has become the fourth largest trading partner in the continent. Trade has grown year-on-year by close to 20 percent in 20 years and this by itself is a remarkable statistic to covet. Moreover, India's engagement with Africa is of a softer and more durable texture – it is participative, collaborative and cooperative as opposed to the flexing of muscles by countries like China who try and control a narrative for their own selfish reasons. And India's approach is the best when going forward.
Good base to start with
The proof of the pudding is in the eating – there are power projects and dams in Sudan; water treatment plants in Tanzania; the export of sugar to Ethiopia; New Delhi building the presidential palace in Ghana and the national assembly are but a few cases in point and that's a good base to start with.
But for all that, corporate India has only begun looking toward the African continent over the last 25 years. Previously, the Indian economy was largely inward looking but with globalization making its presence felt almost all entities in the manufacturing space suddenly found themselves veering towards Africa to establish business links in automotive parts, healthcare, telecommunication products and food products. In terms of trade there is potential of reaching the magic number of $100 billion in a few years' time and that is a staggering figure.
Business with circumspection
There are a few reasons to argue that achieving growth by doing business in Africa comes with a degree of circumspection. Businesses are constantly challenged but an investor can reap significant rewards if prepared to add risks to the level of engagement. Corruption has not been eliminated and investors need to come in with their eyes wide open and not be swayed by the dynamics on the ground. At the end of the day Africa is an emerging economy with one complexity – it is a multi-country with a variety of currencies and different languages which are spoken.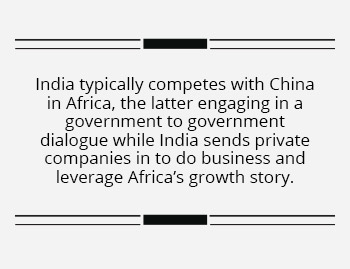 Indian investors have been repeatedly told to keep empowering local and strengthen global while doing business in Africa. India typically competes with China in Africa, the latter engaging in a government to government dialogue while India sends private companies in to do business and leverage Africa's growth story.
There are stories that celebrate democracy and political stability in the continent and African countries have made major progress towards economic integration through initiatives like the African Continental Free Trade Area (AfCFTA). This organization has the potential to increase African trade figures by 52 percent thereby setting the stage for one of the world's biggest economic eco-systems. Naturally, India does not want to be left out from occupying that space.
In keeping with this policy the current Indian government has left no stone unturned in maintaining engagement with African countries and actions speak louder than words. Quite a few ministers have made a number of visits to African countries to increase the prospect of diplomatic ties and to underline this fact many embassies have been opened across the continent with a total of 47 missions now being present out of a total of 54 countries.
It is not just business as usual with Africa, however. India is focused on fulfilling the capabilities of the African people, specially its youth, and it is this focus on emotional bonds and shared values that has tied the interests of a country and a continent for centuries.