India presents swadeshi and 21st century globalisation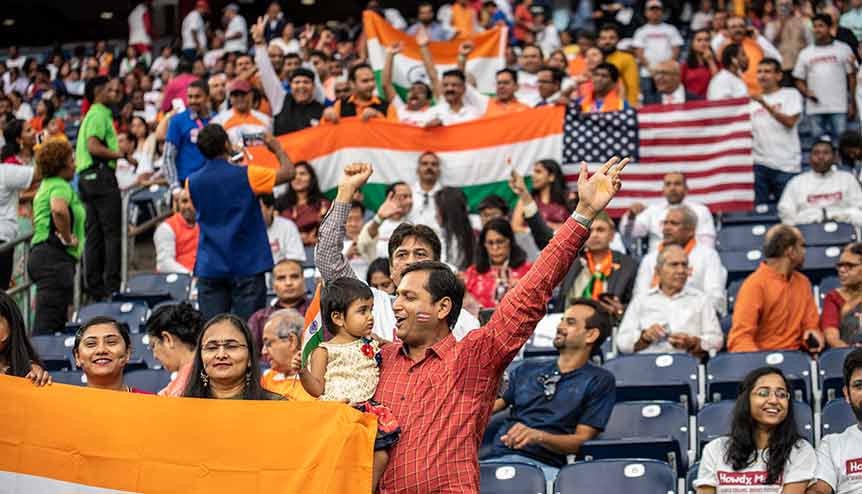 The Atmanirbhar Bharat concept encourages a business connect with the Indian diaspora and promotes the India story outside of its shores.
Indian Vice President M Venkaiah Naidu recently provided a shot in the arm for the government's Atmanirbhar Bharat application by stating that the call for a self-reliant India is not aimed at encouraging "protectionism or isolation," but for adopting a pragmatic development strategy to enable the country to recognise and capitalise on its inherent strengths.
Related stories: Sectors in which NRI investors can make money in India right now
SEBI may allow companies owned by NRIs to trade on Indian bourses
The Vice President's statement should resonate not just among those who live in India but also by the diaspora abroad who are acutely invested in India's overall progress.
Venkaiah Naidu was present at the virtual launch of a mobile app called Elyments and stressed that the Atmanirbhar Bharat app was aimed at giving a new boost to the economic potential of the country by strengthening infrastructure, using modern technologies, enriching human resource, and creating robust supply chains.The government's app is already making waves across the country and outside it as well.
The Atmanirbhar Bharat: Diaspora Business Connect will be one of the conferences which falls under The Diaspora Dividend – The role of the diaspora in India's global march. It is part of a wider discussion being organised by India Global Week from 9-11 July. The webinar titled #BeTheRevival India & A Better New World will be one of the biggest ever events on India's globalisation story. It explores, via one of the strongest list of speakers every assembled for a virtual conference, areas of business, strategic and cultural opportunities for those who are interested in India and its global story.
Present at the virtual launch of the Elyments app was Indian spiritual leader Sri Sri Ravi Shankar. Incidentally, Ravi Shankar will also be a part of India Global Week's impressive line-up of speakers where he will be in conversation with noted Indian TV journalist Barkha Dutt.

Bold decisions, bold investments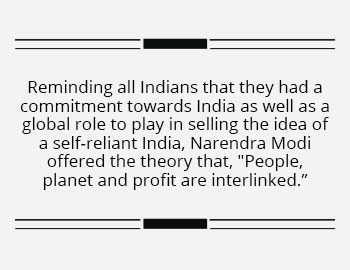 Venkaiah Naidu's call for all Indians irrespective of where they are based to embrace the benefits generated by this app has earlier been reiterated by Indian Prime Minister Narendra Modi who stated that the time was ripe for India and Indians to make bold decisions and bold investments.
Reminding all Indians that they had a commitment towards India as well as a global role to play in selling the idea of a self-reliant India, Modi offered the theory that, "People, planet and profit are interlinked. All three can simultaneously flourish, co-exist. People-centric, people-driven and planet-friendly development have become part of our governance."
"At this time, we've to take Indian economy out of 'command and control' and take it towards 'plug and play'. This isn't the time for a conservative approach. It's time for bold decisions and bold investments. It's time to prepare a globally competitive domestic supply chain," Modi had said at the 95th annual day of Indian Chamber of Commerce (ICC). "Atma nirbhar Bharat simply means that India does not rely on other countries. It is time for vocal to be local."
Diaspora plays a critical role
The critical role played by the Indian diaspora has never been more pronounced since Narendra Modi won his term in office on 14 May. The Prime Minister has repeatedly cajoled and reminded the diaspora that they have a huge role to play in the development of India and in the promotion of its foreign policy goals. The dynamism in engaging with the Indian diaspora was initially displayed by the late Prime Minister Atal Bihari Vajpayee, during his term in office in 1998-2004.
Vajpayee was in favour of meaningful engagement with Indians abroad with the sole purpose of developing mutually beneficial linkages. Modi has displayed this same energy, but with more results, owing to his public statements, foreign assignments and his outreach with expatriate Indians wherein he has repeatedly invited them to be a part of India's growth narrative.
Modi's attempt to woo the Indian diaspora was not an impulsive attempt, rather the decision had been a part of the BJP's 2014 election manifesto where engaging with Non-Resident Indians (NRIs) and Persons of Indian Origin (PIOs) through the use of a proactive diplomacy strategy and develop 'Brand India' was the government's stated position. Modi was acutely aware that Indian professionals settled abroad could eloquently narrate the Indian story and express the country's national interests and affairs globally. The diaspora, in this case, became a valued resource.

Diaspora diplomacy
In 2015, BJP general secretary, Ram Madhav clarified his party's policy at an Indian Diaspora Initiative meeting by stating, "The Indian Diaspora can be India's voice even while being loyal citizens in those countries. That is the long-term goal behind the diaspora diplomacy. It is like the way the Jewish community looks out for Israel's interests in the United States."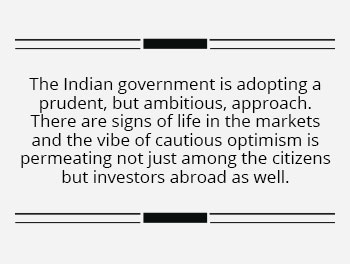 Structural reforms across India are changing the course of the country even as it battles against the Covid-19 pandemic. The government is adopting a prudent, but ambitious, approach to ensure that the Indian economy is not dealt a body blow. There are signs of life in the markets and the vibe of a cautious optimism is permeating not just among the citizens but investors abroad as well.
India is indicating to the rest of the global markets that in these challenging times the nation is not entirely reliant on external strategic sectors. India is poised to becoming a manufacturing superpower and, in the current disruptive global climate, with China stoking a fair amount of turbulence and disharmony among nations, it is emerging as a resilient and viable option not just for investors abroad but also for NRIs who believe in India's strength, adaptability and spirit of innovation by retaining local values and embracing global best-practices.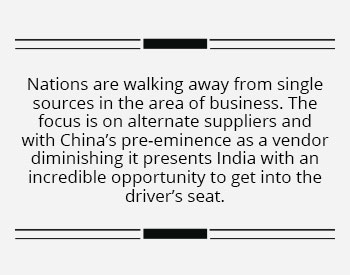 The role of the Indian diaspora therefore, is a vital one. Nations are walking away from single sources in the area of business. The focus is on alternate suppliers and with China's pre-eminence as a vendor diminishing it presents India with an incredible opportunity to get into the driver's seat. It is a concept which has been grasped early on by Narendra Modi and he is pushing home the advantage even as other global leaders scramble to simply contain the destruction caused by the pandemic.
The Indian diaspora should feel energised by the fact that India presents to them a tantalising combination of swadeshi and 21st century globalisation and, every Indian has a role to play in this narrative.