India preps for the world's biggest privatisation exercise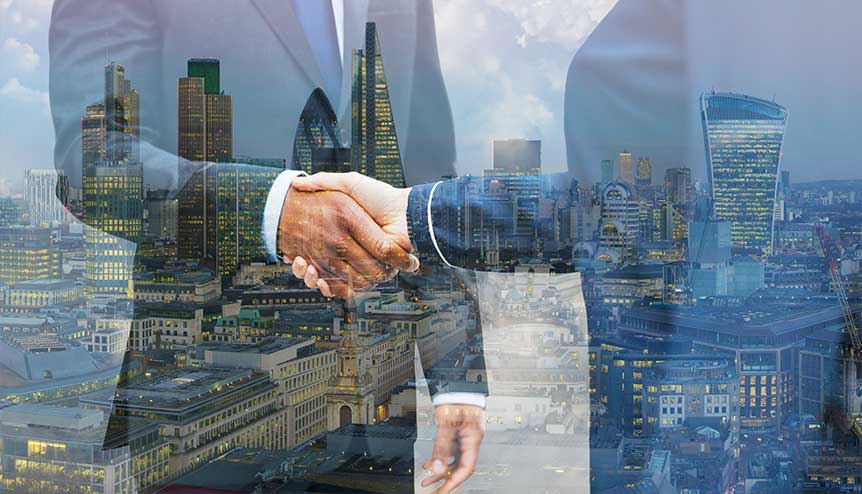 A new policy expected to be approved by the Modi Cabinet soon will see the government cede control of most of the 348 public sector units currently under its ownership and open up huge business opportunities for foreign and domestic investors.
The Narendra Modi government is expected to soon announce a new public sector policy to define 18 strategic sectors in which it will retain control over at least one and a maximum of four public sector units (PSUs). These sectors include banking, insurance, steel, fertiliser, petroleum and defence equipment, among others. All other state-owned companies will eventually be privatised.
Most PSUs will be privatised
Announcing this recently, Tarun Bajaj, Secretary, Economic Affairs, said this policy, part of the government's Atmanirbhar Bharat (Self-Reliant India) initiative, is expected to be placed before the Union Cabinet for approval within the next couple of months. Once approved, it will lead to India shedding the last vestiges of its socialist hangover and will mark a 180-degree turn from the Nehruvian policy of giving the public sector the commanding heights of the economy.
However, it is not clear at this point if the private sector will be interested in entering sectors like nuclear power generation, which is currently reserved for state-owned companies.
Have you read?
The Modi govt is walking the talk of loosening control over PSUs
India's $23 billion manufacturing package packs a punch
Nirmala Sitharaman's reforms enable foreign investors to enter power sector
Modi's reforms, future growth prospects set off mother of all bull runs in India
Modi unleashes a spate of reforms over a year
India's farm sector reforms are a pathbreaking step forward
Modi government reforms labour laws to make India globally competitive
India's radical and much needed civil service reforms
Policy a follow-up on Sitharaman's announcement
Indian Finance Minister Nirmala Sitharaman had said in May while announcing her $265-billion stimulus and reforms package that the government would exit all but a few sectors. This announcement was met with a ripple of excitement but no one had then been able to gauge the sheer scale of the Modi government's reforms ambitions.
Modi lays out the red carpet to foreign investors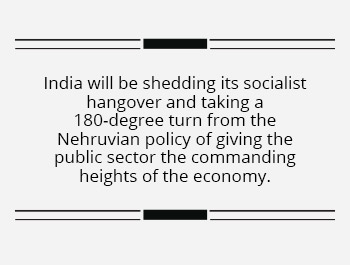 Prime Minister Modi had said at India Global Week in July: "India remains one of the most open economies in the world. We are laying a red carpet for all global companies to come and establish their presence in India. Very few countries will offer the kind of opportunities India does today… We are making the economy more productive, investment-friendly and competitive… We are opening the doors to investors to come and invest directly."
These words have now taken on a whole new meaning in the light of this new policy titled "Redefining Public Sector Participation in Commercial Sector Enterprise". The Government of India currently controls 348 PSUs. These companies, many of which are listed, have a combined paid up capital of $37 billion and earned revenues of almost $350 billion during the year ended March 31, 2019.
Several Fortune 500 companies to be privatised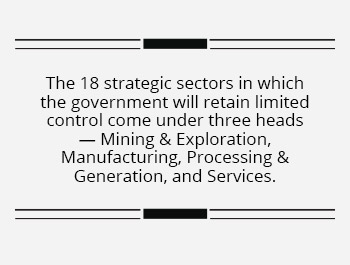 They include Fortune 500 companies such as petroleum refiner and retailer Indian Oil Corporation (IOC) and national oil explorer ONGC, and steel maker SAIL. It also includes aircraft maker Hindustan Aeronautics Ltd (HAL), which makes warplanes for the Indian Air Force, and Mazagaon Docks, which makes warships and submarines for the Navy.
The government has clarified that the private sector will not be precluded from setting up companies and operating freely in the 18 strategic sectors where it will retain control of PSUs.
Held a review meeting on 24 priority industry subsectors.

Industry & Govt. are working together to push domestic manufacturing & increase exports to achieve our collective goal of Aatmanirbhar Bharat. pic.twitter.com/AUpFYZnmDj

— Piyush Goyal (@PiyushGoyal) August 24, 2020
No time frame for sell-off
The proposed policy blueprint does not specify any time frame for privatising the PSUs. This, government sources said, will depend on several factors including the health of the stock markets, the country's political climate and the state of the Indian economy.
"The other important thing which is slightly delayed I would say and it is testing the patience of all of you and ours too, is the policy that we have to come out…(for) privatisation of our public sector units. Though, it is an open secret, but still till it gets the stamp of the cabinet we are not satisfied about it. It should happen very soon. So that is a major step in the making," Bajaj said.
In this context, Sanjeev Sanyal, the government's Principal Economic Advisor, had said a few months ago, at the peak of the Covid-induced lockdown: "…we know that privatisation is difficult to do under these circumstances, but we want to be absolutely clear and unapologetic about what we want to do. All non-strategic PSUs will be sold when we can do it. It's not lack of intent that will hold us back."
Also read:
India is poised to become an engine of growth for the world economy
Reforming India's power distribution sector
States compete for far-reaching labour reforms in India
New Agriculture Infrastructure Fund has greater transformative potential than 1991 reforms
Need for governance reforms in the banking sector
Bold reforms now could set India on a high growth trajectory
Foreign investors bet on reforms to fuel India's economic recovery
World's largest privatisation exercise
Depending on how the market prices these assets at the time of sale, this could rank as the world's largest attempt at privatisation. It will open up massive opportunities for deep pocketed investors from friendly countries – hedge funds, private equity firms, pension funds, sovereign wealth funds, high net worth family offices and other such vehicles with large investible corpuses – to buy into the India growth story and increase India's economic and financial linkages with the rest of the free world.
Strategic sectors divided into three groups
The Department of Investment and Public Asset Management (Dipam) under the Ministry of Finance ministry, which has moved a proposal seeking Cabinet approval for this new policy on PSUs, has divided the 18 strategic sectors under three heads — Mining & Exploration, Manufacturing, Processing & Generation, and Services.
In the mining & exploration sector, the government will retain control of one or more existing PSUs in the coal, crude oil and gas, and minerals and metals industries.
In manufacturing, processing & generation, the government continue to run companies in the defence equipment, steel, petroleum (refinery and marketing), fertilisers, power generation, atomic energy and ship building sectors.
And in services, sectors such as power transmission, space, development and operation of airports, ports, highways and warehouses and gas transportation and logistics, contract and construction and technical consultancy services related to strategic sectors and subsectors, financial services for infrastructure, export credit guarantee, energy and housing sectors, telecommunications and IT, banking and insurance will continue to have a limited government presence.
Some sectors will be exempt from the ambit of the new policy
A senior government official clarified the new policy will not be applicable to government-controlled autonomous bodies, regulatory authorities and refinancing institutions. Then, PSUs that provide support and financing to vulnerable groups such as Scheduled Castes and Scheduled Tribes, minority communities and backward classes will not come under the ambit of this policy.
Also, security printing activities, minting and organisations that participate in commercial activities with a development mandate, such as railways and posts & telegraph will remain outside the ambit of the new public sector policy.
Banking sector to see paradigm shift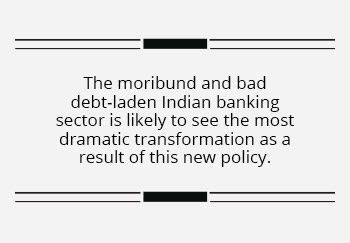 The moribund and bad debt-laden Indian banking sector is likely to see the most dramatic transformation as a result of this new policy. Following the merger of 10 public sector banks into four larger state-owned lenders last year, following several more such mergers in the preceding two years, there are still 12 government-owned banks in the country.
Under this policy, these 12 will either have to be further merged into each other to create four large state-owned lenders or some of them will have to be sold off.
Either way, it will change the face of the Indian banking sector, create stronger banks with larger balance sheets, increase efficiency and improve the state of the Indian financial services sector, setting the stage for better transmission of credit to sectors that need funding.
Improving efficiency, increasing yields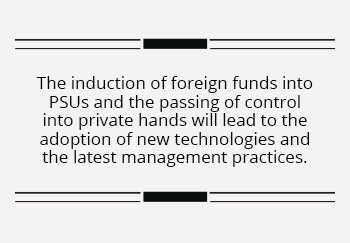 Then, the induction of foreign and private funds into public sector units and the passing of management control into private hands is expected to lead to the adoption of new technologies and the latest management practices that will, hopefully, lead to more efficient use of these huge assets that are at present being sub-optimally utilised.
Also, the government, which gets barely 3-5 per cent dividend yields from its stakes in these companies will be able to make better utilisation of these funds for development purposes – provided the policy is implemented in full measure – thus, creating a win-win situation for the stakeholders.
Podcast: Play in new window | Download