How India is preparing for life at 75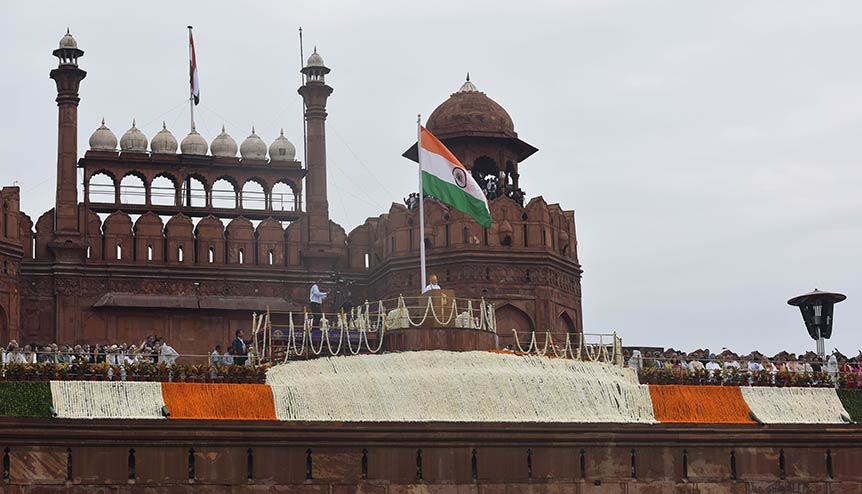 As the world increasingly confronts technological change, sustainability challenges and an economic landscape ravaged by the coronavirus pandemic, India is on its way to becoming an exemplar for other growth markets. Having recently completed 73 years since independence, we take a look at the key policy outlines of India by 2022.
"We are kept from our goal, not by obstacles,
But by a clear path to a lesser goal."
  * The Bhagavad Gita
Young, restless and full of extraordinary potential.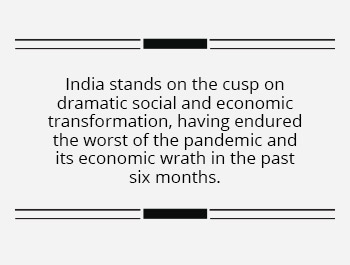 That's how economists and experts around the world would sum up India – as the country celebrated its 73rd independence anniversary on Saturday 15 August. And reflect on a memorable rise from the days of its struggle against the British Raj to becoming the democratic world's fastest growing large economy.
India stands on the cusp on dramatic social and economic transformation, having endured the worst of the pandemic and its economic wrath in the past six months. As it edges closer by a year to yet another major milestone – celebrating its 75th anniversary in 2021. Amid the celebrations, it's vital to look forward to India's extraordinary capability that can help it stand apart and meet the aspirations of its people as well as those of the international community, and how the country is preparing for that transformation under the leadership of Prime Minister Narendra Modi.

Have you read?
New Agriculture Infrastructure Fund has greater transformative potential than 1991 reforms
Infra upgrade in Andaman Islands to push Modi's Act East policy
Air corridors with 5 major trading partners signals India returning to post-Covid normalcy
A young country with rising expectations
"India is a young country; nearly 65 percent of its population is younger than 35. It has an opportunity to drive economic growth on the back of its rising working-age population (those aged 15-64). This population has boasted a compound annual growth rate (CAGR) of 2 percent since 2000, a situation often referred to as India's demographic dividend," according to a report prepared by PWC on the long-term future of India.
"The nation is expected to add almost 12 million people to its workforce every year over the next two decades, with the working-age population crossing the 1 billion mark by 2030. As other growing economies confront a rapidly greying population, India's young population could fulfill demand for skilled workers worldwide," the report said.
With all the recent challenges of the past few months, as well as the longer-term legacy issues faced by the country, it is therefore clear that an increasingly young and aspirational India, with a large digitally enabled middle class, is today hungry for growth and change like never seen before. By nurturing the right skills and creating the capabilities for growth and new solutions, the opportunities for India at home and abroad are virtually limitless.

Comprehensive national strategy
With this view in mind, the Indian government's policy think-tank N Aayog has unveiled a comprehensive national strategy for New India, which defines clear objectives for India at 2022-23 as it celebrates its 75th anniversary of independence, in a detailed exposition of 41 crucial areas. As one of the most collaborative exercises in post-independent India, the massive report was prepared by involving more than 800 stakeholders from within all sections of the government – central, state and district levels – and nearly 550 external stakeholders from across businesses, industries, scientists, academics and field experts. Extensive consultations were also made with civil society organisations, think-tanks, labour representatives and trade unions.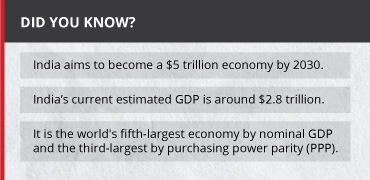 As described by Prime Minister Modi, the objective of this massively complicated exercise was rather simple: "The Strategy for New India @75, put together by NITI Aayog, is an attempt to bring innovation, technology, enterprise and efficient management together, at the core of policy formulation and implementation. It will encourage discussion and debate, and invite feedback for further refining our policy approach. We believe that economic transformation cannot happen without public participation. Development must become a Jan Andolan (public movement)."
You might also like to read:
A year of peace, prosperity, possibilities and opportunities
How the pandemic is fuelling India's edtech platforms

Mass movement for development
Development, thus, must become a mass movement – much like Mahatma Gandhi mobilised a nation to achieve independence in 1947. In this new movement for development, every Indian recognises his or her role and will also experience its tangible benefits in the form of better ease of living and prosperity. "The direct implication of ensuring rapid growth with inclusion is that policymaking will have to be rooted in Indian ground realities and emphasize the welfare of all in both design and implementation," says the preamble to the policy vision document.
Driven by the belief that India can build shared prosperity for its 1.3-billion plus citizens by transforming the way the economy creates value, the overarching focus of the strategy is to further improve the policy environment in which private investors and other stakeholders can contribute their fullest to propel India towards a $5 trillion economy by 2030.
India has shown the way when it comes to ensuring a healthy balance between quick development and care for environment.

In the coming days, Project Lion and Project Dolphins will cater to creating better environments for the majestic Lion and Dolphins. #AatmaNirbharBharat pic.twitter.com/0jiNRwRNCc

— Narendra Modi (@narendramodi) August 15, 2020
Corporate India thus has a critical role to play, not only by creating value by addressing key societal needs, but also in building and supporting a vibrant entrepreneurial sector, apart from partnering with the government to implement bold new developmental approaches. One of the key roles as part of the Vision 2022 policy – which replaces the five-year plan format of the earlier Planning Commission – is also to achieve UN Sustainable Development Goals set for India.