India-New Zealand ties: Stuck in first gear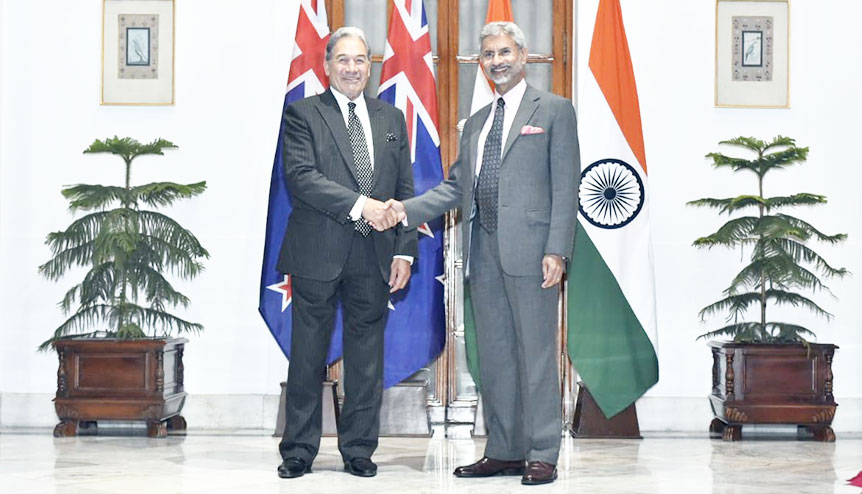 There is a sense of deja vu when it comes to recent trade discussions between India and New Zealand, but at least the right noises are being made.
Highlights:
India's reticence to sign a free trade agreement poses a peculiar problem for New Zealand, which places a high value on FTAs when it comes to gauging bilateral or multilateral relations.
India's protectionist attitude towards its dairy and agriculture sectors is also proving to be a stumbling block.
New Zealand's latest India strategy stresses on increased cooperation on a number of aspects, but unlike the 2011 document, it stops short of listing out specific targets.
The four day visit to India of New Zealand deputy Prime Minister and Foreign Minister Winston Peters in the last week of February came on the back of the more high-profile maiden visit of US President Donald Trump. Not surprisingly then, Peters visit barely received any coverage and got massively overshadowed by the Trump show. The US is the world's largest economy and India's biggest trading partner. New Zealand is not even in the top 50 biggest economies in the world and its ties with India cannot even be mentioned in the same sentence as US.
Peter's visit, which also included Minister for Trade David Parker, did highlight the potential for growth in relations between the two countries. At the same time, as is the case with US, it underlined the difficulties in getting a free trade agreement going–India and New Zealand have been on the negotiating table for almost a decade now.
As a strong advocate of globalisation, New Zealand tends to measure its success or failure with other nations on its ability to get a free trade agreement through. It poses a peculiar problem when it comes to India, which has in recent years become resistant to trade deals on the back of previous agreements where it believes it has come off second best. Its withdrawal from the RCEP agreement last year, which also had New Zealand as a party, was another reminder of it. Deliberations during the various meetings Peters attended during his visit to India also pointed to the fact that an FTA was still firmly on the backburner.
"We need to expand our relationship with the biggest democracy by far in the world, 1.3 billion people. There are enormous opportunities for us to cement a better trade relationship," Peters said. "I suppose we will have a number of goals, but the primary one is to build a better platform than we together two have between our two economies. The world needs greater trade relationship, better trade, fairer trade, and that's what our objective will be between ourselves and the Indian people."
Over the past five years, New Zealand can point to an overall 23 percent increase in trade with countries with which it has an FTA, compared to just 13 percent for those with which it doesn't.  Moreover, it can point to a track record of investing in the dairy sector in countries where it has had market access, lifting the agriculture performance of both countries.
In the year to September 2019, bilateral trade between India and New Zealand hit $ 2.64 billion piggybacking on services trade that has doubled in the last 5 years to $ 1.2 billion. Tourism has also more than doubled since 2011, with over 65,000 Indian tourists visiting New Zealand in the year to November 2019. India is New Zealand's second largest source of international students, with over 17,000 Indian students studying there.
This is, however, a tad underwhelming compared to what was expected at the turn of the last decade when New Zealand had launched its India strategy in 2011 with ambitious goals of growing merchandise exports to at least $2 billion by 2015—a figure that has not been breached till date. Growth in services trade, while impressive in isolation, has also not been to the target of an average 20 per cent per year. This despite top level attempts that included two visits by Sir John Key, former Prime Minister of New Zealand, in 2011 and 2016.
"Over the years I heard a lot of optimistic figures, but what we need to do is, be realistic and see where we can cement long term sustainable opportunity to the benefit of both of our economies and both of our people," Peters said.
Th thorny issues went largely unaddressed. India's protectionist attitude towards its dairy and agriculture sectors has been a stumbling block. There was nothing to suggest a softening of stand from the other side either.
"Our domestic dairy industry is no threat to India's economy or its farming community. We have not asked India to rethink about RCEP but its best to avoid knee jerk reactions to open market," Peters said during his visit. "India is a priority relationship for New Zealand. We share common democratic traditions, growing two-way trade, extensive people-to-people links, and a common strategic interest in the Indo-Pacific region. We have high aspirations for the relationship, which are set out in the Government's recently released India strategy."
That strategy spelt out in a 15-page document stresses on increased cooperation on a number of aspects but unlike the 2011 document, it stops short of listing out specific targets.
Without a bilateral agreement then, how are relations to prosper? The sense of deja vu is unmistakable, but at least the right noises are being made.