India-Maldives: Back to the future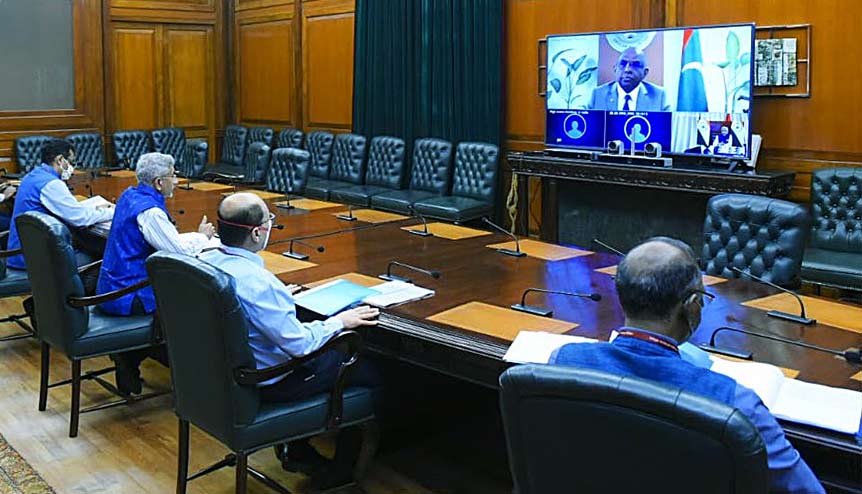 India is bankrolling the island nation's biggest infrastructure project in the clearest indication yet of normalisation of relations between the two countries.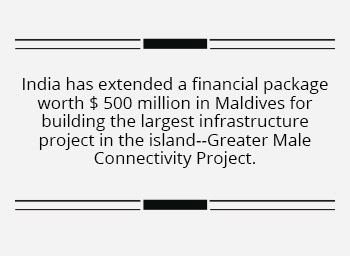 India has extended a financial package worth $ 500 million in Maldives for building the largest infrastructure project in the island–Greater Male Connectivity Project. The decision was conveyed virtually by India's external affairs minister S Jaishankar to his Maldivian counterpart Abdulla Shahidon August 14. The package includes a grant of $ 100 million and a line of credit of $ 400 million and dwarfs the $ 200 million 1.39 kilometre long Sinamale bridge that became operational in April 2018 and came to symbolise the island's increasing proximity to China.
The GMCP indicates all of that is history and with the ouster of former President Abdulla Yameen, Maldives and India are back on the same page. Yameen's five year tenure had deeply strained relations with India as he sought to balance ties by increasing Male's proximity with China. Current President Ibrahim Solih's term that began in November 2018 has seen the island nation revert back to its time tested "India first" policy which fits perfectly with Narendra Modi government's "neighborhood first" doctrine. Modi was the only head of state to attend Solih's swearing in while his first overseas trip after being elected a second time in May 2019 was also to Maldives.
Warm and fruitful discussion with FM @abdulla_shahid of #Maldives. Agreed that the #COVID19 pandemic has brought the two nations even closer. We will be reliable partners in meeting both aspirations and challenges. pic.twitter.com/Pozmew1q3S

— Dr. S. Jaishankar (@DrSJaishankar) August 13, 2020


Maldives and its significance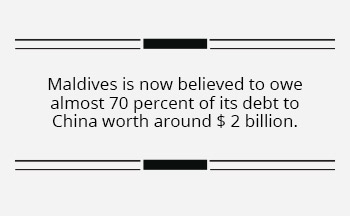 But why should ties with Asia's smallest country with a land area of 300 sq kilometers spread over nearly 1200 islands assume and a population of just 480,000 assume any significance? The geographic location of the archipelago makes Maldives punch way above its weight in strategic importance in the Indian Ocean. Shaped like a dotted wall in the middle of the ocean, the bunch of islands offer just two passages for ships in the southern and northern reaches. These sea lanes of communication (SLOCs) are critical for maritime trade flow between the Gulf of Aden and Gulf of Hormuz in West Asia and the Strait of Malacca in Southeast Asia. If Indian Ocean is a highway, Maldives is the toll gate.
India and Maldives have traditionally shared very cordial relations with each other. After its independence in 1965, India was the first country to recognize Maldives and diplomatic relations were established soon after in 1972. The two countries share common ethnic, linguistic, cultural and religious links. It is imperative for India to keep Maldives on its side to ensure both security of its sea trade route and to keep a check on expansionist tendencies in the region by its enemies.
A lot of damage to the economy of Maldives was done during the Yameen's tenure when he led the country perilously close to a debt trap with China. It is a template that has played out in numerous other countries including in Africa and Sri Lanka. Maldives is now believed to owe almost 70 percent of its debt to China worth around $ 2 billion. For a country with a GDP of less than $ 6 billion that is a telling statistic.
The economy of Maldives dependent mostly on travel and tourism industry–it accounts for nearly two-thirds of its GDP, is also badly ravaged by the pandemic. The country's real GDP is set to contract by 8.5 per cent this year. It is staring at a balance of payment crisis with forex reserves at just $ 278 million as of end of February. The country is looking at India for help and as the infrastructure project indicates India has stepped up.
India's helping hand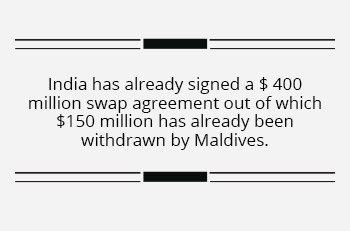 To help shore up the country's forex reserves, India has already signed a $ 400 million swap agreement out of which $ 150 million has already been withdrawn by Maldives. The remaining $ 250 million can also be availed anytime till July 2021. India had also previously extended a $ 800 million line of credit for seven projects ranging from a water supply and sewerage system to a port project.
An in-principle urgent financial assistance by way of a soft loan arrangement has also been extended. The two countries are already collaborating in a direct cargo ferry service that was announced by Modi during his visit in June last year. This ferry service is slated to make India the top trade partner for Maldives.
Further, India has decided to create an air travel bubble with Maldives, a necessity in these times of pandemic, that facilitate restricted travel between two destination with no layovers in between. India has created such bubbles with other Western countries but Maldives is the first in the region.
These are the first encouraging signs of India and Maldives renewing their old relationship relegating the 2013-18 Yameen era of animosity as a blip. It may not count for much but the pandemic does have a silver lining.