India leads the way in weathering climate change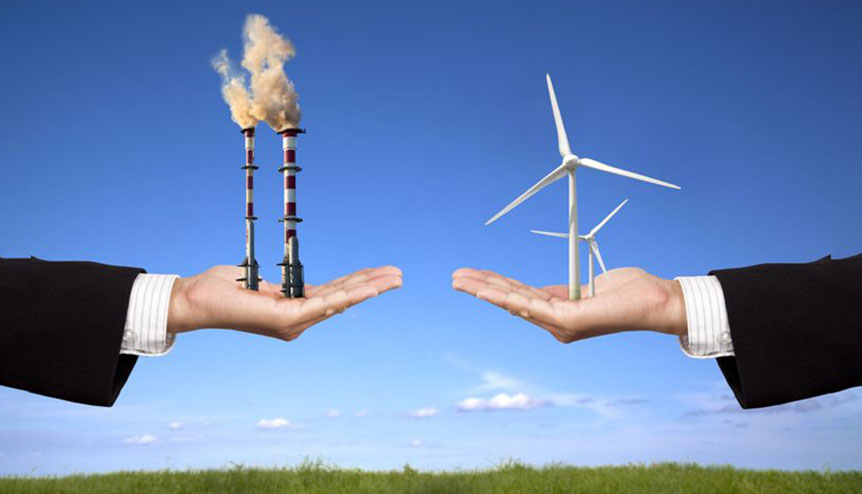 Through a series of domestic reforms and strategic internal partnerships, India has emerged as the front runner in the race for climate leadership, globally.
Think India and an image of bustling cities full of people, trade and traffic come to mind. And of course, where there's traffic, there's pollution. Even now, as the pandemic rages on, a new concern is plaguing New Delhi, India's capital city – air pollution. Since it's meteoric rise on the global stage both strategically as well economically, India has found itself laying an increasingly active part in climate change, particularly propelled to fill the climate leadership vacuum created by America's infamous exit from the Paris Agreement.
Interested in reading more on climate change?
Prime Minister Narendra Modi's new 'One Sun One World One Grid' vision
India is home to one of the world's largest clean-energy programmes
Solar power: One bright spot on India's economic horizon
India's quest for clean-air tech spawns corporate innovation
India can lead the way to greater energy efficiency, globally
Carbon capture key to unlocking decarbonisation in India
India's world-class energy service vocally local in UK
Fuel cells are key to powering India's green future
A paradox
India is the fourth largest emitter of greenhouse gases, according to a UN report called 'Emissions Gap Report' released in 2019. The report highlighted the need to maintain global greenhouse gas emissions fall by 7.6 per cent each year, the world will fail to meet the 1.5°C temperature goal of the Paris Agreement. The report also states top four emitters (China, USA, EU and India) contribute to over 55 per cent of the total emissions over the last decade, excluding emissions from land-use change such as deforestation. India's energy requirements are huge, and crucial to power its burgeoning economy and population. According to a BP Energy Outlook report released last year, India's share of total global primary energy demand is set to roughly double to ~11% by 2040. The report also estimates coal will meet ~42% of India's new energy demand.
Yet on the other hand, India also finds itself in a vulnerable spot when it comes to experience some of the most adverse repercussions of climate change. Already the country has seen a spate of floods and storms that
Climate leadership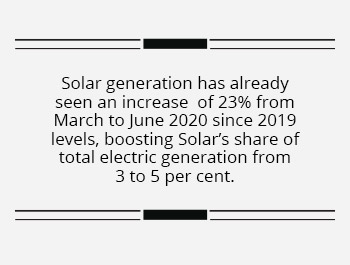 Under the leadership of Prime Minister Modi, India has increasingly played a more active part in addressing climate change. The Modi government has been steadily working towards fulfilling its long-standing desire to make renewables and natural gas the dominant energy sources of the country. According to recent IEA review titled India 2020, the Indian government has made significant progress in reducing the use of traditional biomass in cooking, the chief cause of indoor air pollution by encouraging the use of liquefied petroleum gas, a cleaner cooking option. India also continues to promote off-grid electrification solutions, including a shift toward using solar photovoltaics (PV) for cooking and charging batteries.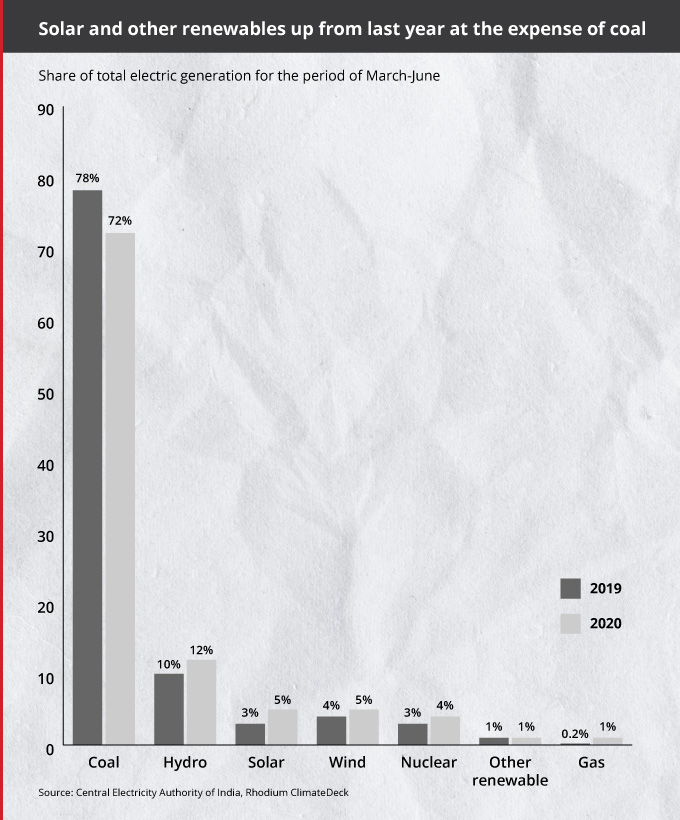 Over the years the Indian government has strongly encouraged and supported its growing solar energy sector. Solar generation has already seen an increase of 23% from March to June 2020 since 2019 levels, boosting Solar's share of total electric generation from 3% to 5 per cent.
The latest draft Electricity Act Amendment 2020 (EAA 2020) is yet another example of India's efforts towards expeditious grid decarbonisation through renewable energy. The government has also set up a gas exchange in June this year to create a domestic spot market. A series of reforms are also planned to enhance domestic demand, including delicensing the opening of LNG outlets, expanding cooking gas welfare schemes, increasing the city gas pipeline network, and cutting domestic prices to align with the fall in global gas prices.
Read more:
Investors keen to bring in fresh capital in Indian renewable business
LNG and the new Indian energy mix
Now is the time to be investing in the EV ecosystem
India's hydropower sector can whet investor interests
India's solar goals are the most ambitious in the world
Solar assets should be sustainable, replicable, bankable
The International Solar Alliance: From promise to action
In the Meeting, they discussed environmental cooperation between India & Costa Rica on Reforestation, Decarbonization & Climate Change, and resolved to explore the common areas where both countries can work together not only at bilateral level, but also at international fora. pic.twitter.com/obWCBiUpix

— MoEF&CC (@moefcc) October 26, 2020
Renewables as strategic diplomacy
Who can forget the episode of Man v/s Wild featuring Indian Prime Minister Narendra Modi and famous adventurer-survivalist-TV show host Bear Grylls in Jim Corbett National Park focussing on the importance of protecting wildlife?
Increasingly, India has also built strategic partnerships with various global powers via its climate change outreach.The formation of the International Solar Alliance with France in 2015 at the 21st session of United Nations Climate Change Conference of the Parties (COP-21) in Paris, France still continues to be a powerful, and if one will forgive the pun, shining example of strategic climate partnership. Today, 84 countries have signed the framework ISA agreement and 67 have ratified it, with Nicaragua becoming the latest country to join the initiative this July. Only a month prior, in June, Prime Minister Modi called for a One Sun, One World, One Grid international renewable energy grid that seeks to transfer solar power generated in one region to feed the electricity demands of others.
The Green Strategic Partnership with Denmark signed in September is yet another example. In a first of its kind. Later that very month, India, Netherlands signed a statement of intent and transition of energy to support decarbonisation and develop more innovative technology solutions for cleaner energy. More recently, the India Country Status Report on Hydrogen and Fuel Cells launched by Secretary, Department of Science and Technology Professor Ashutosh Sharma lays out the various developing programmes and strategies currently being undertaken in India in order to accelerate the ushering in of hydrogen economy as part of India's commitment as a participating country in Mission Innovation Renewable and Clean Hydrogen Challenge. It is worth noting that these initiatives have been at the forefront, even as India tussles with a rising level of infection of Covid-19.
Given its ascension as a major global power, and the various humanitarian and ecological outreach it has made diplomatically, there is little doubt that in a world pulled asunder by protectionism, political uncertainty, an increasing number of natural disasters and ravaging pandemic, India today shines as beacon of a responsible nation driven by goodwill and good intentions. And climate control is certainly at the heart of this philosophy. Two years from now, India will chair the G-20 and Prime Minister Modi has already indicated he wants climate control to be at the heart of it.