India-Japan: Convergence at the top but…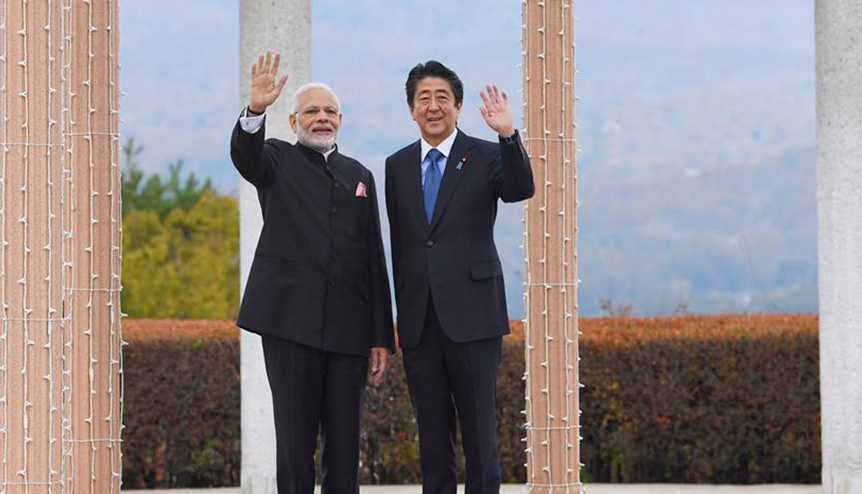 India and Japan are on the same page on the Indo-Pacific, security, economic cooperation and on the need to cooperate on developing infrastructure across Asia and Africa in order to provide a counterweight to China. They now have to find a way of translating this convergence of goals into brick and mortar projects that actually make a difference on the ground.
Japan has emerged as India's closest strategic and economic partner over the last couple of decades. The close personal bond shared between Prime Ministers Narendra Modi of India and Shinzo Abe of Japan has contributed significantly to this but underlying their chemistry is a convergence of several strategic, geo-political and economic developments in the Indo-Pacific and elsewhere.
The recent two-day summit between the two leaders of the second and third largest Asian economies began with an unprecedented gesture by Abe – he invited Modi to his holiday home on the foothills of the famous Mt Fuji, the first time he has invited any foreign leader to this prime ministerial getaway.
Abe underlined the close and warm ties between the two countries by declaring at at joint press conference in Tokyo: "Relations between Japan and India have the biggest potential in the world… A strong Japan benefits India and a strong India benefits Japan."
"I believe until and unless India and Japan have strong relations Asia can never develop," Modi added.
China's looming presence
Strategic analysts noted that the summit, and indeed, the entire gamut of relations between India and Japan, was marked by the invisible presence of the Dragon in the room. Neither side mentioned Beijing, but most analysts feel the looming presence of China across the strategic landscapes of India and the Japan have guided at least some of the discussions at the summit and the recent parleys between the two countries.
The joint statement issued by Abe and Modi after their summit meeting is clearly aimed at China. It says: "The two leaders' vision for the Indo-Pacific is based on a rules-based order that respects sovereignty and territorial integrity of nations, ensures freedom of navigation and overflight as well as unimpeded lawful commerce, and seeks peaceful resolution of disputes with full respect for legal and diplomatic processes in accordance with the universally recognised principles of international law, including those reflected in the United Nations Convention on the Law of the Sea (UNCLOS), without resorting to threat or use of force."
In 2016, the Permanent Court of Arbitration in Hague had ruled that China's citing of the alleged nine-dash-line to claim sovereignty over all of the South China Sea and the Spratly Islands has no validity under international law and that China's act of militarily obstructing Philippine ships was illegal.
Elevating ties to the next level
Affirming the importance of the bilateral relationship for regional stability, Modi and Abe said in the joint statement that they recognised "the unparalleled potential for development of relations between the two countries" and reiterated that the two countries should work in tandem to establish a rules-based world order.
To take this vision forward, the two countries have agreed to upgrade their annual 2+2 dialogue involving the foreign and defence ministers on the lines of the one India has initiated with the United States. Currently, this dialogue is held at the level of the junior ministers of the two departments.
This shows a significant convergence in the two countries' goal of maintaining peace and security in the Indo-Pacific region in the face of growing military muscle flexing by China.
Explaining this, Japanese Foreign Minister Taro Kono told a press conference in Tokyo: "India and Japan share common values like democracy, rule of law, basic human rights. I think it is a good idea for… the foreign ministers and defense ministers to get together, and talk about the regional issues or global issues. I think it would be a good start. We also are trying to start the negotiation on an ACSA, so I think we will be working closely with India, and I think it will benefit stability for the Indo-Pacific."
India and Japan also launched an Annual Space Dialogue for greater and closer bilateral cooperation in outer space.
Closer defence ties
The summit, which came close on the heels of Abe's visit to China, the first by a Japanese Prime Minister in seven years, emphasised closer defence and security relations.
The two sides launched talks on negotiating an Acquisition and Cross-Servicing Agreement (ACSA) to "enhance the strategic depth" of bilateral cooperation in this area. This agreement will enable the navies of the two countries to use each other's bases for logistics support. India has a similar agreement with the US.
"We hope to start formal negotiations with regard to signing of the ACSA. It is high time we had mutual logistics support," Japan's ambassador to India, Kenji Hiramatsu, told Reuters.
Under ACSA, the Indian Navy will be able to use the Japanese naval base in Djibouti for its operations. The agreement will also give the Japan Maritime Self Defense Force access to Indian military bases in Andaman and Nicobar, overlook the crucial Malacca Straits, through which more than half the world's merchandise trade and almost 80 per cent of China's oil supplies pass.
This aspect of the bilateral relationship is important, given India's ambivalent attitude towards the Quadrilateral, a grouping of the US, Australia, Japan and India that many experts and strategic analysts visualise as a nascent and still informal alliance of democracies in the Indo-Pacific region.
Modi and Abe noted the great strides the two countries had made in maritime security cooperation and the regular bilateral and multilateral naval exercises conducted by the navies of the two countries in collaboration with countries like the US and Australia.
The two also hailed the agreement for closer cooperation between the Indian Navy and the Japan Maritime Self Defence Force and expected this to lead to closer collaboration on defence equipment and related technologies.
Focus on developing infrastructure across the Indo-Pacific
China has been using infrastructure finance, especially projects under its Belt and Road Initiative (BRI), to create debt traps for Asian countries in which it has a strategic interest and then enforcing coercive repayment terms to extract strategic advantage by reducing the recipient nation to the status of subordinate client states.
India has watched with consternation as China has acquired ports and political influence in Myanmar, Sri Lanka, Maldives (and Pakistan) by giving disproportionately large loans, compared to the size of their economies, at high interest rates to these countries, which they have been unable to repay. The way out of this debt trap for these countries is to hand over important strategic assets to China.
Analysts say most agreements under BRI are opaque and one-sided. To counter this and to provide countries in the region with an alternative source of financing for their infrastructure needs, India and Japan have decided to work together. A fact sheet issued by the two countries said: "Japan and India believe that all development cooperation must be carried out in an open, transparent and non-exclusive manner and based on international standards including respect for sovereignty and territorial integrity of nations, responsible debt financing practices, and in alignment with local economic and development strategies and priorities."
The list of projects they propose to cooperate on include the development of LNG infrastructure in Sri Lanka, railways, roadways and bridges in Bangladesh, education, electrification and housing in Myanmar and healthcare in Kenya.
Infrastructure in India
Over the years, Japan has emerged as the most important bilateral partner for infrastructure  development in India.
It is providing financial assistance, technology and materials for the $90-billion Delhi-Mumbai Freight Corridor, which includes laying rail lines and building highways as well as several new industrial smart cities on the route from the National Capital Region (NCR) to India's financial capital.
Tokyo is also providing substantial finance, at an annual interest rate of 0.01 per cent with a repayment period of 50 years, for a high-speed train system modelled on the iconic Shinkansen Bullet Train that will connect Mumbai with Ahmedabad. This train will traverse the 500 km long route in just two hours compared to seven hours now. The ambassadors of the two countries exchanged notes on low interest loans worth $2.8 billion for this project.
Then, Japan is also helping finance the upgradation of Delhi's Metro Rail as well as several renewable energy projects across India.
Significant challenges ahead
Despite the warmth in the bilateral relationship, a great convergence of interests and the unstinted support of the two Prime Ministers, India's ties with Japan face significant challenges.
To begin with, bilateral trade, at $20 billion per annum, is just scratching the surface of the full potential for greater economic integration. The figure has stagnated around this mark despite efforts from both sides to push it up. Then, the balance of trade is skewed heavily in Japan's favour.
Then, several agreements and strategic understandings reached in the past remain only on paper with little to show for them on the ground.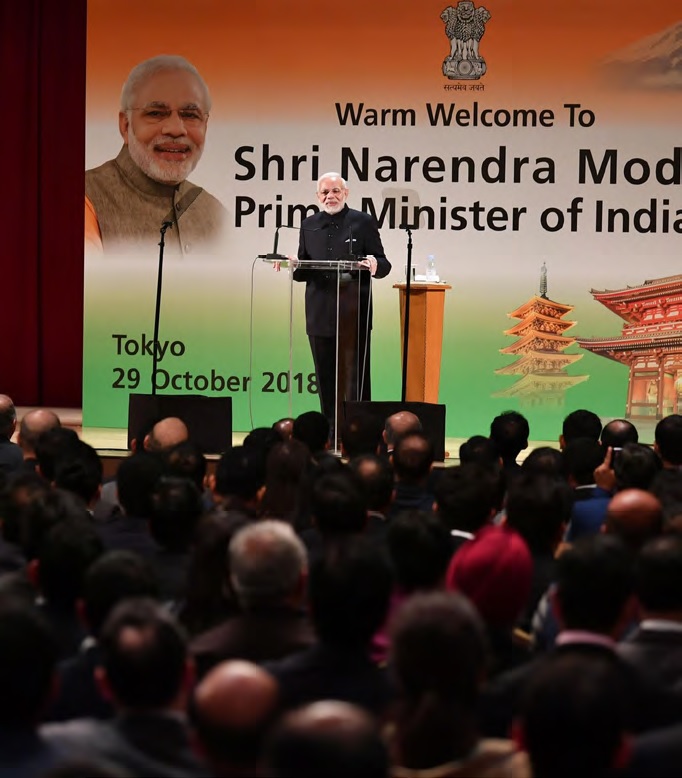 For example, both countries agree that they should spend more and cooperate more closely to development infrastructure across Asia and Africa both to increase their own influence as well as to offer these countries an alternative, non-exploitative model of development.
So far so good, but the Asia-Africa Growth Corridor, which many strategic experts have called a viable alternative to China's BRI remains a non-starter prompting many of these same experts to wonder if the two countries can actually translate top-level understanding to ground-level partnerships.
India and Japan hold joint military drills quite regularly and also hold frequent high-level military dialogues but efforts to transfer technology and military hardware have not yet borne fruit.
Though negotiations for the sale of the Japanese US2 amphibian aircraft have dragged on for years, the two sides are no closer to a sale than when they started out.
India has also been very ambivalent about the Quad, giving rise to the impression that it has not yet made up its mind on whether to openly participate in what is widely regarded as a grouping of democracies against a totalitarian China.
There are some issues even with projects and programmes the two countries agree on and on which work has already begun. The Bullet Train project, for instance, is likely to be delayed over land acquisition, with some farmers objecting to the takeover of their land by the government.
Then, India will go into election mode in another couple of months as the Lok Sabha polls are due in May next year. In Japan, too, elections to the Upper House of its Parliament are due around the same time. It may be recalled that Abe had resigned as Prime Minister in 2007 after this party lost heavily in elections to the Upper House.
Given this political background, it may not be possible for the two Prime Ministers, who have been the driving forces behind the bilateral relationship, to devote as much time to foreign affairs as now.
However, the good news is that both are expected to win and that can only be good for both India and Japan and their relationship.