India-Japan-Australia supply chain plan to check China's dominance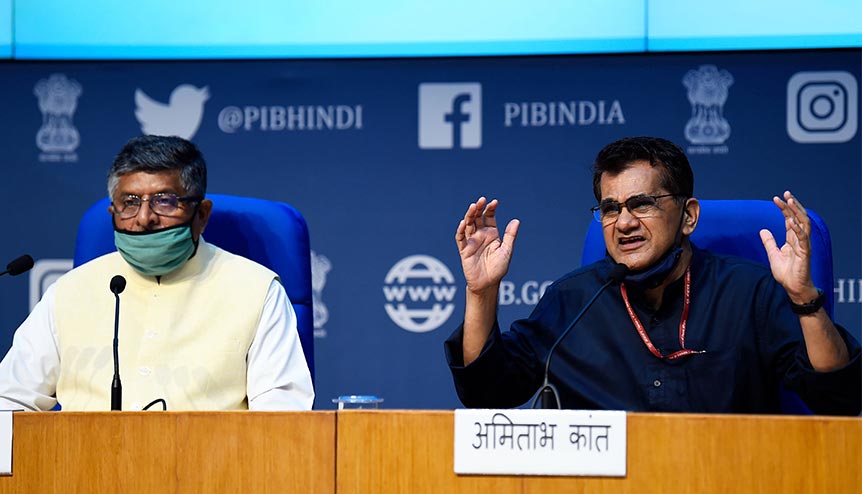 In an initiative to attract companies leaving China and to provide the world with an alternative to over-dependence on one country, New Delhi, Tokyo and Canberra are considering a deal that could change the paradigm of global trade for decades to come.
India is stepping up its game. In a bid to attract higher levels of foreign direct investment into India and integrate the country's businesses into the global supply chain, India's Narendra Modi government is discussing a Supply Chain Resilience Initiative (SCRI) with two of its partners in the Quad – Japan and Australia.
Have you read?
India-Japan ties scale new heights
Critical minerals, strategic ties to take India-Australia relationship forward
Can virtual talks lead to real actions for Australia and India?
India poised to direct the activities of the Quad
India holds the key to the success of Quad 2.0
The pandemic may open new doors for India-Japan ties
India's strength QUAD-ruples against China
The goal is clear
Drawing a Bollywood parallel and punning on the word JAI – Japan, Australia, India – which means victory in Hindi and several other languages descended from Sanskrit, India's Commerce and Industries Minister Piyush Goyal said:
The supply chain resilience initiative between Japan Australia and India- JAI- will be victorious.

We have three like-minded democratic countries with transparent, rule-based trading. We will invite other countries with the same mindset to be a part of this JAI initiative. pic.twitter.com/1jf6xy6K2E

— Piyush Goyal (@PiyushGoyal) September 10, 2020
"We are three likeminded democratic countries who believe in transparent rules-based trading and we will also invite other countries who believe in honest, rules-based business to be a part of this JAI initiative. We have discussed the broad contours of this initiative; we have not yet worked out the specific details.
"But going forward, our officials will work on how to strengthen the SCRI and truly provide to the world a trusted partnership between these three countries and other like-minded countries to expand global engagement with trust."
Wooing companies leaving China
Democracy, transparency, honest rules-based trading, like-minded countries… One doesn't need to be a rocket scientist to figure this out…
India has been openly wooing companies that are looking for alternatives to China in the wake of the US-China trade war, the controversy over the origins of the Covid-19 virus and Beijing's unprovoked muscle-flexing on its border with India, in Hong Kong, the South China Sea and its belligerence vis-à-vis Taiwan.
Building on past success
It has already succeeded in attracting global smartphone majors like Apple (through its contract manufacturers Foxconn, Pegatron and Wistron Corporation) and Samsung to invest in India and commit to export a combined $100-billion worth of high-end smartphones from India over the next five years.
This will facilitate the integration of Indian industry into the global supply chain for smartphones and increase domestic value addition from 15-20 per cent at present to 35-40 per cent. It will also reduce India's import dependence on China and help cut the annual trade deficit of about $50 billion with that country.
A plan to replicate this success in other sectors such as auto components, textiles, furniture, air-conditioners, pharmaceuticals and capital goods, among 12 shortlisted sectors is in the works and will be unveiled soon.
Read more:
India-Japan set to ramp up their relationship to a higher level
Japan-India can further a free and open Indo-Pacific
A step forward in India-Japan relations
Australia wants to come out on top with India
India is the new go-to entity in the Indo-Pacific
India asserts itself in the Asia Pacific
Smartphone companies are dialling up plans to set up a presence in India
Emerging trading bloc still on the drawing board
Now, the three major democracies in the Indo Pacific have initiated preliminary talks on building stronger supply chains for a wide variety of products that will offer the world an alternative to China's dominance of trade even as the geo-political tensions escalate and the world, and especially countries in the region, becomes more wary of over-dependence on China for so many different products.
Japan has already announced a $2.3-billion programme to subsidise the costs of Japanese companies that want to move their factories away from China. Thus far, 87 companies have agreed to move.
United against Beijing's iron-fisted approach
Australia, too, has been a victim of Beijing's hardball tactics. In a bid to force Canberra to fall in line with its diktats, Beijing has launched a diplomatic and trade offensive against Australia that includes restricting imports of barley, beef and wine, three major Australian exports to China.
The SCRI initiative, coming close on the heels of the Modi government's decision to ban more than 200 Chinese apps and severely restrict the access of Chinese companies to the Indian market, is a clear indication that India – as well and Japan and Australia – have decided to pivot away from their economic dependence of Chinese goods and, at the same time, provide the world with an alternative to the existing supply chain that does not originate in China.
This is the clearest sign that the Modi government is considering shedding its diffidence about calling out China and openly challenging its dominance of the global trading order.
Detailed roadmap awaited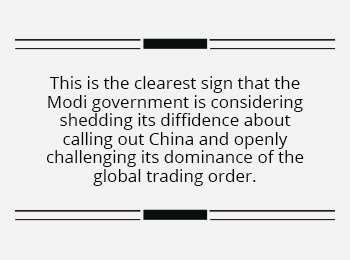 None of the three governments have as yet spelt out a detailed vision for the SCRI Given the tensions in the region, however, the broad outlines of this emerging economic alliance between these three leading Indo-Pacific democracies offer a tantalising view of how this partnership can define and alter trade relations in the region.
Can it emerge as a dominant trade grouping and challenge the hegemony of a rampaging China? That isn't clear yet. But the three countries definitely have the wherewithal to do so.
That is why so many people in so many countries are eagerly awaiting a decision and the fine print of this understanding because it could, over the coming decades, play a disproportionately big role in shaping the new world order.