India is now at the forefront in the world in many frontiers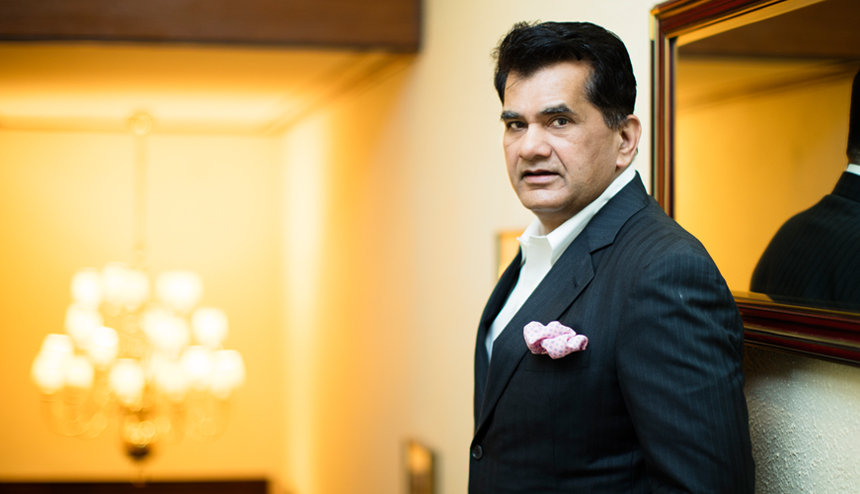 Amitabh Kant, as the dynamic CEO of the National Institution for Transforming India – NITI Aayog, is charged with formulating some the country's most innovative growth ideas. In this Yearend interview with 'India Global Business', he looks back at India's achievements such as acquiring the world's largest biometric programme and looks ahead to some transformative changes in store, especially for small and medium enterprises.
What is the expected impact of PM Modi's recent announcements to help MSMEs?
A major step announced by the Prime Minister is to launch a portal where MSMEs [micro, small and medium enterprises] will be provided with loan approval in just 59 minutes for a loan amount up to Rs 1 crore ($150,000). No physical visit to banks will be necessary. MSMEs will also be getting a 2 per cent interest subvention by the government.
So, getting credit will become easier and cheaper for the small and medium businesses. I expect a large increase in number of MSMEs accessing credit from banks as opposed to informal money markets, where interest costs can be very high. There should be a massive impact in terms of pushing growth higher and generating employment. It is noteworthy that these steps were enabled by the massive efforts of government to bring small and medium businesses into the formal economy, through transformative steps like the push for digital payments and introduction of the Goods and Services Tax (GST).
In addition, a host of measures have been taken to reduce procedural requirements and regulations faced by MSMEs and improve their accessibility to the market. The government has signalled that it is ready to promote and support the small and medium businesses, which is very important as they are the engines of growth, innovation and employment generation in the country. We need to continue in the direction of making our MSMEs more productive.
How is technology transforming the economic landscape of the country?
Technology is a crucial important vehicle for economic transformation. It promotes transparency, accessibility and innovation in the economy. In the last few years, the country has achieved remarkable success in utilising technology for bringing socio-economic change. India  is now at the forefront in the world in many frontiers. For example, it has the world's largest biometric programme, and it has created world-class publically-owned digital payments architecture, the Unified Payment Interface (UPI), which has attracted investment from global digital giants and has started replacing cash and plastic cards. We are now attempting to replicate these successes in other sectors, such as artificial intelligence.
Adoption of e-governance has made the government smarter and more efficient. Most government services are now available online and the physical interface has been minimised. Direct benefits transfers are being given in over 400 schemes run by the Government of India, thus removing the middle-man and reducing leakages. Government procurement has been digitised through the government e-Marketplace (GeM), which is revolutionising the procurement processes. The government has also enabled use of technology to grow in the private sector, and through the dynamic start-ups, daily lives of people are being transformed. I would particularly like to highlight the role being played by FinTech, through which millions are now part of the mainstream financial system.
What in your view are the key policy decisions that have made the most impact on India's improved Ease of Doing business rankings?
India's Ease of Doing Business rankings have improved from 142 to 77 in just four years, which is unprecedented anywhere in the world. This has been achieved by taking up the challenge on a mission mode, relentlessly pushing for adoption of global best-case practices in every regulatory area, and competition spurred on between the states by the rankings on their improvement in ease of doing business. The outcome has been significant improvement in processes for starting a new business, issuing construction permits, filing of tax returns, and ease of trading across borders. Simple and transparent online processes have replaced cumbersome paperwork, and unnecessary regulations have been done away with.
Massive structural reforms have been pushed as part of the efforts to improve India's rankings. The Insolvency and Bankruptcy Code (IBC) has established a world-class legal system for resolving insolvency and has already led to remarkable improvement in the time taken to resolve cases, and the recovery rates for the banks. With the GST, a uniform and fully online indirect tax system has been created for registration, return filing and tax payments, which will again contribute to ease of doing business.
What are some of the tough steps required in specific sectors to further improve efficiencies and attract foreign investments?
India has been attracting a very high rate of Foreign Direct Investment (FDI) flows on the back of successive reforms undertaken in recent years. India has now become one of the most open countries in the world for FDI, with most investment coming to India through the automatic route. So, a lot has already been achieved. In my opinion, the next big challenges are to attract global players with world class technologies in sectors such as mining and oil and gas. The government has been bringing reforms to make these sectors market-friendly and attractive for investments and further efforts are underway.
On improving ease of doing business in the country, both the Central and state governments have taken several remarkable decisions already, and many more are in the pipeline. I am sure we will see significant improvements in India's ranking in the coming years. One area in which we lag though is in enforcement of contracts, which is under the domain of the judiciary. There is need to put a lot of emphasis on speedy resolution of commercial disputes in courts, and promotion of alternative dispute resolution mechanisms.
What, in your view, are the biggest challenges in India's path to faster economic growth and how is NITI Aayog tackling them?
Our aim should be to achieve a growth of 9-10 per cent for over next couple of decades. For this we need to harness the human capital potential of the country. NITI Aayog has taken up on this agenda on mission mode across sectors like health, nutrition, and education.
Let me give one of the examples. A lot of work is being done on transformation of the 117 most backward districts under the Aspirational Districts Programme. The districts are being challenged on a real-time basis by measuring and ranking improvement made by them on 49 indicators related to their socio-economic progress. Several grass-root level innovations are taking place as a result of this programme. I believe that as human development improves in the areas which are lagging behind, a big push would be given to the human development indicators of the overall country.
In addition, NITI Aayog has also successfully championed several path-breaking reforms in the social sectors, such as higher education reforms, and the overhaul of medical education in the country, and will be continuing to do so.