India is entering the retail LNG space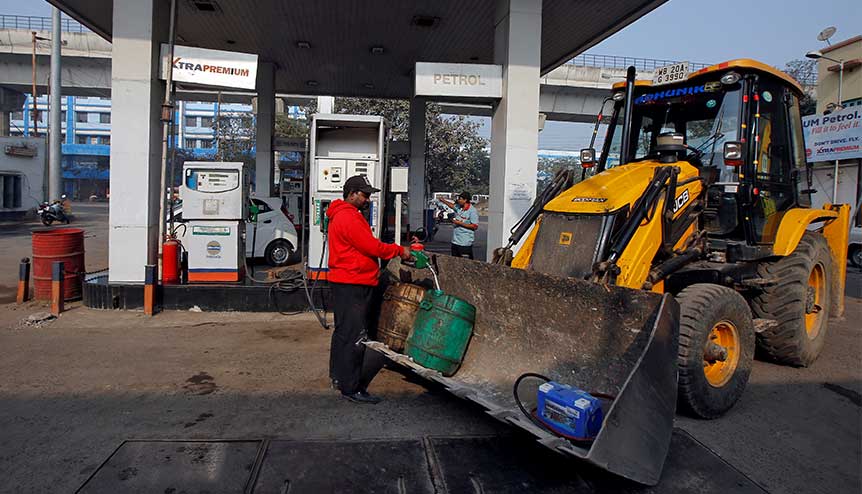 India's push for low-carbon alternatives to petroleum products has opened the way for the setup of a $1.35 billion nationwide retail LNG platform.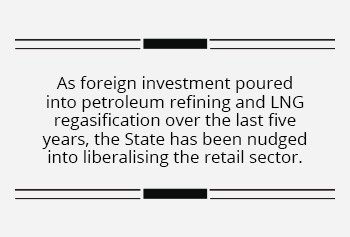 Alongside the development of the national gas grid, a rollout of small-scale LNG facilities is in the works. Dotting the Golden Quadrilateral expressways that connect the country's four largest metropolitan cities – Delhi, Mumbai, Chennai and Kolkata – retail liquified natural gas fuel stations will come up at every 250 kilometres. The main beneficiaries will be long-haul transporters that currently rely on diesel to power trucks and buses. While the pilot project initiated by a consortium of energy players namely Petronet, Gas Authority of India Limited (GAIL), Hindustan Petroleum, Bharat Petroleum and Indian Oil will cover 150 stations, the Ministry for Petroleum and Natural Gas has set a target of 1000 stations which will supply gas to replace 10per cent of the current diesel consumption over the next three years.
Have you read?
LNG and the new Indian energy mix
The energy landscape in a Biden era and its implications for India
India-UAE eye energy cooperation boost
The India-US Strategic Energy Partnership stays strong
Collaboration with US key to India diversifying energy basket
Energy security and India's growing ties with Myanmar
Collaboration with US key to India diversifying energy basket away from fossil fuels
India Natural Gas Exchange – one small step or a giant leap?
Indian govt finally gives up coal monopoly, opens up sector to pvt competition
Currently, LNG terminals at Dahej, Gujarat and Kochi, Kerala have set up LNG dispensation stations that supply fuel to buses that can run up to 900 kilometres from a single fill. While fitting into the broader decarbonization goals, the expansion effort will provide greater flexibility in domestic gas consumption and smooth the demand profile, assisting in providing stability for volumes of imported LNG. A mature market will be underpinned by long-term supply contracts, the securing of which provide input price visibility.
The business case for ramping up a retail footprint
For long, compressed natural gas (CNG) has been the preferred low-carbon alternative to diesel for city vehicles, especially small cars and autorickshaws. While LNG requires to be cooled to -162 degrees Celsius for stable storage, the infrastructure required is of a higher cost compared to that for CNG. Yet, the high upfront costs matter less for long-distance users as LNG contains 250per cent the energy content for the same volume as CNG and can be effectively used in the growing transport sector. Facilitating last-mile delivery creates a reliable "sink" or end user base that will secure profits for integrated energy majors, and this attracts low-cost international capital and financing for capacity building in this segment.
The business case for ramping up a retail footprint has been taken on board by Shell, which aims to boost its downstream capabilities that will fit into its end-to-end supply chain. Last year, French energy giant Total acquired a 37.4per cent stake in Adani Gas Limited for $600 million as it competes for a share in the burgeoning demand and plans that its Indian partner will take the lead in participating in the terminal buildout programme down the line.
Low fuel costs to expand India's manufacturing base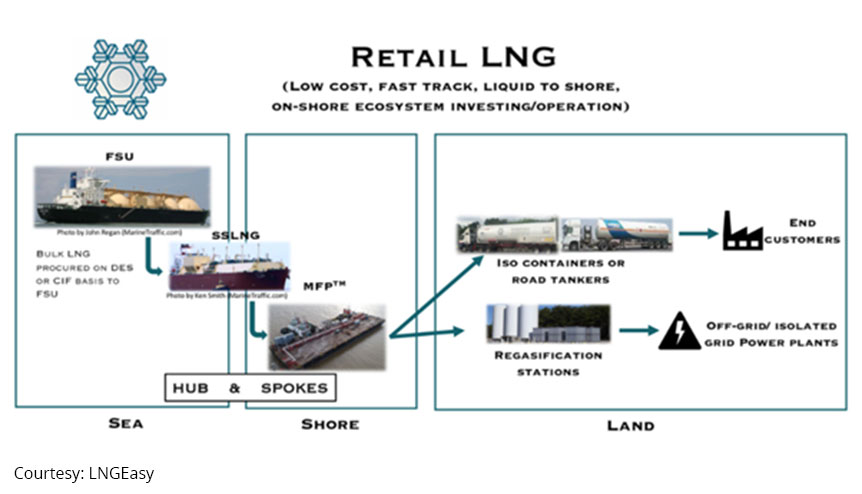 The downstream market has historically been dominated by Public Sector Units (PSUs) as the government kept a close watch on fuel distribution. However, as foreign investment poured into petroleum refining and LNG regasification over the last five years, the State has been nudged into liberalising the retail sector.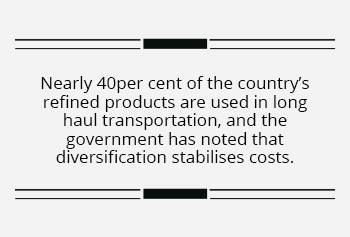 Low fuel costs will be imperative in PM Modi's effort to expand India's manufacturing and export base. Nearly 40per cent of the country's refined products are used in long haul transportation, and the government has noted that diversification stabilises costs. From the inflation standpoint, retail LNG can cut transport cost by 25-30per cent in the long run, lending exporters and freight operators with higher margins thereby raising the competitiveness of businesses.
On the back of this, the expected initial consumption is around 25 million cubic meters/day and would grow as the 850 additional terminals are set up. 50per cent of Indian energy demand growth will be met by LNG by 2030, when total LNG imports are set to exceed 75 billion cubic meters. Reducing the fiscal deficit, the government hopes that shifting to a gas-based economy will shave off 30-40per cent of the energy import bill, of which heavy duty vehicle operators will experience the most benefits.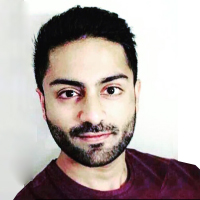 Surya Kanegaonkar is a commodities professional with ten years of experience in research and trading for a hedge fund, utility and miner.