India has several options to fend off Chinese aggression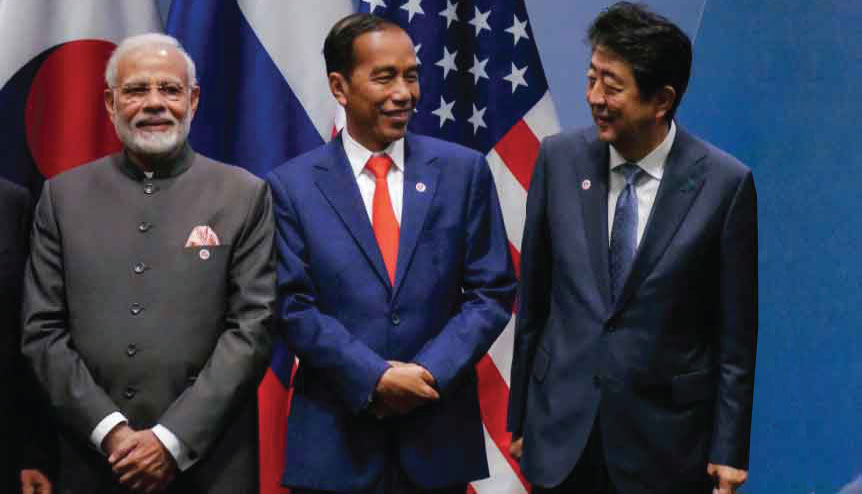 India's attempt to engage China on trade and create a vested Chinese interest in peace doesn't seem to have worked. If negotiations fail and push comes to shove, the Indian leadership can explore the possibility of making common cause with Taiwan, Japan, Vietnam, Indonesia and others to keep Beijing's adventurism in check.
The issue of why China has chosen to launch a military confrontation with India on the disputed and un-demarcated boundary between the two countries has been discussed ad nauseum. Despite this, no one is any wiser on whether it is India's closer strategic engagement with the US that is the root cause of Chinese aggression or its membership of the Quad. One isn't sure whether the Chinese belligerence is a well thought out bid to maintain the infrastructure asymmetry at the border in its favour or to "punish" India for undermining the position of its all-weather friend Pakistan by changing the status of Kashmir. And one can't be certain if the Chinese action is to divert domestic attention away from a slowing economy and Xi Jinping's negligent handling of the Covid-19 pandemic or the first act of an unfolding attempt at Pax Sinica.
Related stories: Absolute power is making Xi Jinping an arrogant and irresponsible global bully
China's imperialist eye turns to Bangladesh
But whatever the reason, or reasons, behind this act, China's unilateral bellicosity has presented India with a foreign policy challenge. How the government deal with it will not only determine India's immediate future and global standing, it could also play a decisive role in shaping the emerging new world order.
What are the options?
India's traditional approach
India has, historically, been a status quo-loving middle power that has been very prickly about guarding its non-aligned status. In recent times, despite a much deeper engagement with the US and the West, India has carefully guarded its "strategic autonomy." In practice, this meant New Delhi pushed the envelope on its strategic space but stopped short of rubbing China the wrong way.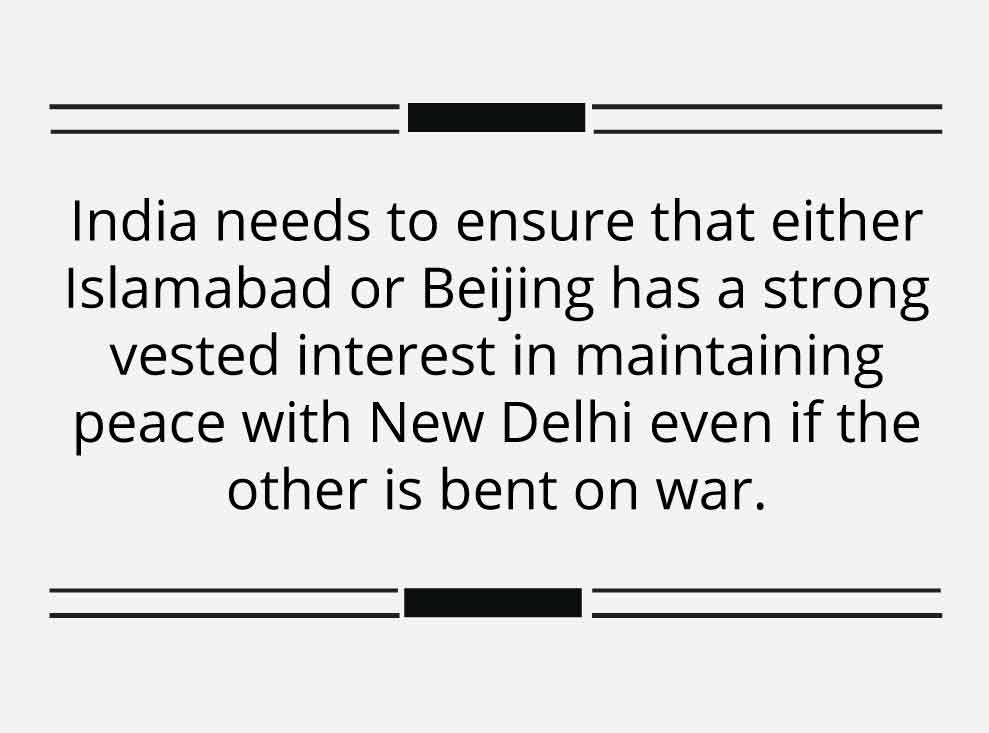 The US, Japan and even some ASEAN nations, meanwhile, wanted a more formal alliance with India. New Delhi has demurred, carefully finessing its steps to ensure that its new-found military proximity with the US, Japan and Australia did not give China any reason to feel insecure.
One can't fault the diplomatic rationale behind this line of thinking. The logic was: Engage China on trade and create a vested Chinese interest in peace with India. However, there is speculation that Chinese supremo Xi Jinping is playing for greater stakes than an annual $50-billion trade surplus.
This gives rise to speculation that Chinese supremo Xi Jinping is playing for greater stakes than an annual $50-billion trade surplus.
Countering the two-front dilemma
There is another reason for trying to befriend the Dragon. Indian military planners have for decades grappled with the threat of a two-front war – facing Pakistan in the North West and China in the North and North East. A collusive military axis between Beijing and Islamabad is the Indian leadership's worst strategic nightmare.
To counter this two-front threat, India needs to ensure that either Islamabad or Beijing has a strong vested interest in maintaining peace with New Delhi even if the other is bent on war. In his first term, Modi reached out to Pakistani Prime Minister Nawaz Sharif. But peaceful co-existence with India would have denied the Pakistani military leadership the raison d'etre for its very existence. Before this policy could pay off, Rawalpindi ousted Sharif in a constitutional coup with the help of that country's pliant judiciary and replaced him, after a sham election, with a puppet Prime Minister.
The Quad as an Asian NATO
There are many analysts who envisage the Quad – comprising India, the US, Japan and Australia – becoming the nucleus of a new Asian security structure on the lines of NATO, with other countries like the 10-nation ASEAN bloc and South Korea also joining it.
The building blocks of such an alliance are already in place. Indian and US forces enjoy significant levels of inter-operability following the signing of several comprehensive agreements on sharing bases, communications. They also participate in several joint exercises, which have given them a high degree of familiarity with each other's operating tactics.
The question is: Will Indian prime minister Narendra Modi be willing to shed India's strategic autonomy to counter the Dragon or will he go it alone?
The third option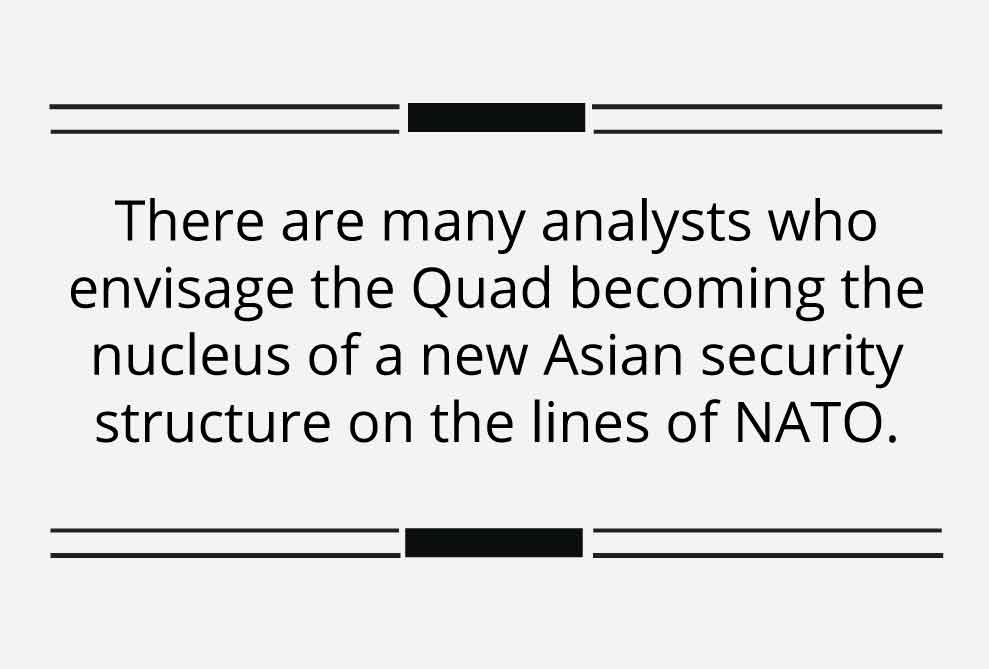 There is, of course, a third way. Indian military planners seem quite confident of being able to face down the Chinese threat without any overt support from the US or other allied powers. Despite the strength of the PLA in numbers, the number of men and the quality of equipment they can bring to bear is limited by the terrain and Beijing's imperative of maintaining its security on other various other fronts it has opened.
With the opposing forces being more or less equally matched on the ground, India stands an even chance of emerging from an ensuing battle with its honour intact.
The multilateral approach
If a two-front war poses a dilemma for Indian planners, a multi-front battle could seriously stretch China's military and economic capabilities and expose its vulnerabilities. Under Xi, China has picked territorial fights with almost all its neighbours – Taiwan, Japan, the Philippines, Vietnam, Indonesia and Malaysia. Over the last six years, Modi has assiduously built diplomatic bridges with each one of these countries.
For greater chance of success, the third approach discussed above will have to be married with an intensive diplomatic outreach to each of these countries – with the common goal of keeping China engaged on multiple fronts.
It doesn't have to actually boil down to a shooting match. Just the possibility of battling on so many fronts should be enough to keep Chinese adventurism in check.
A negotiated settlement is still possible
War cannot, of course, be the first choice for any leader. The door to a negotiated settlement of the latest flare-up has not yet been shut. But it's best not to preclude any option till the desired outcome is achieved.