India gains the strategic edge with hypersonic flight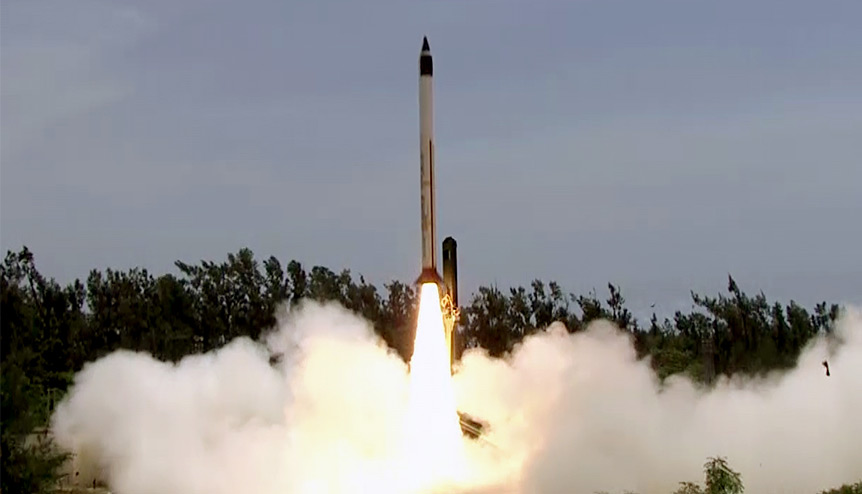 The pathway to developing a sophisticated weapons system not only puts India in the elite space club, but boosts indigenous technological advancement to complicate China and Pakistan's ability to develop counter measures.
Call it serendipity.
On the same day that India successfully tested hypersonic flight technology that will pave the way towards development of missiles travelling at six times the speed of sound, Chinese state media reported that Beijing had successfully landed a reusable spacecraft which it claims will provide a "convenient and inexpensive" method of getting to and from space.
The launch of the two test flights on the same date might be mere coincidence, but also underscored the reasons why India is scrambling to rapidly develop its next generation of missile technology.
What was the hypersonic flight test all about?
In a landmark achievement, India's Defence Research and Development Organisation (DRDO) on Monday successfully flight tested the Hypersonic Technology Demonstrator Vehicle (HSTDV) from the Dr APJ Abdul Kalam Launch Complex at Wheeler Island, off the coast of Odisha, becoming only the fourth country after the United States, Russia and China to become an elite member of the hypersonic regime.
"This is a major technological breakthrough in country. This testing paves the way for development of more critical technologies, materials & hypersonic vehicles. This puts India in a selected club of nations who have demonstrated this technology," said DRDO Chairman Dr G Satheesh Reddy.
Successful flight test of Hypersonic Technology Demonstration Vehicle (HSTDV) from Dr. APJ Abdul Kalam Launch Complex at Wheeler Island off the cost of Odisha today. pic.twitter.com/7SstcyLQVo

— रक्षा मंत्री कार्यालय/ RMO India (@DefenceMinIndia) September 7, 2020
An elated Indian defence minister Rajnath Singh congratulated the DRDO for successfully flight testing the indigenously developed HSTDV and said: "The DRDO has today successfully flight tested the Hypersonic Technology Demonstrator Vehicle using the indigenously developed scramjet propulsion system. With this success, all critical technologies are now established to progress to the next phase. I congratulate the DRDO on this landmark achievement towards realising the Prime Minister's vision of Atmanirbhar Bharat. I spoke to the scientists associated with the project and congratulated them on this great achievement. India is proud of them."
Why is a hypersonic missile such a big deal?
The hypersonic missile regime is significantly different from the era of ballistic missiles and presents several advantages to countries such as India. According to Indian defence analysts, India will be ready with its first hypersonic missile in the next five years. The reason why a Hypersonic Cruise Missiles (HCM) scores big over traditional ICBMs and IRBMs is that these travel in excess of five times the speed of sound (Mach-5), and currently there is no known missile system that can defeat them. An HCM is typically propelled to high speeds initially using a small rocket, and then, powered to the target by a supersonic combustion ram jet (scramjet) for hypersonic flight.

Shorn of the technical gobbledygook, an HCM is essentially far more effective in both countering a missile threat as well as launching a surprise attack on enemy territory.
According to an August 2017 assessment by the Nuclear Threat Initiative, the President of the US has just 2-4 minutes to decide on intercepting an incoming ballistic missiles fired by China or Russia, and launch its own missiles against the latter. This window of a couple of precious minutes shrinks further in case of contiguous nations such India-Pakistan or India-China, further compressing the response timeline. But a hypersonic missile defence system will take far less time to scramble – and if used for offensive purposes will offer far less detection-interception time. Their flatter trajectories vis-à-vis ICBMs further complicates the dynamics of detecting-intercepting.
What was the Chinese mystery launch all about?
The timing of India's flight-testing was impeccable as the real purpose of the secretive Chinese reusable spacecraft has not yet been deciphered. While there's very little is known about the spacecraft, including even its basic design, analysts have frequently compared it to the US Air Force's even more secretive X-37B.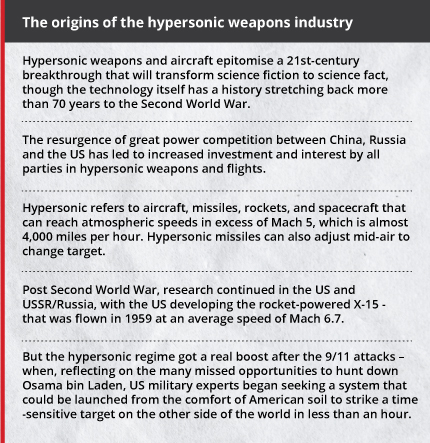 The X-37B is a spaceplane roughly a quarter the size of America's Space Shuttle orbiters, a series of spaceplanes that were launched into orbit from rockets between 1981 and 2011, and were able to glide back to Earth and land on runways to be repaired and reused. The X37-B follows the same basic operation but is always uncrewed. The US Air Force describes the X37-B as an "experimental test program" that is being used to demonstrate reusable space technologies. However, it has carried four payloads so far in its test flights – and all four have been classified.
In addition, both the US and China have indicated that their hypersonic devices are being developed to carry non-nuclear payloads – which can potentially be used to destroy facilities, communications, or weapons, and generally cripple capabilities. These missiles can also adjust direction very rapidly, meaning that it is almost impossible to tell where they will strike.
Against that backdrop and the generally tense geopolitics in the Indian Ocean theatre, defence experts strongly believe that India must rapidly develop capabilities to be able to counter such threats from its immediate neighbourhood – and that's why the development of HCMs assumes a critical significance.
But is hypersonic technology only for the military?
India's quest to develop its own hypersonic technology regime also has numerous benefits on the civilian side. The HSTDV, for example, can propel satellites at a very low cost.
"India's leap into advanced missile technologies has been a long road, with many varied programs and partnerships along the way. This announcement represents the culmination of many years' effort and is a significant advancement in the indigenous Indian weapons development," said Dr Mathew George, aerospace & defence analyst at GlobalData. "According to GlobalData's recent thematic report, the industry adoption of 3D printing will be instrumental in reducing production costs, this will be instrumental to help the technology to mature and become commercially viable. DRDO has been successful with their scramjet engine and all the associated technologies required to make hypersonic flight possible. The success of the HSTDV allows it to be used to develop the next generation hypersonic vehicles in partnership with industry," he said.
With the indigenous hypersonic vehicle, India has thus moved closer to become a global aerospace hub. "India's domestic companies will need to step up to collaborate meaningfully with the DRDO to make these technologies affordable. There is added significance of this being a home-grown development, in-line with government push and larger global trends. We can also expect this to have an impact outside of weapons development towards wider defense programs and advanced manufacturing and India's aim of becoming an aerospace hub in the future," George said.
With DRDO scientists working full steam to further consolidate the gains from the successful test flight, it seems that the speed of sound is what will keep India stealthy, wealthy and wise in the near future.