India-France defence partnership takes flight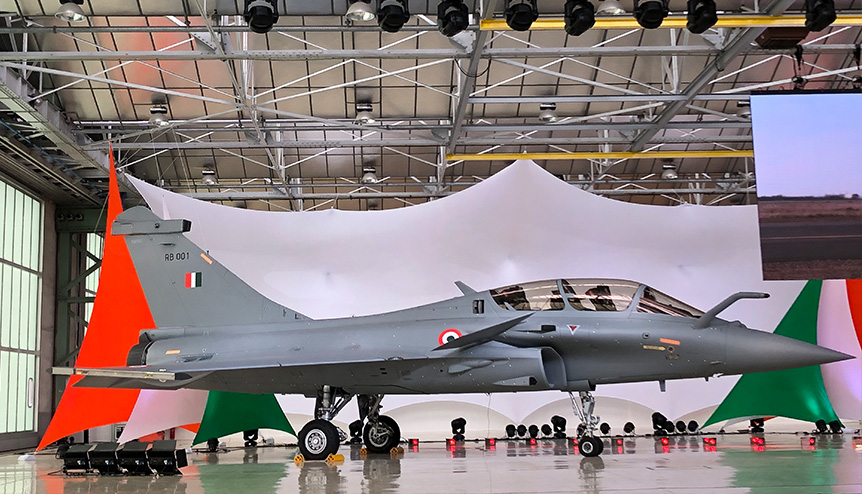 As Indian Defence Minister Rajnath Singh flew a sortie in a brand new Rafale fighter jet acquired for the Indian Air Force (IAF) in France, it marked a step change in bilateral ties which are expected to spill over into Make in India gains.
India's Defence Minister, Rajnath Singh, declared the French-made Rafale fighter jet as an exponential boost for the country's air dominance moments after he flew a sortie at Merignac Airport in Bordeaux, France, in the first of 36 high-precision aircraft acquired for the Indian Air Force (IAF).
India had ordered the jets in a mega €7.8-billion deal with the French government and Dassault Aviation in September 2016, as a landmark move to enhance the IAF's combat defence capabilities.
"This aircraft marks a massive enhancement in the Indian Air Force combat capability but that enhancement is not for attack purposes but as a deterrent for self-defence," stressed Singh, as he credited Indian Prime Minister Narendra Modi for his decisive action in incorporating the much-needed aircraft into the IAF's fleet.
The Rafale is a twin-jet fighter aircraft able to operate from both an aircraft carrier and a shore base. The manufacturers describe it as a fully versatile aircraft which can carry out all combat aviation missions to achieve air superiority and air defence, close air support, in-depth strikes, reconnaissance, anti-ship strikes and nuclear deterrence.
"In terms of guarding of two borders, these aircraft will certainly provide the potent air defence we require. They are by far the most potent platform for our air defence," explained Air Marshall Harjit Singh Arora, the Vice Chief of Air Staff who had accompanied the minister at the induction ceremony on October 8, which also marked Air Force Day.
Taking flight
The 36 high-precision Medium Multi-Role Combat Aircraft, which include 13 India-specific enhancements sought by the IAF, are destined for Ambala in Punjab and Hasimara in West Bengal and are all expected to be in place at their bases by May 2022.
The aircraft are being seen as a symbolic soaring of India-French defence ties, with the Indian minister branding it a new milestone in the Indo-French strategic partnership and a new high in the bilateral defence cooperation.
It was this central theme that dominated the second annual India-France Defence Dialogue in Paris that took place during the three-day ministerial visit to France, after which Singh confirmed that both sides had agreed to work towards further enhancing strategic ties.
Make in India
The Indian government's Make in India programme remained at the heart of the wider optics of the ministerial visit to France, which included a Shastra Puja or weapons ceremony to coincide with the Indian festival of Dussehra which fell on October 8 this year.
"It is no coincidence that this ceremony falls on Dussehra and also the Indian Air Force's 87th anniversary. It is a reflection of the paramount importance we give to our cooperation with India," said Florence Parly, the French Armed Forces Minister who later conducted the Defence Dialogue with the Indian minister.
"This is just the first step of a long journey, as we are committed to meet all needs of the Indian Army. It marks a big day in the history of our industrial cooperation and we remain fully committed to the Make in India initiative," she said.
This central theme played out even as the minister chaired a high-level meeting with CEOs of some of France's leading defence manufacturing companies and called on them to make India their base for production as well as export.
He said: "India is open to explore opportunities of co-production of high-end defence equipment and seeks collaborations to modernise our shipyards and defence platforms by the infusion of technology.
"French firms can make India its base for production of defence equipment, not only for India's large market but also for export to other countries."
Ease of doing business
A message that the Indian government was keen to spread loud and clear was around creating the right climate for foreign investments across all sectors, and specifically defence manufacturing.
Addressing the CEOs, including Dassault Aviation CEO Eric Trappier who remains hopeful that India would buy more of the company's aircraft and naval equipment, Singh's message to them was to collaborate with India in building a skills base in the country so that it can move away from the traditional template of simply making acquisitions.
And, towards this end, a string of policy measures and reforms such as the recent cut in corporate tax rate as well as steps to improve the ease of doing business in the country were flagged for the French companies who have expressed an interest in the Make in India initiative.
In a crucial intervention, Singh made it clear that for Make in India in defence if there is need for further tax rationalisation, it would be considered suitably.
"We have undertaken significant economic reforms to improve the ease of doing business and open up the economy for investments. The government under Prime Minister Narendra Modi has opened up defence sector manufacturing to a large extent under the Make in India initiative. We have implemented a single Goods and Services Tax across the country, which is the biggest tax reform since our independence and we have recently reduced our corporate tax significantly," he noted.
Mission ahead
With commitments from many of the French manufacturers keen to participate in the DefExpo 2020, scheduled for February next year in Uttar Pradesh, the Indian government expects to clinch a series of further deals and agreements which go beyond the equipment acquisitions model.
With even President Emmanuel Macron clearing out considerable time in his diary for a meeting with the Indian Defence Minister, the message from the French side is seen as an extremely promising proposition for India's manufacturing ambitions.
India's defence space is an estimated $130-billion market opportunity and Rafale, which in French means gust of wind, is being seen as a symbolic propellant for the India-France defence partnership.