India fights to retain Asia's 'Arc of Democracy' against Chinese hegemony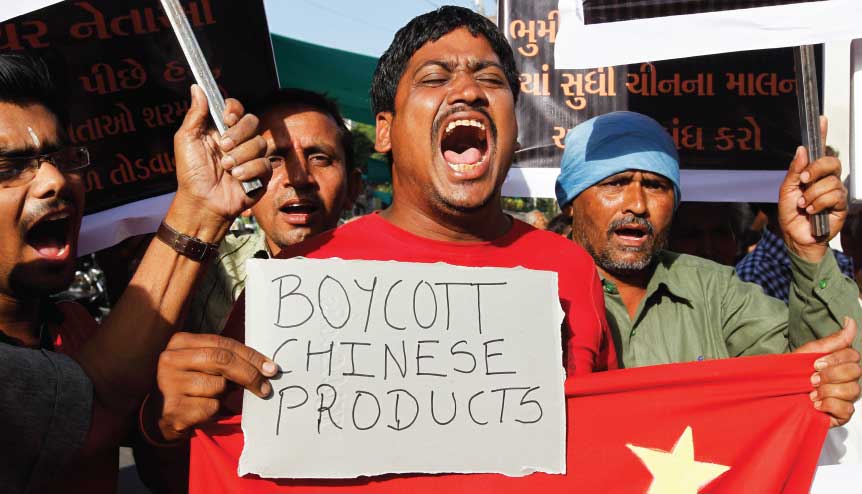 The Indian government is leading the fight to thwart Chinese belligerence in the region as Beijing tries to launch an all-out bid for global dominance.
At first reading, the following seem like a string of random and unrelated events but take a closer look and a bigger picture begins to emerge: 
* Chinese troops have been intruding into Indian territory in three different sectors of the Line of Actual Control (LAC) that divides the two countries. 
* Nepal has strongly objected to New Delhi building a road in a territory that is generally accepted as being on the Indian side. 
* China has unilaterally abrogated a treaty with the UK to guarantee special status for Hong Kong under the "One Country Two Systems" till 2047.
* US President Donald Trump has said he will end the special privileges – like visa-free travel, zero- or low-tariff exports to the US, free exchange of US dollars for the Hong Kong currency – that Hong Kong enjoys in response to a new security law that strips it of its autonomy from Beijing. 
* China has imposed 80.5 per cent anti-dumping duty on barley imports from Australia and also banned the import of beef from four of Australia's largest meat exporters. 
* On April 3, China sank a Vietnamese fishing vessel off the disputed Paracel Islands, which is claimed by both nations.
* On April 18, Beijing announced it had established administrative control over Paracel Islands. 
* Mike Pompeo became the first sitting US Secretary of State to congratulate an incoming Taiwanese leader when he spoke to President Tsai Ing-wen. 
* The Shinzo Abe government has allocated $2.2 billion to help Japanese companies relocate factories out of China.
Related stories: Away from the border, India targets China in the economic battlefield
Nepal becomes a pawn in China's high-stakes game against India
It can't be business as usual with China
The big picture 
Economy, diplomacy, defence, geopolitics - the strands are all there. Each of these events would be alarming in isolation by for the countries involved, they are, apart from the Covid-19 pandemic, critical developments that need to be addressed immediately.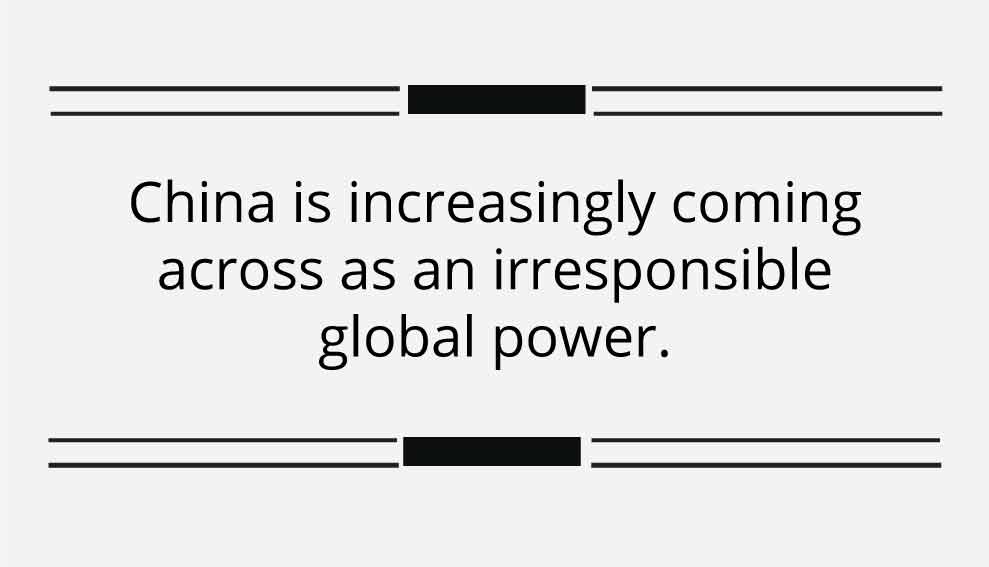 There's also a bigger picture here. Join the dots, throw in some more recent history and a disturbing image begins to emerge – that of a world order in a state of unprecedented flux, an incumbent superpower slowly turning insular and ceding ground, a rising new hegemon bending and breaking every rule in the book to carve out its own sphere of influence in Asia and a push-back from an unlikely grouping of powers, which Abe had described in his first term as the "Arc of Democracy" – from India at one end, through to the 10-nation ASEAN bloc and Australia to Japan and South Korea at the other. 
Exploiting the global crisis
The question that arises is: Why is China opening so many different fronts of conflict all at once?  
Strategic experts believe the Chinese leadership wants to exploit the current global crisis to seize world leadership and is engaged in a high stakes game of international poker to achieve that goal. 
David Shambaugh, Professor of Political Science and International Affairs at the George Washington University in Washington DC, and one of the world's foremost scholars on China, said recently: "Historians may even look back on the crisis as the transition point from American to Chinese leadership in times of global crises."  
Such prognoses, however, may be premature. 

From India to Australia, from the UK to Spain, from Tanzania to the Czech Republic to many other countries, public anger against China is rising – for supplying sub-standard Covid-19 test kits, for making arbitrary territorial claims, for barring market access for a variety of commodities and products or for simply throwing its weight around.  
China is, thus, increasingly coming across as an irresponsible global power.
India fighting back
Though the UK has not yet reacted to China's unilateral decision to change Hong Kong's autonomous status, the US has already set steps in motion to impose a cost on Beijing for its transgression.
India, too, is staring China straight in the eye. On one hand it's ensuring there is sufficient scope for diplomacy to de-escalate the crisis, it is making equally sure that its borders have a solid troop presence to thwart any sense of adventurism displayed by Beijing.

The Modi government has made it clear, in its actions as well as in its messaging, that it will continue to stare down China till it tones down its aggression and restores the pre-intrusion status quo.
Additionally, in a subtle message to China, the Modi government allowed two ruling party MPs to attend (virtually) the swearing-in ceremony of the new Taiwanese President, a first in India's diplomatic history.  
It is evident that India refuses to blink while China is trying its hardest to keep it off balance at a time when they are under tremendous pressure internationally to come clean on its role in allegedly covering up the extent of the Covid-19 outbreak. New Delhi is earning enormous amounts of global goodwill with Prime Minister Narendra Modi being seen as the visionary among leaders.
China's sense of insecurity
China is smarting after the Indian government's decision to disallow Chinese FDI flows from under the automatic route – all Chinese investments in Indian companies will need prior approval of the government – as well as New Delhi's decision to reject faulty Chinese Covid testing kits.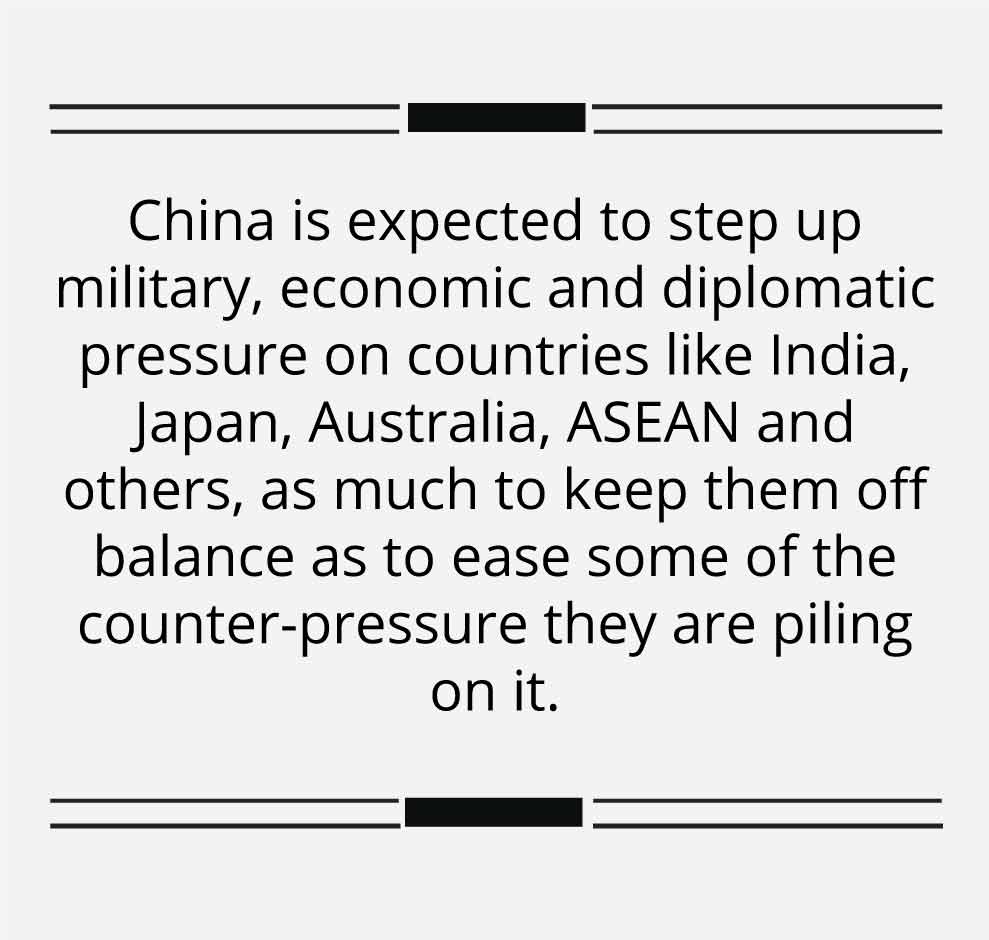 Diplomats in India feel Beijing's actions could emanate from a deep sense of insecurity and a feeling of being under siege. This, and China's larger ambition of projecting itself as the numero-uno power in Asia, means Beijing will try and step up the pressure on India. But with the Modi government not ready to cede an inch, it could well be a fruitless exercise.  
India is winning the important points against Beijing. The recent offer by Australian Prime Minister Scott Morrison to renew engagement with Modi through an online summit is a classic case in point. This comes in the back of Chinese trade relationships with Australia being at an all-time low.
India is already being seen as a valuable member of the QUAD, encompassing nations like the US, Australia, Japan and India to thwart Chinese influence, primarily in the Asia-Pacific region. New Delhi's involvement with the Quad is set to grow, given that its structural problems with China have become more prominent. India's future participation in discussions that involve the QUAD member countries will stem from the fact that it is trying to consolidate its ties with like-minded nations at a time when its relations with Beijing are far from cordial.  
The RCEP connection
India has also carefully thought out its connection with the Regional Comprehensive Economic Partnership (RCEP) and withdrew from it in the belief that it would be exposed to China's influence in terms of trade boundaries. New Delhi's deadline to rejoin the RCEP expired last month but it has stuck to its guns.
Beginning of a new Cold-War
Foreign policy and geo-strategy analysts say China's unprovoked acts of belligerence against so many countries are intended to send out clear messages to each of them.  
According to this line of thinking – and several highly respected diplomats in India believe this to be true – China is preparing for an all-out (hopefully cold) war against the US. So, it is trying to impress upon potential US allies in Asia – like India, Japan and Australia as well as smaller nations such as Vietnam and other ASEAN members and South Korea – that it doesn't pay to antagonise Big Brother. But it may well be achieving exactly the opposite of what it wants – showcasing itself as an irresponsible, bellicose power, unfit to play a larger role in the comity of nations.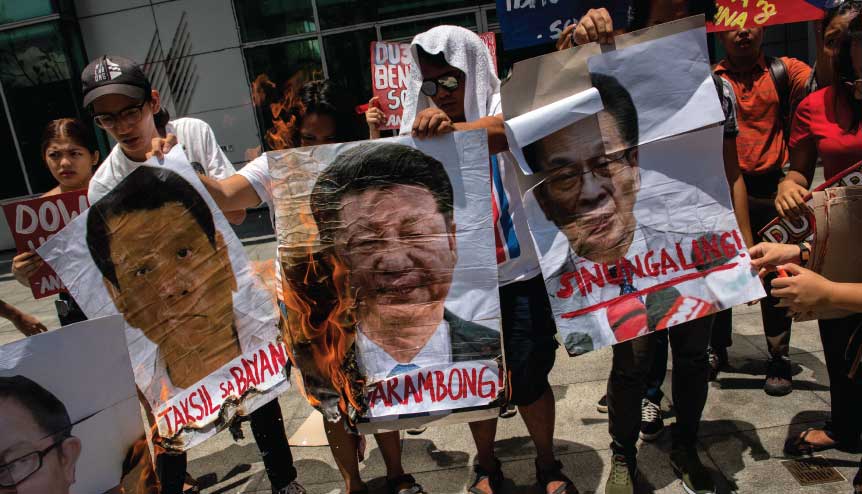 China is expected to step up military, economic and diplomatic pressure on countries like India, Japan, Australia, ASEAN and others, as much to keep them off balance as to ease some of the counter-pressure they are piling on it. 
As Trump heads into an increasingly uncertain US election later this year, with his country in the grip of a pandemic, a faltering economy and racial tensions, the stakes will rise even more. India, in China's immediate neighbourhood and having outstanding border disputes with it, will have to raise its guard and increase cooperation with other nations who are against the approach of an irresponsible China. 
Periods of great global turmoil have often heralded a change in the existing balance of power and the rise of a new hegemon. The portents look ominous.  Asia's democracies, with some help from the West, will have to bring all their diplomatic, economic and military strengths to bear to ensure that the free world remains free.  There is every possibility that, if and when that happens, India will be at the forefront.