India could rescue SAARC nations staring at a debt-trap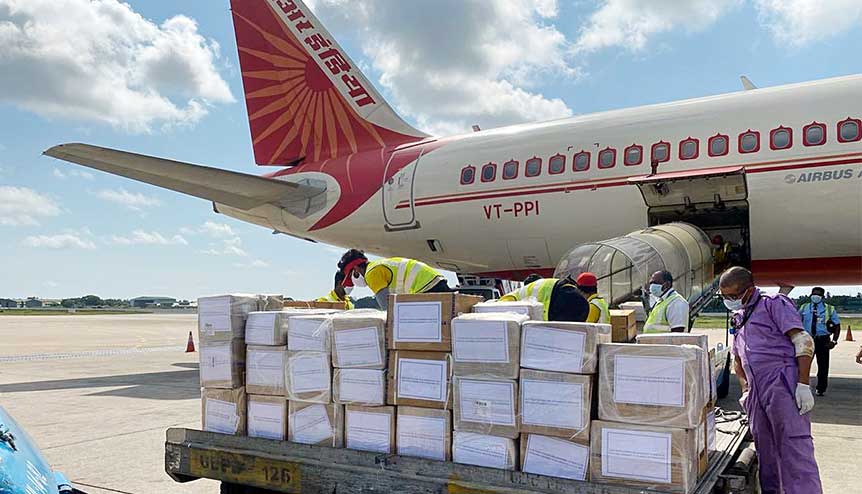 New Delhi has summoned its policy resources and strategic firepower to assist neighbouring countries who have fallen into deep economic woes thanks to ineffectual debt-trap diplomacy in the midst of a Covid-19 economic crisis.
"The interactive dynamic between strategic interests and connectivity initiatives – a universal proposition – is on particular display in our continent."
That's how Dr Subrahmanyam Jaishankar summed up China's commercial initiatives as a means to advance its strategic ambitions in ways not conducive to India's interests – but this was in 2016, when he was India's foreign secretary.
In an address at the Raisina Dialogues, Dr Jaishankar went on to warn against countries using connectivity "as an exercise in hard-wiring that influences choices."
Have you read? COVID-19 could spur a revival of the SAARC
Bangladesh opens up new avenues of trade, strategic cooperation in South Asia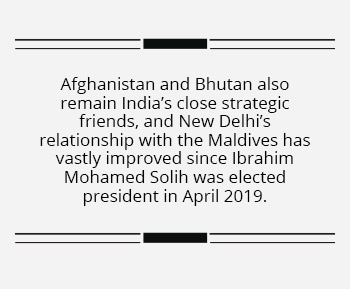 Four years later, the world has begun to unravel the full portent of that warning by Dr Jaishankar – now India's Foreign Minister.
With countries such as Sri Lanka, Bangladesh and Bhutan in the throes of deep economic woes due to the coronavirus pandemic, it's an open secret that China has attempted to leverage its position in the Indian Ocean by luring such countries with its predatory "debt-trap" diplomacy.
But much to its chagrin, even Beijing's neighbours have grown wary of the Chinese trap under the guise of the Belt and Road Initiative (BRI) and other economic doles.
Economic risks
A 2018 Centre for Global Development study found that BRI states faced considerable economic risks from China's largesse. Of them, five SAARC states – Afghanistan, Bhutan, Maldives, Pakistan and Sri Lanka – faced a high risk of debt distress from new BRI-related funding, the study found.
The economic onslaught of the Covid-19 crisis has further aggravated that situation – according to the Hudson Institute, the pandemic threatens not only lives and livelihoods in South Asia, it could also be the precursor of significant political and strategic shifts in the region mainly precipitated by China's attempts at geopolitical supremacy and exploitation of the situation.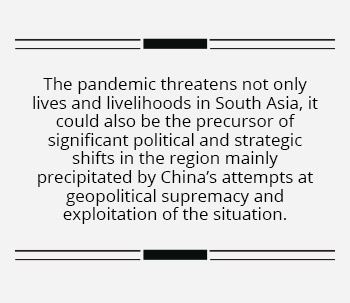 The economies of Bangladesh and Sri Lanka, for instance, will have to find ways of restoring growth by encouraging plenty of investments. "Sri Lanka will likely move in the direction of negative growth and will need debt relief from international creditors. Without it, Sri Lanka faces the prospect of a sovereign debt default," the institute said in a report authored by research scholar Aparna Pande and former Pakistan Ambassador to the US, Husain Haqqani.
It is in situations like this that China will aim to press its advantage by bailing out South Asia's indebted governments, "in exchange for its pound of flesh," said the report titled "Crisis from Kolkata to Kabul: COVID-19's Impact on South Asia."
But the good news is that India already anticipated this scenario – as is evident from the forewarning of Dr Jaishankar in 2016.
China's deepening image crisis
With the protests in Hong Kong, tension in the South China Sea and the latest face-off with the US and other western governments over Huawei and TikTok, China faces a deepening image crisis. And then there's the criminal debacle in its initial handling of the Covid-19 outbreak in Wuhan.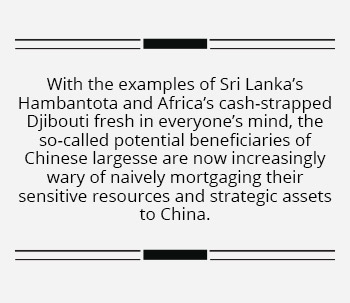 Therefore, on one hand lies the prospect of SAARC countries severely denting their reputation if they agree to deeper cooperation with Beijing, and on the other the catastrophic consequences of taking on more loans that they will struggle to repay to the Chinese.
With the examples of Sri Lanka's Hambantota and Africa's cash-strapped Djibouti fresh in everyone's mind, the so-called potential beneficiaries of Chinese largesse are now increasingly wary of naively mortgaging their sensitive resources and strategic assets to China, unwittingly becoming pawns in China's imperialist agenda.
Expanding maritime cooperation
It's keeping in mind this post-Covid ground reality that India has summoned its policy resources and strategic firepower to thwart increasingly muscular Chinese advances on its vulnerable neighbours. With considerable concerns over China's growing presence in the Indian Ocean, India has been working to expand maritime cooperation with countries of the region – including Sri Lanka, Maldives, Indonesia, Thailand, Vietnam, Myanmar and Singapore.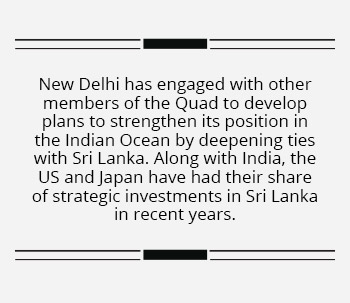 New Delhi has engaged with other members of the Quad (Japan, Australia and the US) to develop plans to strengthen its position in the Indian Ocean by deepening ties with Sri Lanka. Along with India, the US and Japan have had their share of strategic investments in Sri Lanka in recent years – from the Colombo Light Railway project to a $480 million Millennium Challenge Corporation grant from the US and the East Container Terminal project.
That last project is estimated to cost between $500 million and $700 million, and according to an official from the Indian High Commission in Colombo, about two-thirds of Sri Lanka's international cargo traffic is with India. "There are opportunities for win-win cooperation among India, Sri Lanka and Japan in developing the East Container Terminal to promote prosperity in our maritime region," the official said.
Strategic opportunity
The new Sri Lankan administration has now signalled its reluctance to be overtly dependent on China – handing India and the Quad a strategic opportunity.
Similar scope for pushing back against China abound in South Asia – and India is fully occupied in effectively utilizing them.
Nepal, for instance, still remains a key trading partner despite the recent differences over delineation of the Indo-Nepal border – India is its largest aggregate investor, with robust collaborations on infrastructure.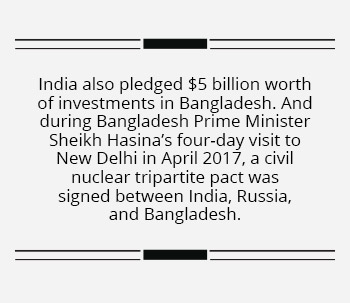 Similarly, the Indian government has invested substantially in its relations with Bangladesh in the past years. During Indian Prime Minister Narendra Modi's state visit to Bangladesh in 2015, 22 bilateral agreements were signed, including the resolution to a border issue that had existed since 1947 through a successful land boundary agreement (LBA). India also pledged $5 billion worth of investments in Bangladesh. And during Bangladesh Prime Minister Sheikh Hasina's four-day visit to New Delhi in April 2017, a civil nuclear tripartite pact was signed between India, Russia, and Bangladesh, in which India will play an important role to establish a nuclear power plant in Bangladesh. As recently as in March 2019, Modi launched four projects in Bangladesh.
Coherent policy response
Afghanistan and Bhutan also remain India's close strategic friends, and New Delhi's relationship with the Maldives has vastly improved since Ibrahim Mohamed Solih was elected president in April 2019.
As the above examples demonstrate, New Delhi has thus been systematically identifying, formulating and implementing a coherent policy response to defuse Chinese hegemony in the region, protecting its strategic goals as well as its neighbours' within a structured framework, and consolidating its position as a dominant power in South Asia and the Indian Ocean.