India can shine bright in the African continent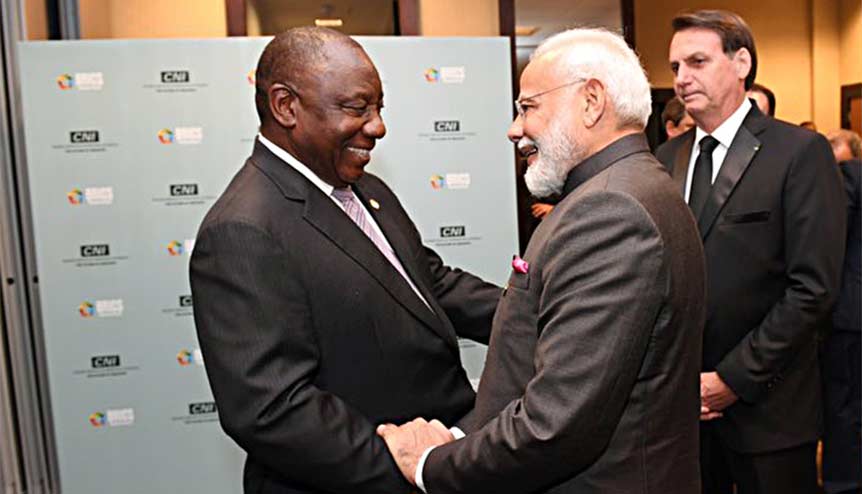 In the post Covid era, India has tactfully used medical diplomacy to forge stronger ties with Africa. As the hunt for a vaccine enters the final round, India's status as the pharmacy of the world may help it drive even deeper into the land of the Sahara.
India's unofficial status as the pharmacy of the world has held it in good stead in the post-pandemic era. The clamour for medicines like hydroxychloroquine, paracetamol among others which are widely being used to fight the virus means India is in pole position to prioritise and help countries. For HCQ, the dependence is even more with an estimated 70 percent of global production centred in India.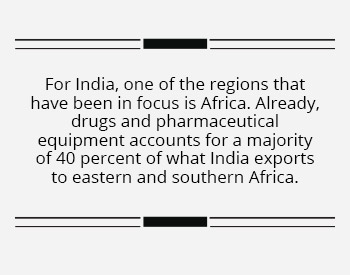 For India, one of the regions that have been in focus is Africa. As the least developed continent in the world, medical facilities are lax in the continent. Already, drugs and pharmaceutical equipment accounts for a majority of 40 percent of what India exports to eastern and southern Africa.  
The support is not restricted to medicines alone but varies from country to country depending on their needs. For example, India handed over 36 vehicles including 10 buses, 10 troop carriers, two ambulances and 14 motorcycles to Uganda, one of the poorest nations of the world.
Read more:
Uganda: The pearl of Africa offers investors several rich opportunities
India's healthcare sector has much to offer Africa
India reaping the rewards of an age-old partnership with Africa
Sending COVID-19 medicines to Africa part of Modi's strategic outreach effort
Africa can be a test bed of Indian business commitment to profit and wider purpose
India sees big opportunities in Africa, a counterpoint to China
It isn't something new. India has increased its engagement in Africa for strategic reasons. In the last five years, Indian leaders have paid 29 visits to African countries. Forty-one African leaders participated in the last India-Africa Forum Summit in 2015, where India agreed to provide concessional credit worth $10 billion for the next five years. By the end of 2017, India had cumulatively extended 152 Lines of Credit worth $8 billion to 44 African countries while also unilaterally providing free access to its market for the exports from 33 least developed African countries.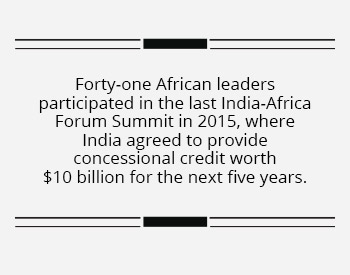 There is consensus that the African economy will fire sometime in the future when all other economies would saturate. Investing in Africa today ensures a head start.
More to read:
Driving into Africa with an innovative answer to the ride hailing model
Africa needs targeted policies to bolster global trade
India-South Africa relations: In need of a booster dose
India's West African safari gathers steam
US, South Africa, Sri Lanka: Indian firms on a global march
China has a longer and deeper association in the continent but it is facing a backlash over the pandemic worldwide and has gained a reputation of an economic colonizer–exploiting the need for capital by under-developed economies to hand over big infrastructure projects to China. India wants to present itself as a soft power and an ally on whom the whole of Africa can rely on. Talks to expand economic ties have been fast-tracked. The African continental free trade agreement is expected to aid this process. 
"The Free Trade Agreement has been negotiated within Africa. It's a matter of time for it to be implemented and will be a game-changer. It will open opportunities for Indian businesses if they establish themselves there," said Rahul Chhabra, Secretary, Economic Relations, Ministry of External Affairs on August 29 at an industry webinar. 
India pledges more soft loans and aid to Africa during summit in a bid to strengthen ties https://t.co/7fIPUzrXnR pic.twitter.com/pu9DfboaKg

— BBC News Africa (@BBCAfrica) October 29, 2015
India's economic engagement with Africa is substantive. In the last decade and a half trade between India and Africa has multiplied and diversified–bilateral trade of $63.3 billion in 2018-19 made India the third largest trading partner for the continent. Yet, more can be done. 
"India's partnership with Africa is based on a model of cooperation, which is responsive to the needs of African countries and India is ranked as the third-largest export destination in Africa," Chhabra added.
Still more to read:
Time for the Commonwealth to stand up in Africa
A renaissance of India-South Africa ties
Modi's visit to Africa: Key takeaways
Redefining the India-Africa story
As the race for developing a vaccine for the virus enters the last stages, India finds itself at the centrestage once again. India would be the hub for mass production of vaccines as well. Besides Pune based Serum Institute of India, the world's largest vaccine maker, a number of Indian companies like Bharat Biotech and Zydus Cadila have the scale to produce vaccines quickly. Almost all the potential candidates have already tied up with some Indian firm or the other for production once the trials are successful.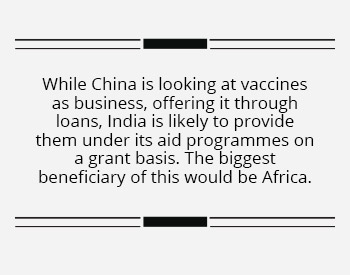 This is again an area where India finds competition from China but while the latter is looking at vaccines as business, offering it through loans, India is likely to provide them under its aid programmes on a grant basis. The biggest beneficiary of this would be Africa. 
In 2021, India's vaccine diplomacy could provide one way of knowing the dark continent better.