India can match China's chip making capacity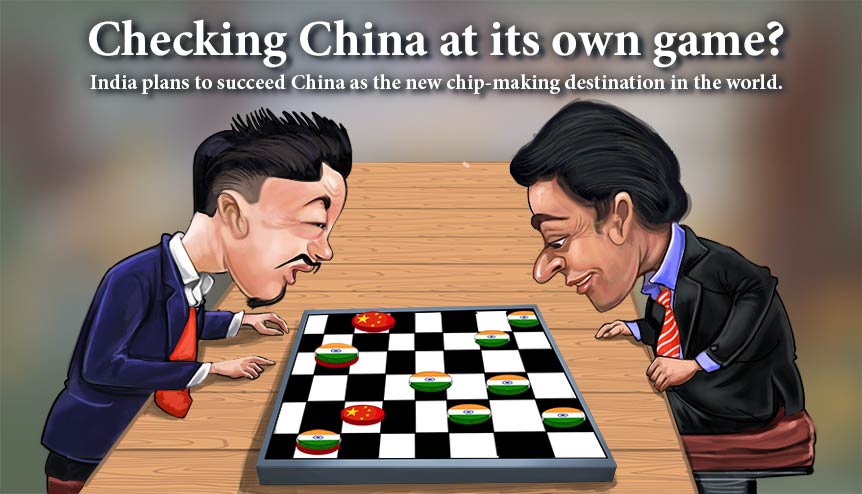 Following the success of the PLI scheme in attracting global smartphone makers set up facilities in India, the Modi government has launched an initiative to encourage chip making in the country. Executed properly, this could propel India past China in this critical segment of future-ready manufacturing.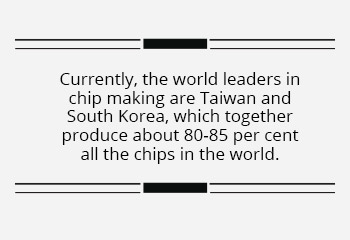 This can shape into a direct match-up between the established manufacturing powerhouse of the world and an emerging challenger. There is a new opportunity beckoning both China, the world's factory, and India, which wants to replicate Beijing's success in this field, to emerge as a new chip making destination in the world.
Currently, the world leaders in this respect are Taiwan and South Korea, which together produce about 80-85 per cent all the chips in the world. China joined this race relatively late and was expected to become a global leader in the foreseeable future, but US sanctions on the supply of chips that have any American input – be it in the form of design, IPR or machinery used to fabricate them – have put up an unexpected roadblock in the path of its global ambitions in this sector.
It has also opened up a window of opportunity for India, which had been trying unsuccessfully to emerge as a global scale chip design and manufacturing centre for more than a decade.
PLI success shows the way
Now, following the success of the Production-linked Incentive (PLI) scheme in attracting global smartphone makers such as Apple and Samsung to set up and/or expand their manufacturing facilities in India, the Modi government has set its sights on once again giving wings to its ambitions of emerging as a global hub for chip making.
The Ministry of Electronics and Information Technology (Meity) recently invited expressions of interest from interested parties to set up electronic chip manufacturing units in the country or acquire semiconductor units abroad.
"The Meity invites expression of interest (EoI) from companies/consortia desirous of setting up/expansion of existing semiconductor wafer / device fabrication (FAB) facilities in India or acquisition of semiconductor FABs outside India," the EoI document said. January 31, 2021 is the last date for submitting proposals in this regard.
The success of this initiative could be critical for India's plans of increasing its share of the global mobile phones, IT hardware, automotive electronics, industrial electronics, medical electronics and IoT pie.
"The PLI scheme may add around $520 billion to the GDP in the next five years," a report by domestic brokerage firm Sharekhan by PNB Paribas said.
Boost to Make in India – Make for the World

A successful rollout of the initiative to encourage chip making /FAB units in India as well as the scheme for promotion of manufacturing of electronic components and semiconductors (SPECS) can help increase the percentage of Made in India components that go into the electronic items assembled in India and increase their contribution to the country's GDP even further.
In 2013, the then UPA government had given the green signal to set up two semiconductor units in the country at an investment of $10 billion. But the absence of an appropriate electronics manufacturing eco-system in the country as well as the lack of adequate policy support ensured that this proposal did not get off the ground.
India still lags the world on these parameters. Remedying these infrastructural handicaps will increase costs and make these items unviable vis-à-vis competing products made in China, which is currently building a homegrown chip programme that envisages the adoption of local semiconductors in 70 per cent of its products by 2025 compared to 16 per cent now.
Chips making critical in digital world
The big question is: Even as the PLI scheme increases India's share of electronics assembly / manufacturing in the world, how can the country increase the share of Made in India chips and components going into these electronics products?
In a world that is going increasingly digital, this ability – to design and manufacture chips, which go into practically every mechanical device that is being produced – will provide the vital competitive advantage in the years ahead.
Almost every sector, from smartphones and computers to automobiles and other transport solutions to less obvious ones like smart homes and cities, waste disposal systems, defence equipment, etc., is already or soon will be driven by smaller and more powerful chips.
Start small and then grow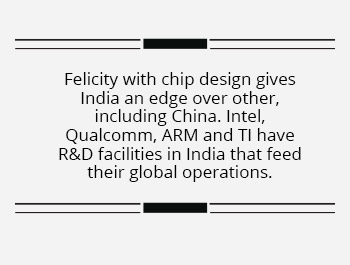 Many experts have said initially, India should not try to compete at the top end of the FAB /chip making value chain. While the US, South Korea and Taiwan focus on the cutting edge and futuristic 10nm technology, Indian companies and the eco-system they spawn domestically can focus on the relatively older tech-nodes in the space the former increasingly vacate.
As they build competence and efficiency in segments such as memory, hardware supporting display, display in itself, authentication and security, encryption standards and open up large markets for FABs in India, they, and their foreign collaborators, can climb up the value chain over a period of the next 5-10 years.
India's advantage over China
There is a critical advantage that India enjoys here over China. It is a strategic ally of the US and enjoys excellent relations with both South Korea and Taiwan. So, it will face little or no hurdles in its quest to acquire the advanced technology required in this field or to attract foreign companies to set up chip making facilities here.
Another edge India has over many other countries, including China, is its felicity with chip design. Global leaders such as Intel, Qualcomm, ARM and Texas Instruments have design facilities in India, which carry out critical R&D work for their global operations.
Then, India's vibrant start-up eco-system, the world's third largest, has benefited from the Modi government's "design in India" initiative.
An article by Arun Mampazhy in www.orfonline.org says: "Their 'end product' is typically a physical design, which is then 'taped-out' to a semiconductor fab outside India, where it further undergoes some modifications for 'printability' and ends up on photomasks used to fabricate the actual chip.
"A FAB in India could be initially considered as an additional or backup source of getting the chip fabricated and if the quality looks good, may eventually become the primary source itself. The benefits could be many – cost saving, dedicated and faster test or production lines, better collaboration and so on. It should also be mentioned that apart from start-ups, many big players in the semiconductor industry, be it IDMs or fabless companies, have a strong presence of design engineers in India."
Catching up should not be difficult
These are critical advantages that India can look to build on as it tries to become a major hub of chip making. Even though China is currently in a much more advantageous position, this is an industry where leads can be very transitory.
If India can get its act right – and the success of the PLI scheme gives cause for optimism that it may have cracked the code of how to attract high technology companies to invest in India – there is every reason to believe that India can hold its own against, and even beat China, in chip making /FAB sector in the years to come.