India asserts itself in the Asia Pacific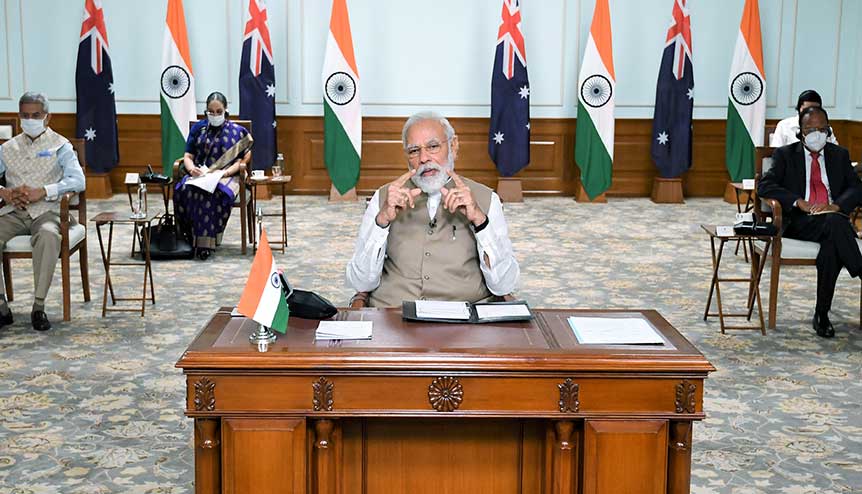 An assertive India has initiated building a security alliance with Australia and Indonesia and a parallel economic supply chain with Australia and Japan. It wants to be more active in shaping the Asia pacific region.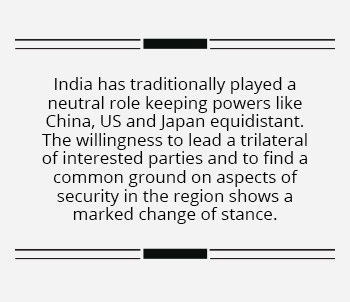 Later this month, the foreign ministers of India, Australia and Indonesia will hold a virtual meeting to discuss greater cooperation and maritime security in the Indo-Pacific region. This would be followed by another meeting of the defence ministers of the three countries to discuss much of the same. This follows the maiden trilateral Indian Ocean maritime security workshop that was held in November last year with the navies of the three countries in Western Australia. A second edition of the same will be held later this year in India.
Read more:
India poised to direct the activities of the Quad
India's strength QUAD-ruples against China
India holds the key to the success of Quad 2.0
Blanket ban on Chinese apps secures Indian cyberspace
Sri Lanka prioritises a fresh reset in ties with India
Does India's resources sector offer an opportunity for Australian miners?
India's measured move on RCEP an opportunity for Australia
Change in the geopolitics
These are only the early indications of what is being seen as a minilateral or trilateral coming together of world's largest democracies — India, one of its oldest democracies — Australia, and the largest Muslim majority democracies — Indonesia. The grouping may appear disparate to the naked eye given the diverse background and general lack of commonality between the three countries but it reflects the changing nature of geopolitics of the region in the post Covid world order.
Vested interests in Asia Pacific
More significantly, it also highlights India shedding its passivity and wanting to play a more active and direct role in its neighbourhood. Given the many vested interests of global powers in the Asia Pacific region and numerous fault lines in it, India has traditionally played a neutral role keeping powers like China, US and Japan equidistant. The willingness to lead a trilateral of interested parties and to find a common ground on aspects of security in the region shows a marked change of stance.
"India represents a major power without some of the baggage that others can bring," said Barry O Farell, the Australian high commissioner-designate to India in April. "I see faster shifts in the Indo-Pacific power balance with an associated sharpening of strategic competition driving exploitation of some of the more fragile developing states. And an even more factious multilateral system. We can build on the security workshop we had with Indonesia last year to identify ways to be the best custodians of the Indian Ocean."

More to read:
The Modi govt is walking the talk of loosening control over PSUs

Infra upgrade in Andaman Islands to push Modi's Act East policy

India could rescue SAARC nations staring at a debt-trap
Ocean wave energy: A significant renewable energy and manufacturing opportunity for India
Driving the future of finance in Asia
India's deployment of a warship in the South China Sea last month is another indication of how it is upping the ante in the high seas. It followed the bloody clash at the Galwan valley border between India and China in mid June that led to the death of 20 Indian soldiers and similar casualties on the Chinese side.
Trilateral supply chain
India has also initiated discussions for a separate trilateral supply chain resilience initiative with Australia and Japan as partners. In a virtual meeting attended by India's minister of commerce and industry Piyush Goyal, Australia's minister for trade, tourism and investment Simon Birmingham and Japan's minister of economy, trade and industry Kajiyama Hiroshi, a decision was taken to launch it by November.
"The ministers reaffirmed their determination to take a lead in delivering a free, fair, inclusive, non-discriminatory, transparent, predictable and stable trade and investment environment and in keeping their markets open," said the joint statement issued after the meeting. "In light of the Covid-19 crisis and the recent global-scale changes in the economic and technological landscape, the ministers underscored the necessity and potential to enhance the resiliency of supply chains in the Indo-Pacific region."

Still more to read:
Critical minerals, strategic ties to take India-Australia relationship forward
Australia can bring a depth of experience to Indian mineral mining sector
Can virtual talks lead to real actions for Australia and India?
Australia wants to come out on top with India
India-Australia widen their economic playground
Reduce dependence on China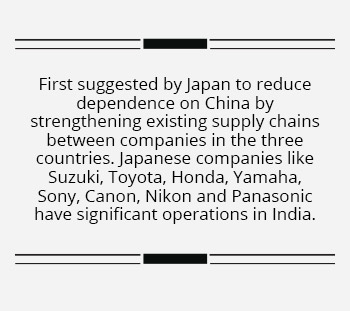 First suggested by Japan to reduce dependence on China by strengthening existing supply chains between companies in the three countries. Japanese companies like Suzuki, Toyota, Honda, Yamaha, Sony, Canon, Nikon and Panasonic have significant operations in India. Japan has been leading the charge for global supply chains to disentangle from China. Japanese industry wants India to be a beneficiary of this exodus.
"Many companies in China are relocating or putting plants in other countries to cover geo-political risk. We should bring those investments to India or tie-up with them to produce in India," says Kenichi Ayukawa, managing director and CEO of Maruti Suzuki India Ltd, country's largest carmaker. "I will make efforts to organize some business exploration meetings with manufacturers of Japan to increase Make in India. Similarly we could do with other countries like Europe or Korea or USA."
Never short on muscles, India is beginning to flex them too.