India and Taiwan should lay groundwork for an FTA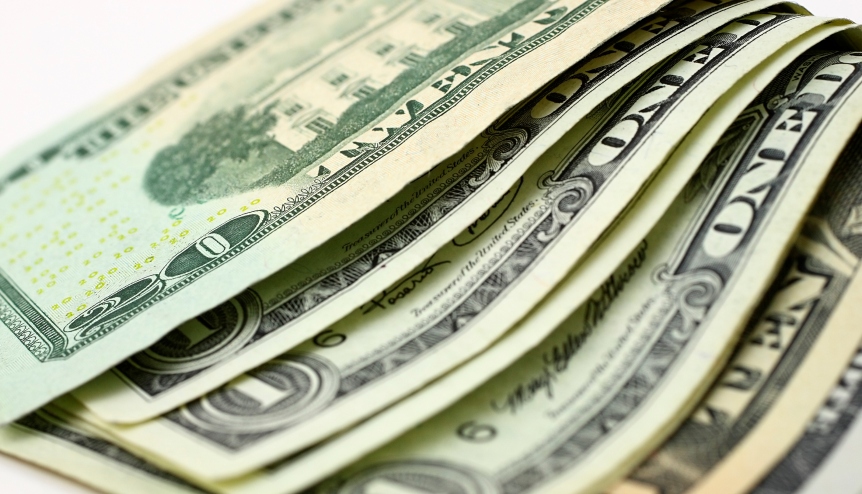 Taiwanese investors are shifting to India and the engagement between the two nations has grown deeper and more meaningful specially in trade and commerce. These bonds are not an overnight development but they have been built with patience, resolve and like-minded values and principles.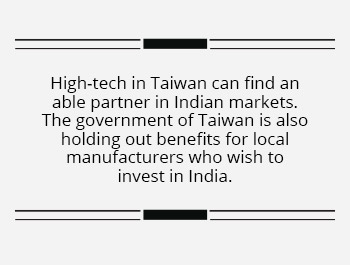 Taiwanese investors are shifting to India. And this is yet another brag for India's regional and global outreach to like-minded countries who are willing to invest in fruitful bilateral and economic relations and thwart the rising threat and destructive approach posed by China.
Read more:
Govt, pvt. sector, individuals, will set India on a path to self-reliance
Indian manufacturing: The road worth taking
Smartphone companies are dialling up plans to set up a presence in India
$100-bn smartphone export scheme is a new Make in India template
Dip in smartphone imports has a nice ring to it
According to India's department of commerce India and Taiwan in 2018 signed an updated bilateral investment agreement in a bid to further expand economic ties. Trade between them grew 18% to $7.2 billion in 2019 and this created a momentum of sorts.
Common pain point – China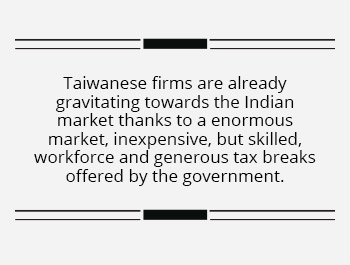 Both countries share a common pain point – China – and this has brought them even closer coupled with shared values and economic principles. The sound byte given recently by Joseph Wu, the Minister of Foreign Affairs for the Republic of China (Taiwan), that his country's investment in India stands around $2.3 billion and around 65,000 Indians have been given employment through it is a statement of intent that Taiwan intends to cultivate its relationship with India further. Like minded nations can find it easier to do business together and Wu stated in the affirmative saying, "The total amount of Taiwanese investment in India now stands around USD2.3 billion and our investment in India has employed roughly 65,000 Indian people; these are good quality jobs and we will continue to do that."
More to read:
India-Japan-Australia supply chain plan to check China's dominance
India, Afghanistan and Iran amidst the new Great Game
Modi's high-power diplomacy blocks China's attempt to blame India for Karachi terror attack
India's strength QUAD-ruples against China
Social distancing from China bringing India and the US closer?
It is fairly clear that the Taiwan government intends to improve its relationship with India, and this commenced since 2016, on people-to-people and trade policies.
Everything's right about India
Taiwanese firms are already gravitating towards the Indian market thanks to a enormous market, inexpensive, but skilled, workforce and generous tax breaks offered by the government. Pegatron, a Taiwanese conglomerate and an assembly partner for US giant Apple, which used to offload its orders to mainland China has applied for permits to set up its first plant in India. The firms reported revenues in 2019 was $44.8 billion.
The bonds between India and Taiwan, the world's 22nd ranked economy, are, however, not an overnight development. The seeds for this were possibly sown in 2016 when bilateral ties began to strengthen and have only been gaining pace over the years and this is a major achievement given that it has taken Taiwan a lot of courage to wean away from China despite the proximity, common language and shared culture. Taiwan, in the current global context, is only diffusing its risks and allocations.
Still more to read:
India's China policy signals a shift post-Galwan
More Indian companies expand investment in Vietnam
India has several options to fend off Chinese aggression
Absolute power is making Xi Jinping an arrogant and irresponsible global bully
India's diplomatic, economic and strategic activism is being recognised
Bolstering the foundations
But for the moment India and Taiwan will bolster up their foundations through healthcare, agriculture, technical and education exchanges with each other. An FTA, or an agreement similar to that, will however set the mood for a further boost in commercial exchanges given that in the sphere of the increasing semi-conductors industry in Taiwan, India has become one of the most preferred locations for Taiwan's manufacturers. High-tech in Taiwan can find an able partner in Indian markets. The government of Taiwan is also holding out benefits for local manufacturers who wish to invest in India.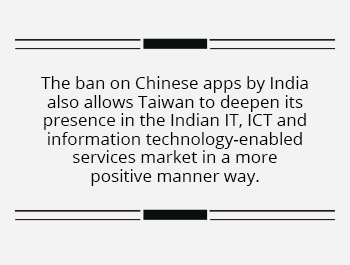 Taiwan has initiated a forward-looking approach towards reasserting its global status in the time of the pandemic. India is looking to strengthen its infrastructure sector and Taiwan has the capital to invest in it. In fact, it can promote its six core strategic industries — particularly information and digital industries, cybersecurity, biotech and medical technology, green energy and renewable energy industries — in India.
The ban on Chinese apps by India also allows Taiwan to deepen its presence in the Indian IT, ICT and information technology-enabled services market in a more positive manner way. As the Indian government pushes towards opening the doors on artificial intelligence Taiwan could gain preference. This would complete the shift in Taiwan decoupling its links with China and opting to do business with India thus justifying the signing of an FTA or similar.