India and Sri Lanka – Of new beginnings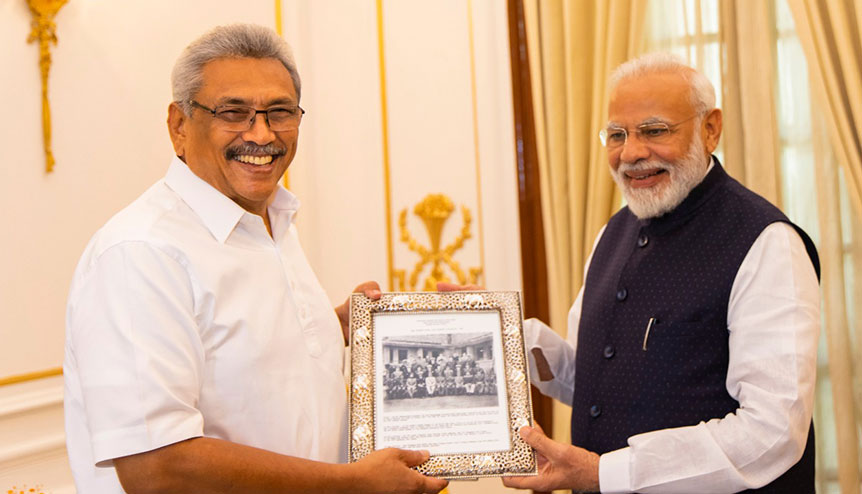 Following the appointment of Sri Lankan President Gotabaya Rajapaksa, India's relationship with the island nation could potentially enter a new chapter, which is underscored by Foreign Minister Dinesh Gunawardena's recent visit and the impending visit of Prime Minister Mahinda Rajapaksa next month.
Highlights:
India and Sri Lanka signed one of their earliest free trade agreements, dating back to 2000, but China's growing influence in the region has added a new angle to their relationship.
But lack of historic political ties and a general absence of trust is fast making Sri Lanka wary of the increasing Chinese influence.
President Rajapaksa's neutral stance has inspired some confidence and India has stepped up its contribution to the growth of the Sri Lankan economy.
Recent ministerial visits on both ends further highlight that both countries are willing to start afresh.
Despite the fact that India and Sri Lanka share a history that is over 2500 years old and obtained their independence from colonial rule within a year of each other, relations between the two countries have often seen a reset whenever there has been a regime change in either of the two nations.
The swearing in of the Gotabaya Rajapaksa government last November underscores that. India is one of the only two countries that share a maritime border with Sri Lanka – the other being the Maldives – and traditionally, ties have been strong. India is Lanka's largest trading partner in the world and the two countries signed one of their earliest free trade agreements that date back to 2000. China's growing influence in the region has in recent times added a new angle to the Indo-Sri Lankan relationship.
It is in this context that the Rajapaksa family, that is traditionally seen as pro-China, regaining power in the island nation assumes significance. Early evidence shows both countries are willing to start afresh. India's Foreign Affairs Minister S. Jaishankar dashed down to Colombo for Rajapaksa's swearing in and got the desired response when the latter chose to visit India as the first country in November last year, after taking charge of the highest office. Sri Lankan foreign minister Dinesh Gunawardena's three-day visit to India in January, which like his President's was also his first overseas trip since assuming office, only furthers that.
While a range of issues was discussed between both sides during the visit, it had the feel of a build-from-scratch approach replete with a mandatory humanitarian move. More than 52 Indian boats and at least 15 fishermen are in Sri Lankan custody but Gunawardena said they would all be released soon. The main focus was on economic cooperation as Sri Lanka seeks to leave its recent history of war behind and concentrate on developing its economy. The reliance of Sri Lanka on China in this aspect has increased significantly in the last few years but it is an uneasy relationship.
In the short span that he has been in office so far, President Rajapaksa has already said more than once that he wished to remain neutral and not get involved in world power rivalries and has added more specifically that his government would not do anything that jeopardises the security of India. More specifically, he has been critical of the previous government's sell-out to China when the strategically important Hambantota Port was handed over to the Chinese on a 99-year-old lease. That had caused much flutter in India but Rajapaksa's stance of a renegotiation of the deal has inspired confidence and soothed nerves.
India has also responded to these overtures in a positive manner. China's main strategy to gain a foothold in the Indian subcontinent region, be it Nepal, Bangladesh, Pakistan, Maldives or Sri Lanka, has been to display its economic might either by offering loan at subsidised rates or better still take up big infrastructure projects. As the misgivings on the Hambantota port project shows, lack of historic political ties and a general absence of trust is fast making the recipient country wary of the increasing Chinese influence. Recognising this discomfiture, India has stepped up its involvement.
During Rajapaksa's visit in November, the Modi government opened its purse strings to extend a new line of credit of $400 million for Sri Lanka to boost infrastructure and development, another line of credit of $100 million for solar projects and also a special line of credit of $50 million to combat terrorism.
The big Housing Project, the flagship scheme of India's assistance programme to Sri Lanka is another example of a bilateral humanitarian relationship that the two nations share. Spanning nearly a decade, over 50,000 houses have been built across the island nation with the help of aid from India.
This may pale in comparison to what China is spending in absolute terms. The $1.4-billion upcoming Colombo Port City, with land acquired from the sea, alone is bigger than any project India has undertaken so far. In addition to that, Chinese investments include Colombo International Finance Centre, Colombo Kandy Highway and oil refineries. Yet, India too wants to contribute to the growth of the Sri Lankan economy and has a list of pending projects of its own like the LNG terminal in Kerawalapitiya near Colombo, a 50-100 MW solar power plant and the development of an oil tank farm in the eastern district Trincomalee and the East Container Terminal at the Colombo Port.
Gunawardena's visit also sought to lay the ground for the impending visit of Sri Lankan Prime Minister Mahinda Rajapaksa early next month. The stress on economic cooperation during the foreign minister's visit, which is likely to be the main theme of the PM's visit, and less on foreign policy per se, which was the focal point of the President's visit last November, also highlights that.
The thrust on the economy this time as the two countries begin to add another layer to a historic relationship at a time of global economic uncertainty shows the emerging pragmatic edge in Indo-Lankan ties.