India and Nepal: Picking up the pieces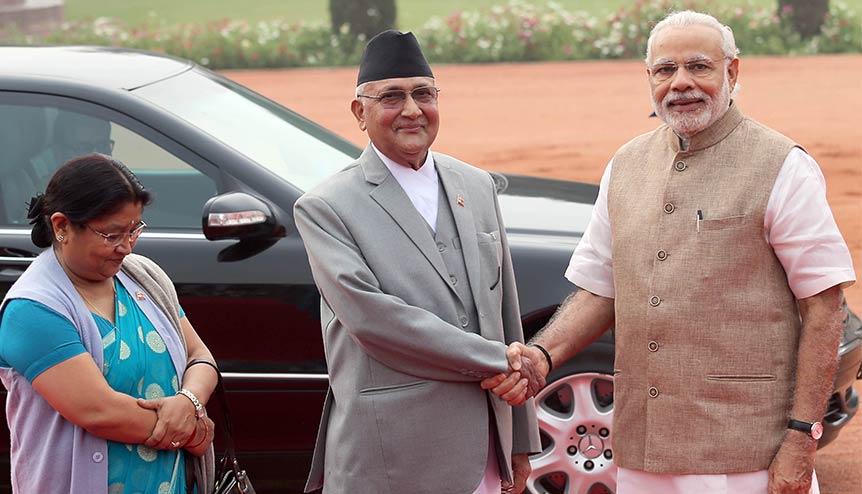 After a tumultuous summer when relations hit an all-time low, India and Nepal have started engaging with each other again. There are only upsides to this.
All it took was an 11-minute call from Nepal's Prime Minister K P Sharma Oli to his Indian counterpart Narendra Modi on August 15. It was purportedly to wish India on its 74th Independence Day but it went on for a few minutes longer and ended up beginning the process of reconciliation between two nations that had increasingly become estranged over the course of the summer. It had the desired effect of clearing the air between the two premiers.
Have you read: Nepal becomes a pawn in China's high-stakes game against India
India-Nepal relations: A fresh start
India could rescue SAARC nations staring at a debt-trap
Just two days later, a meeting of the India-Nepal oversight mechanism was held virtually. Decisions were taken to speed up bilateral projects including infrastructure schemes and border rail links. The two countries are jointly developing projects such as the Arun III hydropower project, Pancheshwar multipurpose project, construction of the Nepal police academy, Ramayana circuit and motorable bridges over the Mahakali River. India is also helping rebuild at least 50,000 houses that had been damaged by the massive earthquake of April 2015.
Congratulations and greetings to Prime Minister Shri @narendramodi ji, the Government and people of India on the happy occasion of the 74th Independence Day. Best wishes for more progress and prosperity of the people of India.

— K P Sharma Oli (@kpsharmaoli) August 15, 2020


Beginning again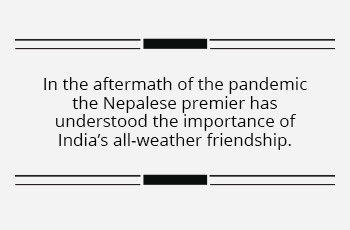 The oversight mechanism had been set up in 2016 to monitor progress of India funded projects in the Himalayan kingdom and the August 17 meeting was the eighth such meeting. More importantly, chaired by the Indian ambassador Vinay Mohan Kwatra and Nepal's foreign secretary Shanker Das Bairagi, it was the first such meeting between senior officials from both sides since the border row in May that had strained the usually rock-solid nature of bilateral ties. A third meeting–this time of the Boundary Working Group, is likely to happen either by the end of August or first half of September further underlining that the parleys between the two countries have well and truly resumed. Though the contentious issue of the border dispute has not been raised yet, restart of talks itself is a big positive development from a diplomatic perspective.
"That is the first step but a very significant one. It means both sides want to mend ties and help each other," says a former diplomat in Delhi. "It is also a sign of maturity they are not rushing into contentious topics. It is best to build confidence first and understand each other's point of view."
The dragon in the room
Relations between the two countries soured in the first week of May when India's defence minister Rajnath Singh inaugurated a road link via Lipulekh to Kailash Mansarovar in Tibet in China. The issue had been festering ever since November last year when India published a map that said Kalapani was part of its territory. Nepal responded to the inauguration of the road with its own map that depicts Kalapani, Lipulekh and Limpiyadhura as its territories. Unanimously endorsed by Nepal's upper house of parliament it took India by surprise. For the first time ever, the two countries that generally have a porous and free-flowing border, were now staring at a territorial dispute. The timing of it when India was already fighting China in Ladakh led to officials wonder whether Nepal was raking up the issue at the behest of China.
"There is reason to believe that they might have raised this issue at the behest of someone else and that is very much a possibility," Indian Army chief of staff M M Naravane had said in May. "I do not see any contradiction in the road to Lipulekh pass that we have constructed which is on the west side of the river. I don't know what they are agitating about. As we go ahead there are little issues as to where the trijunction should be. There has never been any problem on this score in the past."
That a relatively small country would needle a bigger country to get on the good books of a third and even bigger country is stuff that conspiracy theories are made of but the role of China in this cannot be entirely played down. It has tried to gain more foothold in the region and has made similar overtures in other countries in the region like Sri Lanka and Maldives. China fancies an ally in Oli. In his first stint as prime minister in 2015, relations between the two countries had become frosty as a new constitution was promulgated in Nepal. He was seen as an India baiter and had signed trade and transit treaties with China to reduce Nepal's dependence on India. It had irked India even more. From India's point of view, the border dispute at Kalapani has come out of nothing but has only added to the frostiness.
In a virtual meeting of Nepal-India Joint Oversight Mechanism today the two sides reviewed progress of development projects under Indian cooperation. Foreign Secretary Mr. Shanker D. Bairagi and Ambassador of India H.E Mr. Vinay M. Kwatra led their respective delegations. pic.twitter.com/MOOlGwqTW5

— MOFA of Nepal 🇳🇵 (@MofaNepal) August 17, 2020


Building bridges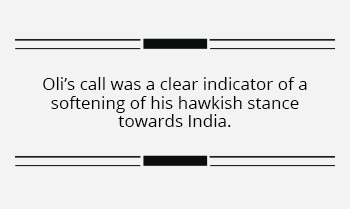 All of that maybe water under the bridge now. Oli's call was a clear indicator of a softening of his hawkish stance towards India. A small but not insignificant portion of Nepalese population have come to harbour anti-India sentiments. It finds representation in Oli. In the aftermath of the pandemic the Nepalese premier has understood the importance of India's all-weather friendship.
Resolving a border dispute will take much more than a telephone call or a few virtual meetings, but they do have the power to effect a change of heart. The need of the hour is to build on it and resurrect the historically strong Indo-Nepal ties.