India and Iran find themselves in the crosshairs of US-China bipolarity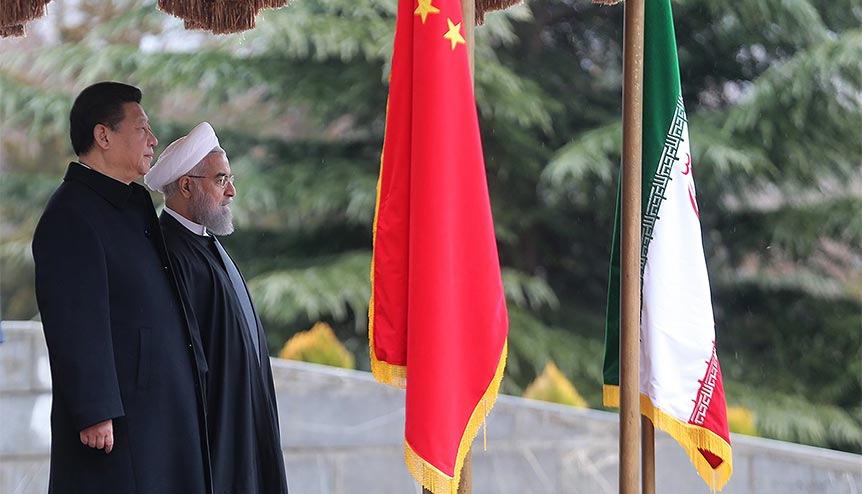 Under fire from the US, Iran is veering towards China while India nudges closer to the US in a potential grand alliance against the dragon. The traditionally strong India-Iran ties may become collateral damage.
In an interview on 20 July, India's Minister for External Affairs, S. Jaishankar said that the days of non-alignment and great caution were over and India was no longer a bystander to whatever is happening around the world. He went on to add, "We need to take risks," he said.
The Minister's comments were a direct reference to the deteriorating relations between India and China due to the prolonged border stand off in the East Ladakh region and the intense backlash from across the world China is receiving due to its handling of the coronavirus pandemic. But it can easily be extended to India's traditionally strong ties with Iran as well.
Related stories: India's outreach to Central Asia still lies through Iran
India is shopping for oil assets abroad
India could reap benefits from investing in strategic oil reserves
India gets caught up in an Iran-West crossfire
As Iran goes dry, India hunts for oil in Kuwait and Qatar
Trump puts India in a fix on Iran
Storm clouds brewing in Central Asia
Recent reports of Iran going ahead with the strategically important railway line between Chabahar port and Zahedan along the Afghanistan border, without the help of India has once again put the ties between the two countries under strain. The project would have given India easier access to the central Asian regions – something that is denied to it from land due to hostilities with Pakistan. It would have also given India a toehold in a region that is bang in the middle of China's ambitious One Belt One Road project. Chabahar is also right next to Pakistan's Gwadar port which is run by China.
The development comes in the backdrop of China and Iran finalising a 25 year $ 400 billion deal. Iran's economy has been under strain ever since the Trump administration in the US imposed sanctions on it in mid 2018. Pivoting towards China is perhaps Iran's only option but it has caught India between a hard place and a rock.
A difficult balancing act for India
It is not the first time India has been put in a tough position. The country has largely managed to balance its ties with the US and Iran without the need for putting one over the other. Trump's falling out with Iran however necessitated India to reduce its dependence on Iran for oil. Before the sanctions kicked in, Iran was one of the world's top five largest oil producing nations with an output of 234 million tonnes in 2017. India, the world's third largest oil consumer imports nearly 84 per cent of its crude requirement and traditionally Iran was India's second largest supplier after Saudi Arabia. In 2016-17, Iran supplied an all time high 27.14 million tonnes to India. In fiscal 2019 as well when the sanctions kicked in, supplies were significant at 23.9 million tonnes as India got a waiver from US. This has, however, substantially come down to just 1.7 million tonnes in 2019-20. Clearly, India did not wish to openly defy US to keep up with its friendship with Iran.
A diplomatic doldrum
This time around though, Iran's growing proximity with China has thrown a curve ball at India. Given that India is in a direct conflict with China and may need some support from the global community especially the US, it cannot be seen to go along with Iran for far too long. Such a stance may have its pitfalls in domestic politics as well.
As part of its Middle East offensive, India does have options with other countries in the region like the UAE, Bahrain, Egypt and Saudi Arabia. India has enhanced trade ties in the region in general in the last few years and multiple high level visits by ministers from both sides have happened. Prime Minister Narendra Modi has made two visits to Saudi Arabia in the last four years while crown prince Mohammad bin Salman also paid a visit to India in February last year when the two nations set up a strategic partnership council. A large number of Indian diaspora also resides in the middle east which benefits India by way of high remittances each year. This interdependence also helps in fostering closer ties.
The net result of this has been the support of these countries to India when article 370 that gave special status to Jammu and Kashmir was abrogated in August last year. China is a factor in these countries too but without the friction with the US, they are not in a desperate position to fall in the lap of Chinese expansionism. Distancing itself from Iran would only endear India to the rest of the Arab world, which at a diplomatic level can then be used to check China's influence in the region.
It would however, also push India firmly into the US corner in its conflict with China. In the larger scheme of things, the Chabahar project is merely a flashpoint that tests India's resolve to remain strategically autonomous. The risk taking that Jaishankar refers to, may have to start with Ali Khamenei.