India and China: It's complicated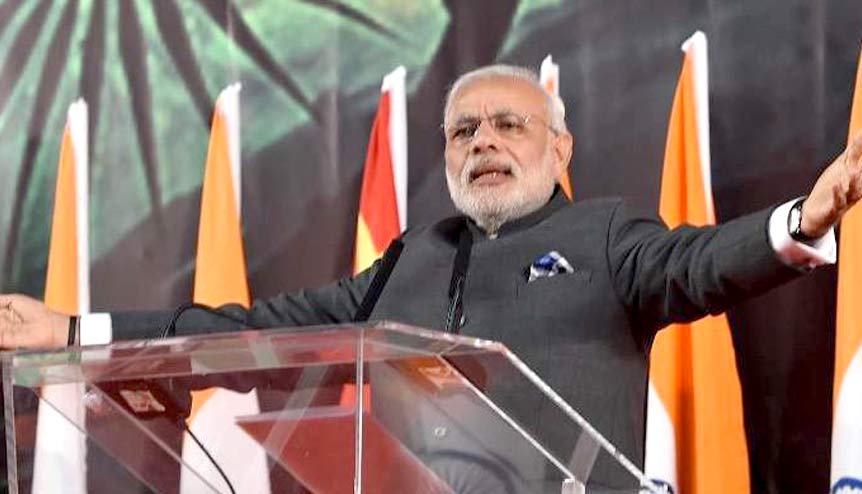 An assertive China presents Prime Minister Modi with his most intractable foreign policy challenge, but there are indications that Beijing may be getting a little edgy.
Mahatma Gandhi had said of his adversaries: "First they ignore you, then they laugh at you, then they fight you, then you win." Much to the chagrin of many in New Delhi's policy circles who saw India as a counterweight to China, Beijing has, at least publicly, refused to treat India as an equal.
China considered itself to be a rival of the US. In its world view, India was a regional player, at best the first among equals in South Asia.
David vs Goliath
In absolute terms, there is some merit in this argument. China's $11.4-trillion economy, the world's second largest, is five times India's, which is world's sixth largest, with a GDP of $2.3 trillion in 2016.
Last year, China's per capita income, at $8,260, was five times the comparable figure of $1,718 for India. It is the world's largest manufacturer of goods, its biggest trading nation and its military budget, at $131 billion is more than three times larger than India's annual defence spending of $40 billion.
Rattled by defence acquisitions
But India's rise and its closer strategic relationship with the US and Japan has clearly rattled China. Quite uncharacteristically, it has listed India's purchase of sophisticated arms platforms from the US as one the talking points for its President Xi Jinping with new US President Donald Trump.
Then, it also declared that India's recent successful test of the Agni V intercontinental ballistic missile, which can hit targets across all of China, was in contravention of UN rules.
Assertive India
This incipient change in China's attitude, after years of studied neglect and occasional barbs, is easy to decipher. Unlike Indian governments of the past, which seemed reluctant to look China in the eye, the Narendra Modi government has shown a readiness to meet China head on.
To counter the Dragon's string of pearls strategy to encircle India, Modi has made common cause with the US, Japan and some East Asian powers to push back on Beijing's unilateral and historically untenable claim over almost all of South China Sea, which China views as its backyard.
Then, the replacement of visibly pro-China governments in Sri Lanka and Nepal with ones that are more amenable to considering India's sensitivities has considerably strengthened New Delhi's hands.
Geo-political thrust and parry
Despite Modi's more pro-active foreign policy stance, China has succeeded, to some extent, in at least temporarily stalling India's march to the global high table. It has successfully thwarted India's bid to gain membership into the Nuclear Suppliers' Group (NSG) on the ground that India is not a member of the Comprehensive Test Ban Treaty (CTBT).
The Chinese argument: making an exception for India and admitting a non-CTBT signatory would undermine the global rule of law.
This is rich, considering that China has openly defied and has refused to accept the verdict of the UNCLOS, which has ruled that its claim over South China Sea on the basis of the nine-dash-line has no basis in international law.
Arming Pakistan
Recently declassified CIA documents reveal that China blatantly violated international laws to provide clandestine help to Pakistan's nuclear programme. It also helped Pakistan develop missile technology in violation of its obligations under international law.
Lots of positives as well
Despite so many areas of divergence and even discord, it would be wrong to characterise India and China as out and out adversaries. The best way to describe the relationship will be a Facebook-style "It's complicated".
India, which is looking to rebuild its creaky infrastructure up to world standards, is hoping for substantial help from China. Chinese companies have committed about $20 billion investments in the roads, rail, power and telecom sectors.
Then, several Chinese companies have shown interest in setting up industrial clusters on the lines of the model followed in their country. And Chinese mobile phone companies dominate the middle and lower ends of the market for such devices in India.
Dumping charges
China enjoys a massive trade surplus of more than $50 billion with India and this skew is unlikely to be corrected anytime soon. Indian businessmen and policy makers regularly complain of dumping of iron and steel products, chemicals and other items by Chinese manufacturers.
China accounts for half of the world's total steel capacity of 1.1 billion tonnes. With demand slowing in their home markets, Chinese companies are dumping steel all over the world, including in the US, Europe and India, thereby hitting the domestic steel industries in these nations.
India, like several other countries, has imposed anti-dumping duties on Chinese steel products, but the problem shows no signs of getting resolved. If anything, the charges and counter charges have only sharpened differences between the two countries and this has become yet another point of friction.
Entry barriers
Then, Indian companies, especially in the services sector where India enjoys a competitive advantage, complain about invisible trade barriers.
Although leading Indian IT services companies such as Infosys and TCS have a presence in China, they have been unable to scale up because of restrictive market conditions.
The Indian government has repeatedly taken up the issue of the skewed trade balance and entry restrictions with the Chinese authorities, but there has been little progress on this matter.
But given the uncertainty over Indian IT exports to the US, which feeds for 60 per cent of India's $150-billion information technology sector and rising protectionism in Europe, which accounts for another 20 per cent, the Indian IT sector has identified China and Japan as the next two frontiers it must conquer.
New model
Nasscom, the apex body of the Indian IT sector, has been charting a roadmap for Indian companies to become big players in the Chinese market. Its studies show that almost every foreign company operating in China is earning huge profits. The only catch: these companies are making and selling in China ie, they are not importing goods from outside for the Chinese market.
This could become a model for Indian IT companies, too. Already, almost 90 per cent of the 25,000 people employed by these companies are locals. So, an expansive communications outreach to remove misconceptions about Indian IT companies being job stealers – and emphasising that Indian IT services being sold in China are, in fact, designed and produced in China by Chinese workers – may be one way of breaking the logjam and spreading wings in that country.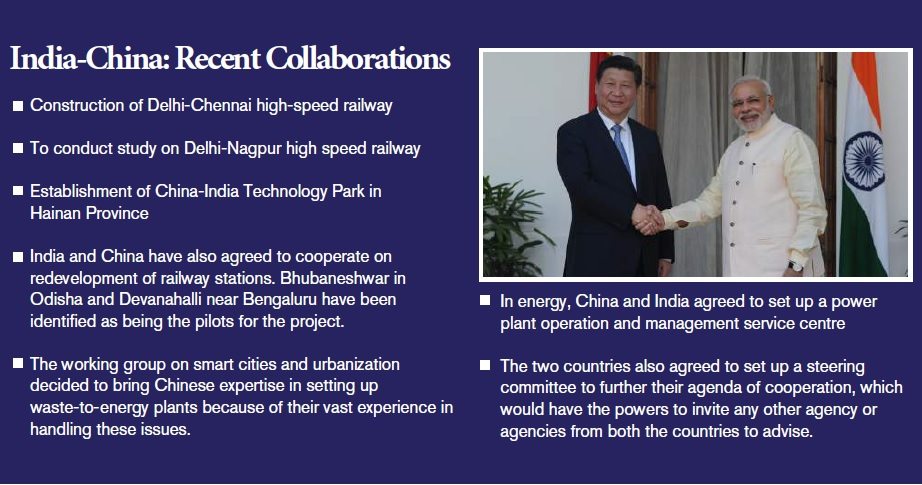 BRICS cooperation
For decades, India, China and many other countries have complained against the domination of the West and Japan in international financial agencies such as the World Bank, International Monetary Fund (IMF) and the Asian Development Bank (ADB).
The grouse: these agencies had deviated from their original charter and their policies and prescriptions were designed to perpetuate western domination of the global economy.
To overcome this, Brazi, Russia, India, China and South Africa, the five BRICS nations have set up their own development bank.
Headquartered in China, the Board of Governors of the New Development Bank comprises the finance ministers of the five countries and former ICICI Bank and Infosys Chairman K.V. Kamath, an Indian, is its first President.
This new multilateral body, with a capital of $100 billion, is mandated to promote infrastructure and sustainable development projects with a significant development impact in member countries.
The setting up of this bank marks what is arguably the most significant international cooperation agreement between India and China.
Significant areas of divergence
Despite these areas of cooperation, there remains very major areas of difference between the two countries.
China, which has embarked on setting up a One Belt One Road (OBOR) project to connect all its trading partners across the world by road, rail and pipelines wants India to join this project.
But China, which is extremely touchy about issues concerning its sovereignty, such as Tibet, Taiwan and more recently the South China Sea, has ignored Indian protests that the China-Pakistan Economic Corridor, part of its project, passes through Pakistan Occupied Kashmir, which is Indian territory in the illegal occupation of Pakistan.
Given this fact, as also the conclusion of strategic analysts that the OBOR project is designed to enhance Chinese hegemony across Asia, India has, quite naturally, declined to be part of this initiative.
Doublespeak on terror
China has also successfully foiled India's efforts to get Pakistan-based terrorist and Pathankot attack mastermind Maulana Masood Azhar declared as a United Nations-designated terrorist despite paying lip service to the global fight against terror.
The rationale behind its actions is obvious: shield its all-weather friend Pakistan from further international censure and keep India off-guard.
The future

As the saying goes, you can choose your friends but not your neighbours. With China, war is obviously not an option and negotiations don't seem to be taking India anywhere. With the border dispute nowhere close to being resolved and many other issues turning prickly, China presents Prime Minister Narendra Modi, who has shown an inclination towards bold foreign policy initiatives, with his most intractable problem.
Till the points of disagreement are resolved sometime in the distant future, the only way to proceed with Beijing is to build on the areas of cooperation and hope that the differences will not boil over.
Meanwhile, he will continue to try and deal himself some bargaining chips that previous Indian governments have frittered away out of a misconceived sense of South-South unity. That, at least, will enable him to negotiate on equal terms with the Dragon.
Till that happens, to quote Facebook once again, it will be complicated.
…………………………………………………………………………………………………………………………………………..