Improved hiring sentiment at IITs, IIMs points to better times ahead for Indian economy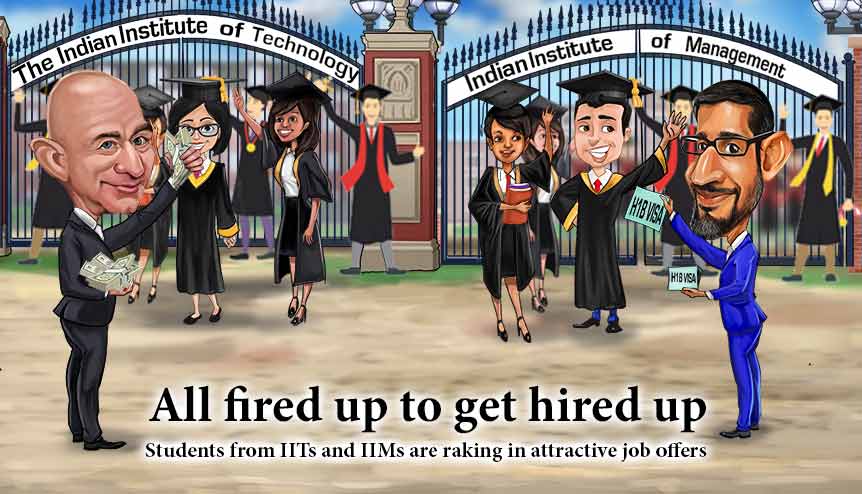 IIT students have received more than 600 job offers this year. Several fresh engineering grads have bagged salaries at par with those offered at the Ivy Leagues. This trend is also evident at the IIMs. These trends show that most companies are optimistic about the future.
In yet another indication that the Indian economy is steadily getting back on track, the placements season at the prestigious Indian Institutes of Technology (IITs) and the Indian Institutes of Management (IIMs) started with a bang this year, despite the Covid-induced constraints on various companies.
Leading companies make more than 600 job offers at IITs
Leading Indian and global recruiters such as Microsoft, Bajaj Auto, Indian Space Research Organization (ISRO), Goldman Sachs and others made over 600 job offers to students at various IITs (Delhi, Mumbai, Roorkee, Chennai, BHU and others) on the first day of the current placements season that began on December 1.
"Given the current situation with travel restrictions in many countries, many companies are primarily recruiting for domestic profiles as of now. These may convert to international offers if the situation changes," IIT Delhi said in a release.
Have you read?
The Indian economy is recovering, but the pandemic must be fought harder
Modi's recent pitch to foreign investors key to India's $5-trillion economy ambitions
Indian economy showing broad based signs of recovery
The data never lies as the economy turns the corner
The resurgence of the Indian economy can give investors the ride of their lives
Huge pay packets for engineers with the right skills
The Covid-19 pandemic and the global economic slowdown had little effect on the demand for some of the brightest fresh engineering graduates in the world. This was reflected in the pay packages on offer – which were at par with those offered at the top Ivy League and other leading US and European institutes.
Foreign companies lead the way with six-figure dollar salaries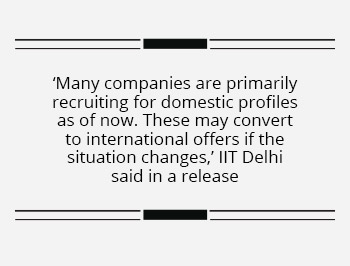 Cohesity, a privately held US information technology start-up headquartered in San Jose, California, offered the highest package of $200,000 to an IIT-Roorkee graduate for a role at one of its US facilities.
Dutch proprietary trading firm Optiver, which is a proprietary trading firm and market maker for various exchange-listed financial instruments, offered the second-highest package of $188,000 to an IIT-Mumbai engineer for an international role.
Other big-name recruiters that offered massive packages for roles in India and abroad included Qualcomm, Quantbox, Graviton Research Capital, MTX Group, Microsoft, Texas Instruments, Bajaj Auto and ISRO.
The MTX Group has plans to hire 45-50 engineers this year. Its website describes it as "a global implementation partner enabling organizations to become fit enterprises. MTX provides expertise across a range of platforms and technologies, including Google Cloud, Salesforce, artificial intelligence/machine learning, data integration, analytics, and mobile technology".
Goldman Sachs, Oracle, JPMorgan Chase & Co, SAP Amazon, Flipkart, Uber and Sprinkr also recruited several fresh engineers for their domestic and global operations.
New ways of recruiting
"We are confident that given the new ways of recruiting and our scheduling paradigm; companies will be able to make good hiring decisions," Anishya Obhrai Madan, Head, Office of Career Services (OCS), IIT Delhi told the media.
IIM placement season also shows same trend
At IIM-Calcutta, the institute placed 100 per cent of its students for their summer internships in virtual mode. This year, 139 recruiters participated in the placements platform, of which 43 were first timers. They recruited all the 473 students who had put themselves up for placements.
Consulting giant Accenture and IT major Microsoft were among a host of recruiters from a host of sectors that included banking, financial services & insurance, management consulting, private equity, investments, venture capital, FMCG, conglomerates, consumer services, e-commerce, software services and consumer durables. The positions offered were at these companies' Indian and foreign offices.
"The results reinforce the recruiters' faith in the academic capabilities, diverse student community and IIM Calcutta's commitment to pursuing excellence in all fields of engagement," IIM Calcutta Director Anju Seth said, reported Business Standard.
Study shows pandemic impact on jobs not as bad as feared.
We're happy to announce that IIMC has continued its legacy of 100% summer internship placements for its class of 2022 despite the pandemic & subdued economy
This is the first time that the institute had to carry out virtual placements on such a large scale https://t.co/1FUR3OaDfP

— IIM Calcutta (@IIM_Calcutta) December 1, 2020
The bullishness of these recruited corroborates that findings of a joint study by leading industry body, the Confederation of Indian Industry (CII) and Talentonic HR Solutions joint research report on 'Reimagining the Organization for the New Normal: Role of HR', which found that despite several doomsday predictions and alarming anecdotal media reports, actual job losses and salary cuts across Indian industry was not as severe or widespread as many people thought.
"Despite the severe impact on revenue and cash, very surprisingly, the display of compassion and community outreach have produced a spontaneous level of commitment and loyalty from employees and job cuts and salary adjustments have not been as widespread an occurrence as originally apprehended," the report said.
Also read:
PLI scheme can make India laptop, tablet hub
India's $23 billion manufacturing package packs a punch
India to spend $27 billion over 5 years to boost manufacturing
Small town India makes the big play for economic recovery
Recovery in car sales an optimistic pointer for Indian auto industry
Auto India driving towards global dominance
Pay cuts, job redundancies were not top priorities for top managements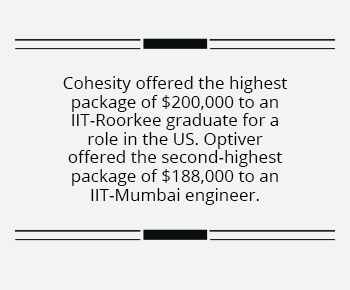 Contrary to accepted wisdom, sackings and pay cuts were not the top priorities of top managements while dealing with the pandemic-induced economic slowdown. The joint research says cutting manpower ranked #7 on their list of priorities, while slashing or postponing salaries and benefits was at #9.
The survey was conducted between the end of the August and the middle of November with a sample size of 250 companies across various sectors.
Meanwhile, the Modi government's recently launched production-linked incentive (PLI) scheme for smartphone companies, which has received a tremendous response from the likes of Apple (through its contract manufacturers Foxconn, Pegatron and Wistron), Samsung and a few others is expected to generate incremental direct employment for 50,000 workers by March next year. Of this, the Indian companies participating in the scheme will employ around 20,000 people.
50,000 new jobs in smartphone manufacturing
"From now till March next year, the handset industry will hire 50,000 direct employees. After the lockdown was removed, many have returned to the cities and the PLI scheme is finally taking shape," Pankaj Mohindroo, President of India Cellular and Electronics Association (ICEA), told leading Indian financial daily The Economic Times.
ICEA members include industry behemoths such as Apple, Foxconn, Wistron, Nokia, Motorola, Vivo, Xiaomi, Realme, Micromax and Lava, among others.
The industry employs 700,000 people in India, but had, last year, added a mere 15,000 additional workers to its payrolls. "That was because the PLI scheme was still in draft state and it was a quiet year," Mahindroo was quoted as saying.
RBI data shows improvements across wide swathes of Indian economy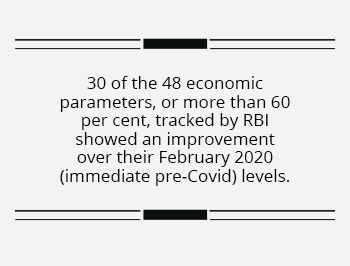 The improvement in employer sentiment and the uptick in recruitments is also borne out by the fact that 30 of the 48 economic parameters, or more than 60 per cent, tracked by the Reserve Bank of India showed an improvement over their February 2020 (immediate pre-Covid) levels, indicating that not only is the economy recovering from the pandemic-induced slowdown but also doing better than it was before the coronavirus crisis hit the country.
The improvement is evident in sectors and areas such as passenger vehicles, two-wheelers, insurance premiums. Port cargo, steel production, oil consumption, cement production, imports and international air cargo, among others.
Most of these are big employers and also have huge forward and backward linkages with hundreds of other feeder and user industries. So, any improvement in these sectors will have a direct impact on the employment capacity of the economy and growth.
The caveat: Second wave of Covid could still ruin the party
This is among the reasons why the RBI said in its monthly economic assessment last week that the recovery in the Indian economy is better and faster than expected with the caveat that there still exists the risk of a possible downside should there be a second wave of Covid-19 outbreak.
"… However, there is a growing optimism that the steep plunges of April-June quarter of 2020 may not resurface, with significant progress in vaccines and contact-intensive sectors increasingly adapting to a virtual normal," it said.
That being the case, the improved hiring sentiment at large companies and start-ups may well be the harbinger of better times ahead.