Howdy Modi: Trump rolls out the red carpet, but follow-throughs will be crucial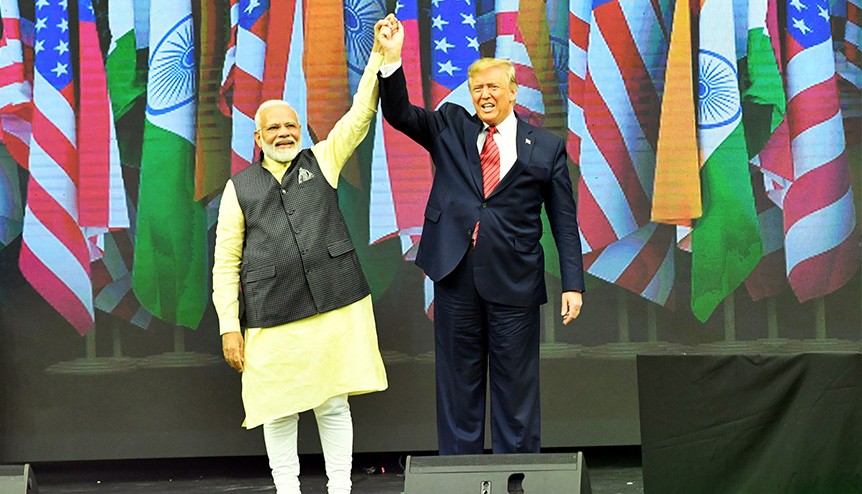 The Indian Prime Minister's September 2019 US visit, which concludes with an address to the UN General Assembly, is historic in many ways but there is a lot of real groundwork required to build on it and create a win-win India-US trade and investment partnership.
The optics could not be any better – a first-of-its-kind and largest mass rally for a foreign leader in the southern American state of Texas, with President Donald Trump seen hand-in-hand with the visiting Indian Prime Minister, Narendra Modi. Howdy Modi can be declared a success on many counts, not least for Trump by virtue of the 50,000 largely Indian American crowds turning out ahead of the US presidential race next year.
And, the election backdrop was hard to miss as Trump addressed the crowd with: "You enrich our culture, you uphold our values, you uplift our communities and you are truly proud to be American — and we are proud to have you as Americans."
Modi, on the other hand, described the US President as a "true friend" in a deft diplomatic move to calm brewing trade tensions after the US imposed tariffs on Indian steel and aluminium.
"His name is familiar to every person on the planet. He was a household name and very popular even before he went on to occupy the highest office in this great country. From CEO to Commander-in-Chief, from boardrooms to the Oval Office, from studios to global stage, he has left a lasting impact everywhere," noted the Indian Prime Minister in praise of his host.
Personal chemistry
The dynamics between two of the world's most well-known political leaders were unmistakably on the right footing. There was no hint of some of an unpredictable Trump's previous barbs on India being unwilling to fully open up its markets to the US, as he declared: "India has never invested in the United States like it is doing today… we're doing the same thing in India."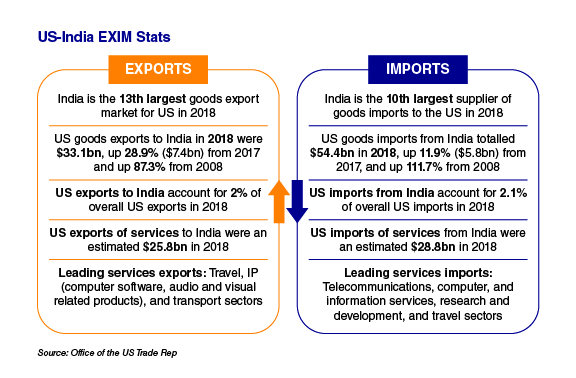 Modi, on his part, reiterated Trump's own political slogan of "make America great again" and said the event reflected the "heartbeat" of the great India-US partnership and a celebration of the world's two largest democracies.
The 2010 US census shows that Texas is home to the fourth-largest Indian-American population in the country after California, New York and New Jersey. Analysis of voting patterns shows the community tends overwhelmingly to support the Democrat party and Trump would be understandably hopeful that his "true friend" tour with Modi would go some way in changing those figures in his favour for the future.
The bear hug and hand-holding were all in place for an event billed as a win-win for both leaders, as they were expected to inch towards what had been categorised as a "mini" trade deal.
Trade pact
But the road to any India-US trade deal has never been smooth, most recently due to the tit-for-tat tariff war triggered by the Trump administration. Back in June, the US ended duty-free access for about $5.7 billion worth of Indian exports under its Generalised System of Preferences (GSP) programme, designed to help developing countries that dates from the 1970s. India responded with higher retaliatory tariffs on 28 US products, including almonds, apples and walnuts.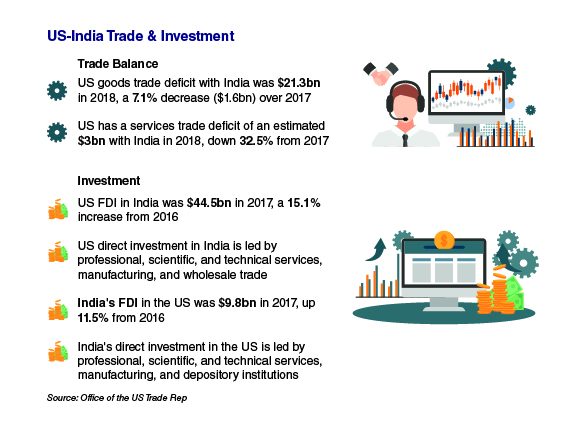 However, a new kind of agreement has been under discussion which would lower some tariffs on US produce and restore preferential treatment for some Indian exports to the US.
"We've been talking to the Americans, we have engaged them for many months now. My expectation is that some of the sharper edges, they would be addressed in some forms in the not too distant future," Indian external affairs minister, S. Jaishankar, told reporters recently.
Trump has made no secret of his resentment of India's high tariff rates, including a 50 per cent tariff on Harley-Davidson motorcycles. He is also unhappy with India's new investment rules on e-commerce that limit how companies like Amazon and Walmart-backed Flipkart can do business in a rapidly growing online market set to touch $200 billion by 2027.
Bilateral US trade with India, at $142 billion last year, is just a fraction of the $737 billion in US-China trade, which has often been flagged as a huge area of potential as ties between the US and China get more and more strained.
Diplomatic triumph
But whichever way things go on the mini or not-so-mini trade deal, Modi's visit to the US will be hailed a diplomatic triumph on just the sheer numbers he attracted to the Howdy Modi event at the start of a week-long tour ending with his address to the United Nations General Assembly.
His address to the UN Climate Action Summit once again established his credentials as a world leader keen to tackle some of the toughest crises faced by the global population, setting India on a leadership footing on complex issues such as climate change. The symbolism of his gift of the $1-million Gandhi Solar Park to the UN will not be lost, with the 193 solar panels of the 50kwh roof-top solar park each representing a member of the multilateral body.
At the end of the high-profile visit, all eyes will once again revert to the bigger picture to see how the US and India build on the undoubtedly successful tour to convert into deliverables for a true partnership on the ground across all sectors.