How the pandemic is fuelling India's edtech platforms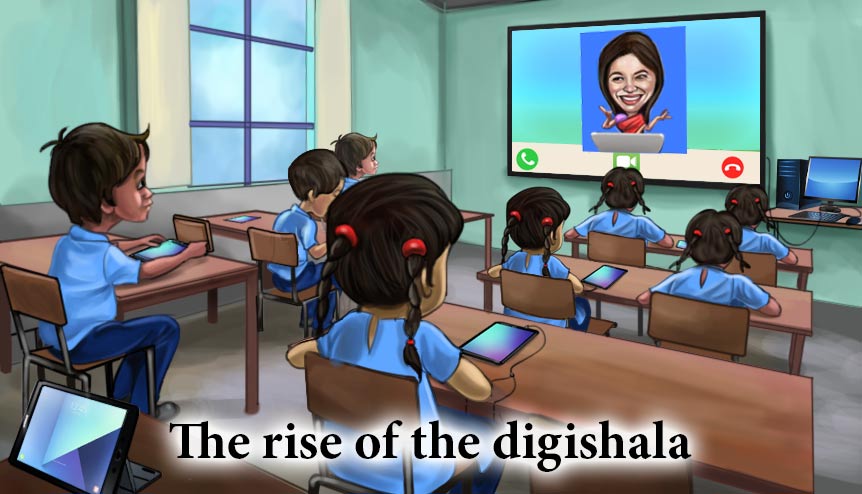 India's online education segment is on fire after the coronavirus outbreak and lockdowns shuttered schools and forced a large chunk of 250 million school-going children to switch to e-learning instead. From unicorns to start-ups, the sector is ripe for an investment boom.
It's an industry that will be worth nearly $2 billion by next year, with some segments of it growing at an average CAGR of 64 per cent and supported by close to 10 million users. That's the power of the booming edtech sector in India – dwarfing the growth of many established industries and strategic sectors, swiftly producing unicorns such as Byjus and Skillmatics and boasting a 10X growth trajectory for newer start-ups.
As is a commonplace now, Covid-19 has significantly disrupted education delivery in India, pushing teaching and learning on to e-learning platforms. While initially parents, students and the academic fraternity struggled to adapt to online teaching, this has proven to be the way forward for continuing children's learning through the health crisis.
Leveraging opportunities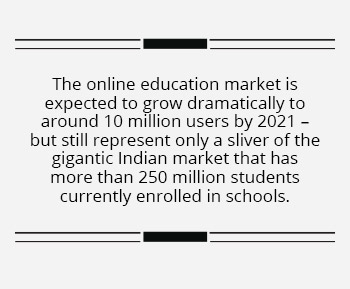 Amid the chaos of coronavirus, the sector that has started leveraging opportunities in a big way is education technology. While the demand for education apps and tech tools has been strong in the past few years due to rapid internet penetration, the pandemic has given a new lease on life to the sector, allowing businesses to tap into the multi-billion dollar sector.
According to a Google-KPMG survey, the online education market is expected to grow dramatically to around 10 million users by 2021 – but still represent only a sliver of the gigantic Indian market that has more than 250 million students currently enrolled in schools.
With such jaw-dropping numbers, the Covid-19 outbreak has been just the booster shot that the doctor ordered for the sector: about 200 million school-going children have been affected by pandemic-induced school closures in India, leading to a massive rush for not just mainstream online classrooms but also the whole gamut of the knowledge industry that comes with it. The increasingly significant investments in the sector in India is ample testimony to the kind of serious attention edutech is getting from venture capital firms the world over.
Lessons beyond chalk-and-talk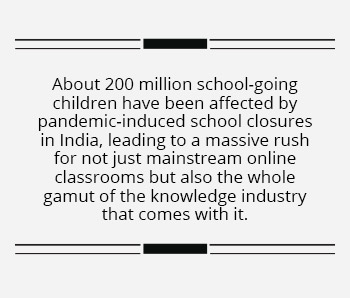 When the new National Education Policy (NEP) looked at addressing the challenges and extending the scope of right to education (RTE) to students aged 3-18 years, one of its recommendations was to harness edtech through app-based learning, online student communities, and lesson delivery beyond 'chalk and talk'. A recent Redseer report found that though edtech has the potential to bridge gaps in access to quality education and democratise education in India, this is still a large untapped market in India with a promising outlook for the future, backed by digitization, user growth, and increased funding.
"Most edtech companies will grow faster than before because there is a large market opportunity across all segments and age groups," Byju Raveendran, the founder of Byju's, told LiveMint in a recent interview.
Room for rapid growth
"There is also an opportunity to help teachers teach better. I believe that these are very early days of bringing technology to educators in India to improve teaching methods. Online penetration of the test preparation market is also accelerating, and offline edtech players may also move online this year. There are not many large edtech companies in India yet and, since the acceptance of online learning is better than before in the country, there is still room for growth in certain edtech segments," he said.
Raveendran knows better. Byju's, valued at $10.5 billion after a $300 million fundraiser from US-based venture capital firm Bond in June, has significantly expanded its suite of offerings over the years. Earlier this year, the company launched BYJU'S Classes to offer personalised after-school tuition classes for students in middle school.
At a time when students across India continue to learn from home and many parents are skeptical of an eventual return to a physical classroom, Byju's has doubled down on its business, raising large chunks of capital and buying code training platform WhiteHat Jr for $300 million – the largest acquisition in India's edtech space. With this acquisition, Byju's is all set to expand into yet another relatively untapped but lucrative segment in the sector – coding.
But Byju's is just one of the popular faces of the tremendous potential of the sector. According to estimates by DataLabs, there are a total of 4,450 edtech startups operating in India at present, spread across various segments such as test preparation, e-tutoring, online certification, skill development, online discovery, and STEAM kit and enterprise solutions.
Dominated by start-ups
Thanks to the onslaught of Covid-19, test preparation and online certification start-ups continue to hold a majority market share. According to the 'Future Of India's $2 Billion Edtech Opportunity Report', capital inflows into the test preparation and online certification segments are comparatively higher, and K-12 and test preparation segments combined will contribute about 66% of the total online education market size in 2021, the report noted.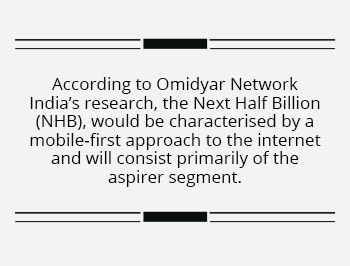 That's a potential that Skillmatics founder Dhvanil Sheth spotted fairly recently – around 2017.
"In one of our fundraising sessions, Shailendra Singh [Sequoia Capital MD], told us that several startups think they have to choose between scale and profits, but it doesn't have to be 'either-or' but an 'and' situation. This has stuck with me and my vision of building a truly global brand from India," Sheth said.
The Next Half Billion
That vision has taken his company, within a span of three years, to become bottom-line profitable. With over 10X year-on-year growth as a consolidated business and over 18X year-on-year growth in the US, its core market, Sheth's Skillmatics is now ready to answer the recent clarion call of "Atmanirbhar Bharat" with manufacturing based in India and a chief focus on exports.
As the demand for digital learning surges, India's demographic dividend and economic growth is also fast emerging as compelling reasons for investing in the booming edtech sector.
India's sustained economic growth has propelled 540 million people (and counting) to middle- or high-income status. According to Omidyar Network India's research, this demographic, the Next Half Billion (NHB), would be characterised by a mobile-first approach to the internet and will consist primarily of the aspirer segment. The NHB is expected to be a 100-million-strong edtech user base by 2022. However, these edtech companies need to cater to the market with right pricing and relevant content and platform, and address common student pain-points.
As India move towards a post-Covid world, it's now a cliché to say that online learning is here to stay. Educational delivery will no longer be either fully online or offline but a hybrid blend of both worlds. And as educators and entrepreneurs experiment with various tools to make learning more flexible and engaging, the edtech industry is set for a further pandemic-fuelled growth ahead.