How sport helps India win friends and influence nations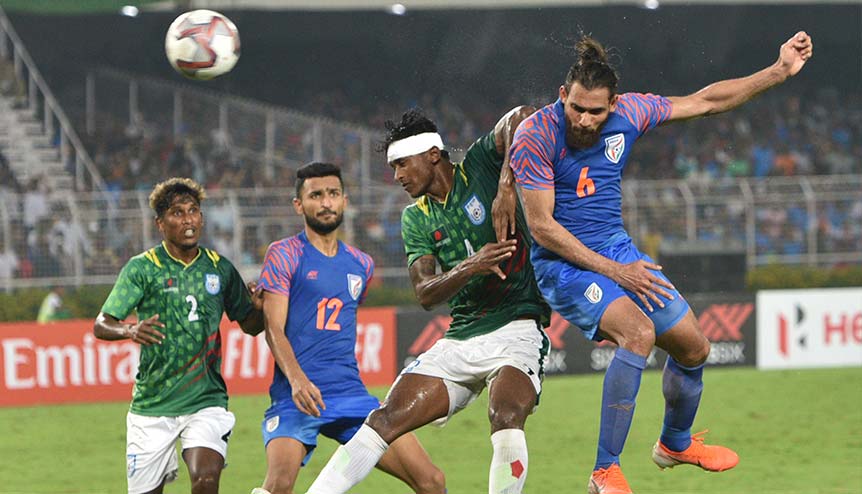 Apart from projecting India's soft power, a shared common interest in sport has immensely helped New Delhi advance its bilateral relations and strategic objectives with a host of countries around the world.
Sport matters because it can provide opportunities for interventions, sport matters because it can help influence winning friends, and sport matters because it can be more vigorously engaging than other forms of aloof diplomacy.
That was how Victor Cha, the former Director of Asian Affairs for the White House under President George W. Bush, made his case for the power of sport diplomacy and how it provides the edge to any country with an abundance of sporting talent.
Have you read? How India has become a nucleus for global sports business
India's links with the Arab world strengthens with the IPL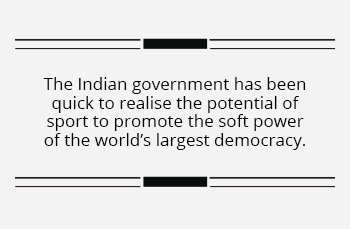 In India, the government has been quick to realise the potential of sport to promote the soft power of the world's largest democracy. Whether it's the episodic diplomacy with Pakistan, or the evergreen help for countries such as Afghanistan, Maldives and Nepal, a shared common interest in sport disciplines such as cricket has immensely helped New Delhi advance its bilateral relations and strategic objectives – often despite other areas of disagreement or in the case of Pakistan a lack of long-term trust.
The ensuing Indian Premier League (IPL), that is scheduled to be played at the United Arab Emirates next month, is a classic case in point. While the coronavirus pandemic made it impossible for India to play host to the world's most lucrative cricket league, it was India's close relations with the UAE, nurtured and strengthened over the past six years, that has made it possible for both countries to handle the critical health logistics needed to host such a tournament amid the pandemic.
Cricket connections
India's outreach with cricket has also helped it connect with neighbours such as Afghanistan, Nepal and Maldives. India has provided a wide variety of support to these nations for bolstering their cricket infrastructure – whether it's training players, umpires and associated staff, enabling the respective country's membership into key cricket governing bodies or building new infrastructure such as cricket stadiums.
Maldives stands out as a perfect case study.
In February 2019, India sent modern cricket legends Yuvraj Singh and Harbhajan Singh to represent Air India to play at the India-Maldives Cricket Friendship Series 2019 – a game overseen by Maldives President Ibrahim Solih. Later that year, the Speaker of Maldives Parliament Mohammad Nasheed, said during a visit to India that it was Indian cricket great and former team manager Ajit Wadekar who had taught him cricket.
Following up on the momentum, Solih flew to Bengaluru to catch an IPL match between Chennai Super Kings and the Royal Challengers Bangalore, while Indian Prime Minister Narendra Modi gifted him a cricket bat signed by the Indian cricket team after concluding bilateral talks while on a visit to Maldives in June 2019. During the same trip, Modi signed an agreement to help Maldives build its own cricket stadium in Hulhumale with the help of a line of credit, on the basis of a study undertaken by the Board of Cricket Control (BCCI) in India. The proposed venue was described by the Cricket Control Board of Maldives (CCBM) as a "state-of-the-art training and international stadium in Hulhumale, including swimming pool, accommodation, gym and hospitality venues."
It's not just Maldives that has benefitted from the power of India's rich history of sport. The first cricket test match for war-ravaged Afghanistan was hosted by the BCCI in India – catapulting the former as a full-fledged Test playing nation. India has also helped Nepal hone its cricket skills and help boost the infrastructure needed for the game. According to Paramjit Sahai in his book, "Indian Cultural Diplomacy Celebrating Pluralism in a Globalized World," Australian Prime Minister John Howard viewed his country's critical connectivity with India through the prism of 3Cs: cricket, culture and curry. 
"Sports has always been a form of soft power in terms of promoting a national brand or identity, and which itself has been used by nations to promote their products and cultures," says Daya Thussu, Professor of International Communication at the University of Westminster in London.
True to these words, while cricket has been at the forefront of India's sport diplomacy, there have been multiple other disciplines through which India has gained the crucial trust of countries. At the Asian Games last year, the team that won the kabaddi gold was surprisingly Iran – and coached by, unsurprisingly, an Indian.
More than just a game
In delving deep in its pursuit of sport as a critical tool of soft power, India is following the successful footsteps of several other governments which have made their countries more attractive through their policies, their diplomacy, and the deployment of critical resources – including development assistance through sport.
The Norway Cup, for example, has taken place every year since 1972 and is one of the world's largest football tournaments for children aged between 12-19. With more than 30,000 participants from 52 countries, the aim of the tournament is to create bonds between children and nations – and win friends for Norway through sport. Similarly, China's strategic support for Africa was demonstrated in the build up to the 2010 FIFA World Cup in South Africa – where it stepped in to provide additional resources, knowledge and capability around sport infrastructure projects.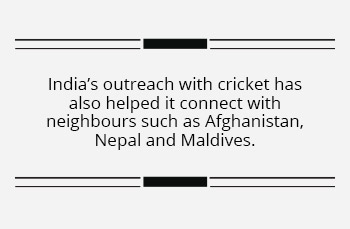 "More than just a game, sport in cultural relations is not as an agent on the sidelines but an active resource. Sport is a resource of hope – it opens doors for people, places and communities, sport makes the art of the possible – possible, sport is a part of the art of persuasion in modern world. We should use it to both persuade and also win friends," said Professor Grant Jarvie of the University of Edinburgh.
India, sure enough, is busily engaged in the great game of sport diplomacy, and the result is a win-win for every stakeholder involved.