How Covid-19 fast-tracked pharma innovation in India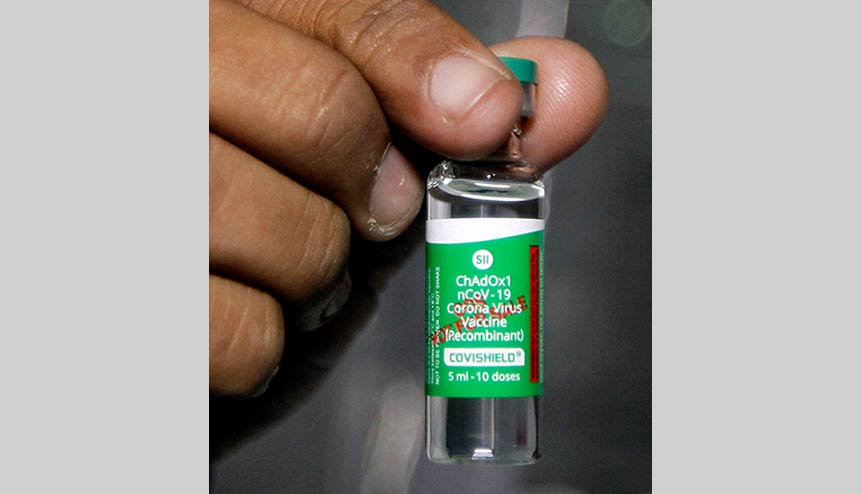 Rollout of indigenous vaccines is a testament to how the Indian government, scientists and private investors have harnessed science to bring the pandemic to an end.
One in three pills consumed in the US is made in India.
Indian factories churn out more than half of the world's total vaccine supply and produce more generic drugs than anywhere else.
And today India is on the cusp of the world's largest vaccination programme – gaining the epithet of the world's vaccine capital.
The country can thus look back with swelling pride at its status as a global drug manufacturing powerhouse and the world's pharmacy. But the rollout of the indigenous Covid-19 vaccines in India marks more than a moment of manufacturing efficiency – it's a testament to how the government, scientists and private investors have harnessed science to bring the pandemic to an end – not only in the world's largest democracy but also around the world.
Boosting research
While Indian companies such as Serum Institute and Bharat Biotech have been at the forefront of research on Covid vaccines, those efforts got a massive boost last year with the government providing $123 million for research and development for Covid-19 vaccines to the biotechnology department.
"This does not include the cost of vaccine or logistics for vaccine distribution but whatever is required for that will be provided. Aside from what we have given in the stimulus, the government is also working on vaccine-related activities," Indian Finance Minister Nirmala Sitharaman had said in November while announcing a new stimulus package as part of Atmanirbhar Bharat 3.0.
Indeed, as the pandemic pushed India to the precarious brink of a healthcare emergency, it also unleashed a range of robust activities in top pharma labs around the country to expedite pharma research and development (R&D) and develop an indigenous response to the virus that started in Wuhan.
Success with indigenous vaccines
Today, the country is blessed with the success in not one but two such indigenous vaccines, an achievement that Indian Prime Minister Narendra Modi has touted as a source of national pride. It has also further boosted the confidence of the government as well as investors towards indigenous research and development.
"A pandemic is a natural disaster. For any disaster management, the policy should focus not just on disease (disaster) prevention, but simultaneously on access to and availability of preventive measures. The management strategy for access and availability should be part of R&D for developing a vaccine—to be done simultaneously and not sequentially," said Dr Jyotsna R Bapat, an environmental social scientist.
It is precisely this strategy that India has been in pursuit of during the pandemic.
Rising ranks in Global Innovation Index
According to the Global Innovation Index, India moved up four places to 48 in the overall ranking across sectors in 2020. The government is also expected to unveil a new Pharma Research and Development policy soon to incentivize scientists based on the monetization of their innovations.
"India is working on infrastructure to accelerate R&D in India. Hopefully, the new policy will provide incentives that will accelerate R&D. It could act as a key milestone to turnaround the overall R&D environment within the Indian pharma industry," said Prashant Khadayate, pharma analyst at GlobalData.
In 2019, India's Department of Pharmaceuticals (DoP) outlined a drug discovery scheme. However, the production-linked incentive (PLI) scheme for the active pharmaceutical ingredients was prioritized over the drug discovery scheme during the Covid-19 pandemic. The DoP set up an inter-departmental committee to coordinate R&D activities undertaken by various top institutions such as the Indian Institutes of Technology (IITs), the National Institutes of Pharmaceutical Education and Research (NIPERs), and the Biotechnology Industry Research Assistance Council (BIRAC).
A model of global cooperation
As demonstrated with the advent of the two Covid vaccines, the pharmaceutical sector in India today has become the pillar of the country's war against the virus – galvanizing global cooperation in ending the pandemic. The scale and collaboration of India's vaccine rollout led even Global Times, the Communist Party's mouthpiece in China, to grudgingly concede that "India has the world's largest vaccine manufacturer and lower costs in labour and facilities" and that India's plans to export the vaccine "could be good news for the global market given India's competitive vaccine research and production capacity".
With an intense focus on R&D, the pharmaceutical sector is today responsible for 2.5 million jobs in India. It's a significant contributor to GDP and the third-largest contributor to reducing India's trade deficit, said Sathya Prathipati, senior partner and leader of the pharma practice in India for McKinsey.
The price factor
"A [coronavirus] vaccine developed in India would be far cheaper than a vaccine developed anywhere else," said Chandrakant Lahariya, a vaccinologist and public health expert who has published research on the history of vaccines in India.
With the vaccine shots of SII being pegged at around $3 per shot, it's yet another proof that the cost of producing drugs and vaccines in India is astoundingly low because of cheaper labor and the nation's large-scale manufacturing facilities. A rotavirus vaccine by Indian pharma giant Bharat Biotech, for example, cost one-fifteenth as much as rotavirus vaccines developed outside of India.
I am delighted to hear that, Covishield, a low-cost, logistically manageable & soon to be widely available, #COVID19 vaccine, will offer protection up to 90% in one type of dosage regime and 62% in the other dosage regime. Further details on this, will be provided this evening. https://t.co/KCr3GmROiW

— Adar Poonawalla (@adarpoonawalla) November 23, 2020
Government an enabler of vaccine R&D
The government has also been a key enabler in this regard.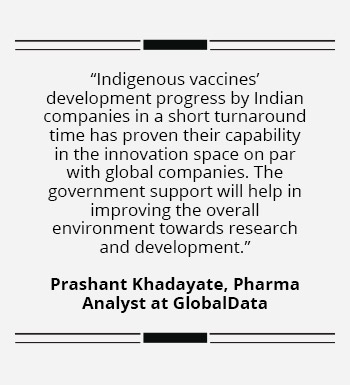 In July 2020, a first-of-its-kind Drug Discovery Hackathon project was initiated to develop an anti-Covid drug. The hackathon was a national initiative to support the drug discovery process and invited the participation of professionals, faculty, researchers, and students from varied fields like computer science, chemistry, pharmacy, medical sciences, basic sciences and biotechnology.
"Indigenous vaccines' development progress by Indian companies in a short turnaround time has proven their capability in the innovation space on par with global companies. The government support will help in improving the overall environment towards research and development," said Khadayate.
With the government facilitating industry-academia linkage to translate research into the development and the commercialization of technologies while promoting research towards new drug discovery and maintain vaccine costs at the most affordable level, India has once again come to the rescue of the international community in pulling its resources together to save precious lives.