High time a reformed UNSC admitted India as a permanent member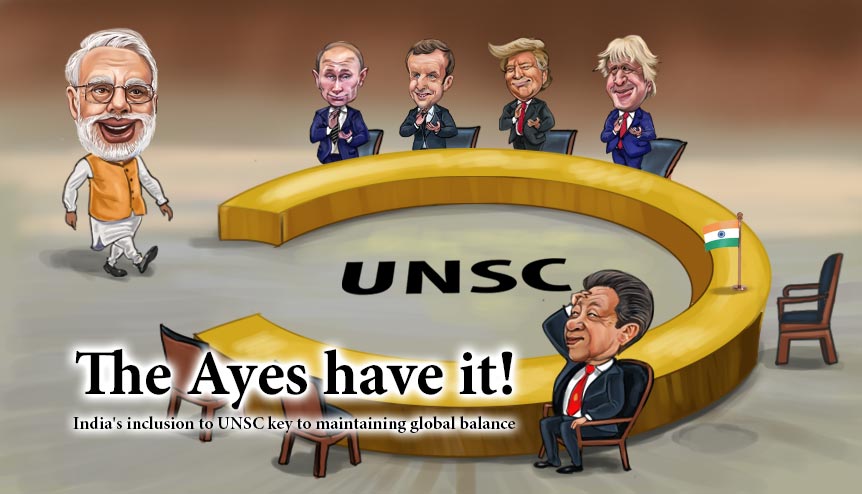 India has been a model global citizen, a founding member of the United Nations, is the world's fifth largest economy, is home to one-sixth of humanity and contributes more troops to UN peacekeeping missions than all the P5 countries combined. These are just some of the reasons why it deserves a seat at the global high table.
India recently joined the United Nations Security Council (UNSC) as a non-permanent member for the seventh time. This time, it will get a seat at the world's highest table from 2021-2022. But such a position does little justice to a country that is one of the founding members of the UN, home to one-sixth of humanity, is the world's largest liberal democracy and has the world's fifth-largest economy.
Have you read?
Why India is ready for a permanent role at the UN Security Council
Vasudhaiva Kutumbakam, for India, the world has always been one
Advantage India as the world embraces the new normal
Terrorism, multilateralism and reforms will dominate India's UNSC agenda
Changing world order sets the backdrop for India's stint at the UNSC
Modi's high-power diplomacy blocks China's attempt to blame India for Karachi terror attack
Indian membership to give UNSC greater legitimacy
The International Herald Tribune has written: "Clearly, a seat for India would make the body more representative and democratic. With India as a member, the Council would be a more legitimate and, thus, a more effective body."
Despite the very public support extended by four of the five permanent members of the UNSC – the US, Russia, the UK and France – and repeated endorsements by an overwhelming majority of UN member states, India's quest for a permanent seat seems no closer to fruition. A full 70 years later, that door has still not opened for India.
Read more:
International organisations not fit to handle 21st century crisis says Syed Akbaruddin
India replaces strategic ambiguity with strategic capability
World reiterates faith in liberal, democratic India once again
Pakistan exposed to the international community by damning UN report
A reformed United Nations – How India and the UK must collaborate
India's emerging economic clout cannot be denied and the fact that it follows an independent foreign policy which illustrates its views and actions on any issue on a multinational forum. Rather it has been China which has been losing face and support from the key UNSC members in the face of India's policy stance on issues. This has been shown by either not opposing India in decisions pertaining to its internal affairs or positively supporting it.
France strongly supports India and the G4 (India, Brazil, Germany and Japan) in their bid for a permanent seat in a reformed UNSC (United Nations Security Council): Emmanuel Lenain, Ambassador of France to India pic.twitter.com/WyIjHnlei3

— ANI (@ANI) September 2, 2020
Today's reality vastly different from that of the 1940s
The UNSC was a cosy club of the big powers that had won the Second World War and represented global geo-political reality as it existed in the 1940s. That reality no longer holds in the third decade of the 21st century.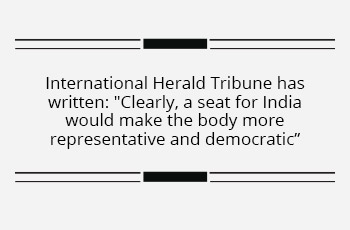 As India's former Ambassador to the UN, Syed Akbaruddin, told a leading Indian newspaper: "A billion-plus people not being permanently in an organisation which starts with, 'We the peoples of the United Nations'…. You can't have that dichotomy between an organisation, which says, 'I'm ready, I work on behalf of the peoples of the world," and keeps such a big country representing more than a billion people out."

To remain relevant in today's world, the UNSC has to represent the reality of today's global power structure of which India is an important part.
When the G-4 (India, Brazil, Germany, and Japan) bloc was envisaged in the mid-2000s, India was perceived to be a soft touch among its other contenders. That perception has now changed drastically to what is the writing on the wall – by the end of three years, helped largely by some deft foreign relations and diplomatic exercises India emerged out to be the strongest candidate in terms of its support. In 2015, India became the world's fastest growing economy with a 7.5% estimated GDP rate (mid year terms).
21st century superpower
This is not to say that India does not have contenders for a seat at the UNSC table. But by virtue of its current status it has left its rivals far behind. It is the 21st century superpower – not just militarily, but for the trade potential it offers to like minded nations and its ability to offer a positive face to most of the global problems that the world grapples with today.
While Japan still remains an economic contender, its potency has diminished over time. Added to that is the reality of China's militant objection to Japan having a representative at the UNSC table.
Germany is another strong candidate from the EU but it falters from the opposition posed by the UK and France as well as Spain and Italy. While it still remains an economic force in the EU, Germany's overall clout is diminishing.
In a rapidly changing world the presence of Latin America, Africa and the Arab World cannot be ruled out given that many alliances today will be hinging on the platform of trade and commerce. It is also a foregone conclusion that India is a powerful entity in terms of extending the hand of business and friendship with these countries.
Four permanent members back New Delhi's candidature
New Delhi has been working with like-minded countries, including four of the five permanent members to reform the entire UN system, including the security council, and get its much-deserved permanent seat at the global high table.
With this in mind, the Narendra Modi government has been working with other countries that support reforming the UNSC. Answering a question in the Rajya Sabha, the upper house of India's Parliament, Minister of State for External Affairs V Muraleedharan said, "Government has accorded the highest priority to getting permanent membership for India in an expanded UN Security Council that reflects contemporary global realities. India in collaboration with other pro-reform countries has been consistently making efforts to build support among the UN Member States for expansion of the UNSC, in both permanent and non-permanent categories."
India, Japan, Germany, Brazil much needed at UNSC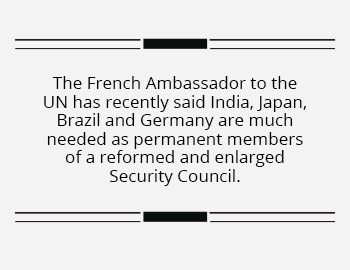 The French Ambassador to the United Nations has recently said countries like India, Japan, Brazil and Germany are much needed as permanent members of a reformed and enlarged Security Council. He also batted for fair representation for Africa at the council.
This is among France's strategic priorities, he said, adding: "In terms of policy, France and Germany have strong policy which is to work together to enlarge the Security Council and to succeed in terms of the negotiations that should lead to the enlargement of the Security Council that we consider absolutely needed to better reflect the world as it is. There is no question about it…"
World order again in a state of flux
Now, as the world order is once again in flux there is a need for a model global citizen as a member of the UN Security Council.
And India's return to the United Nations Security Council as a non-permanent member for a two-year term demonstrated the goodwill and diplomatic clout the Modi government enjoys in the comity of nations. India has said it will use this position to fight terrorism, and help the world find a multilateral solution to the Covid-19 pandemic.
Non-permanent membership can be a starting point
This position will also help New Delhi counter Chinese pressure on the border and bolster efforts to ensure a peaceful and free Asia.
As a non-permanent member, India can push for the much needed but much-delayed reforms of the UN system from the inside – in collaboration with other likeminded democracies.